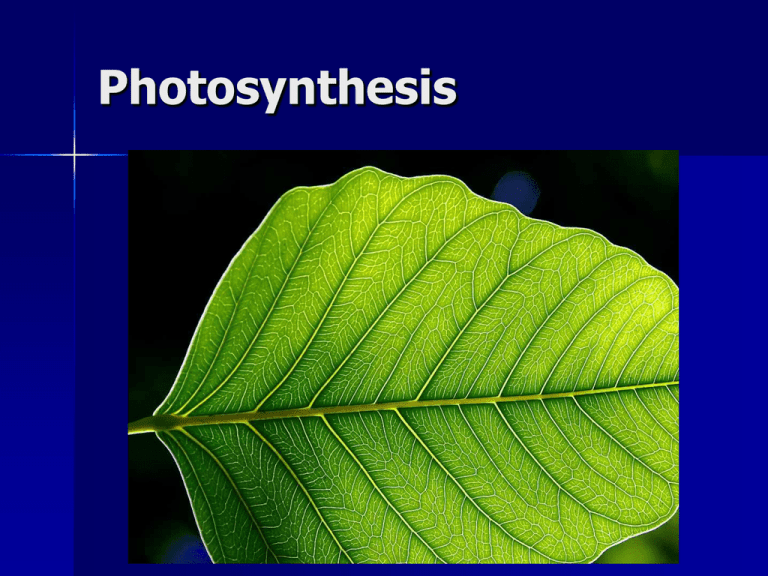 Photosynthesis
How do we grow a plant?
But is that all????
Plants need to do
Photosynthesis
Chlorophyll inside
What you don't see…
Photosynthesis- what
goes in?
Sunlight (light Energy)
Water
H2O
Carbon Dioxide
CO2
Photosynthesis- what
comes out?
Sunlight
(Light Energy)
Glucose
C6H12O6
Water
H2O
Oxygen
Carbon Dioxide
CO2
O2
Photosynthesis


Let's write the chemical equation on
the board!!
What are the reactants, What are the
products?
Reaction



CO2 + H2O + light O2 + C6H12O6
But it's not balanced
6 CO2 + 6 H2O + light 6 O2 + C6H12O6
Reactants
What type of energy transformations are going on?
Products
Photosynthesis has an
"opposite" reaction…

ALL cells must perform this reaction
– (not like photosynthesis that only occurs
in autotrophs)
– Occurs in Mitochondria
– It's why we breathe

In fact the name we give to breathing is
named after this cellular process
– Any guesses???
Cell Respiration
Carbon Dioxide
Glucose
CO2
C6H12O6
Water
H2O
Oxygen
O2
Energy
Cell Respiration



Let's draw the chemical formula on the
board!!
What are the reactants, What are the
products?
What type of energy transformations
are going on?
It's a cycle in plant
cells, Jennnnay
The process of cellular
respiration is taking place in
your cells right now!!


You are currently taking in oxygen and
burning sugars within the
mitochondria to release chemical
energy.
This process is also known as Aerobic
Respiration. Why?
– Because Oxygen is present which allows
your cells to burn glucose into energy
much more efficiently.
– I am sure you have heard of Aerobics.
What would happen if your cells
were deprived of oxygen?? Would
they still be able to burn glucose to
make energy??
 YES!!
 Fermentation
– When might this occur?
– Long distance runners often create an
anaerobic environment for their cells

What does anaerobic mean??
– No Oxygen present
– Not a very energy efficient process and a
bad side effect is produced:

Lactic Acid
A different example of
fermentation

Breweries rely on this process:
– Yeast cells need energy to survive, so
they will breakdown sugars in anaerobic
conditions and a byproduct is alcohol.
– How do you know CO2 is produced?
Fermentation

Anaerobic
Animals produce lactic acid and CO2
Plants produce ethyl alcohol and CO2

Less efficient…pgs 124-125


– Aerobic respiration yields at least 36 ATP
– Anaeorobic nets a measly 2 ATP
Let's fill in this chart with the molecules
and then the energy transformations
_____________________
_________________________________
_________________________________
_____________________
Why do leaves change colors??
Carotene
Xanthophyll
Chlorophyll A
Chlorophyll B
These
chromatograms
show
chlorophyll b at
the bottom,
followed by
chlorophyll a,
xanthophylls,
and carotenes.