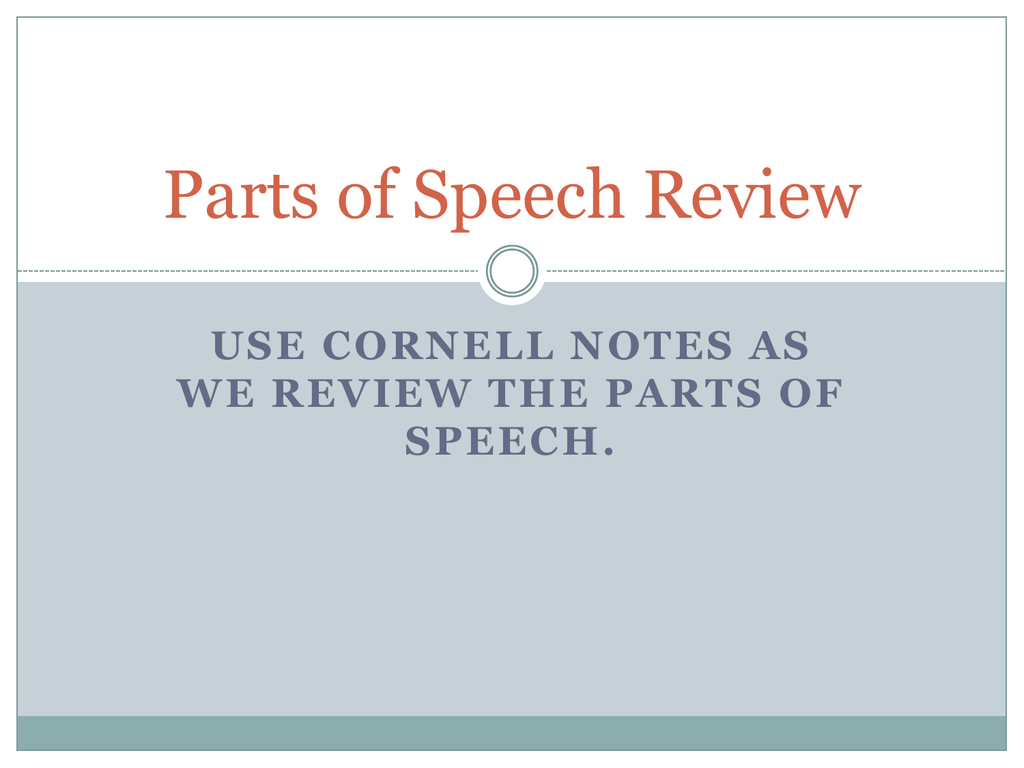 Parts of Speech Review
USE CORNELL NOTES AS
WE REVIEW THE PARTS OF
SPEECH.
Nouns
 Names a person, place, thing or idea
 Common/proper
 Concrete/abstract
 Collective
 Singular/plural
 Possessive
 Compound
Pronouns
 A word used in place of a noun or another
pronoun.
 Personal Pronouns
 Subject/Predicate Pronouns
 Object Pronouns
 Possessive Pronouns
 Interrogative/Demonstrative Pronouns
Verbs
 A word used to express an action, a condition, or
state of being.
 Action
 Linking
 Helping
 Verb Phrases
 Regular/Irregular
 Tenses
Adjectives/Adverbs
 Adjective: a word that modifies or describes a
noun or pronoun.
 Adverb: a word that modifies a verb , an adjective,
or another adverb.
 Tell how, where, when, or to what extent
 Making comparisons
Prepositions, Conjunctions, Interjections
 Prepositions: a word that shows a relationship
between a noun or pronoun and some other word
in the sentence.
 Conjunction: a word used to join words or groups
of words.
 Coordinating
 Correlative
 Interjection: a word or phrase used to express
emotion.
Assignment for Tomorrow
 Write 10 sentences that demonstrate
your general understanding of all of the
parts of speech.
 Sentences should contain at least 10
words each.
 Be creative!