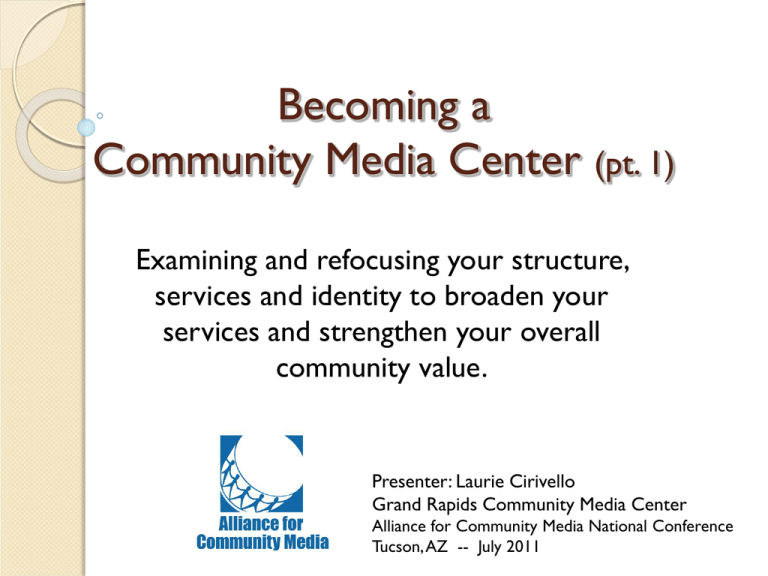 Becoming a
Community Media Center (pt. 1)
Examining and refocusing your structure,
services and identity to broaden your
services and strengthen your overall
community value.
Presenter: Laurie Cirivello
Grand Rapids Community Media Center
Alliance for Community Media National Conference
Tucson, AZ -- July 2011
Session Outline
 How
your community sees you
 Knowing what you have
 Make it about them, not you
 Recognizing and leveraging
opportunities
 The economics of diversification
Assumptions
CMCs primarily serve local communities
 One size does not fits all
 Employing tactics to save a TV station is
not the focus of this session.
 Evolving is a process, not an event.

Your identity

Name, mission and elevator speech
RGB-TV
Your community TV station
"The Community Media
Center is a Public,
Education, and
Government Media
organization that
provides…"
EveryTown Community
Media
Helping our community
connect
ECM helps strengthen the
voices in our community
through media training,
tools and distribution…
Putting your Values Up Front
Welcome
 Assistance
 Nondiscriminatory
 Diversity
 Etc.

A Root or a Branch?
Girl Scouts
Food Pantry
Senior Center
_____Where are you?____
Where do you want to be?
Community Foundations
City Infrastructure
Public Library
Knowing what you have

Food Court or Well-Stocked Kitchen?
Options
Responsiveness
Efficiency
Resource vs. end result
Value
Breaking it Down
Make your own TV show in our Studio
Production planning
Graphics
Streaming
And….
Expanding your kitchen
The general contractor role
 Preferred providers
 Extract and package

It's about them
Knowing community needs
 Servant Leadership
 The problem statement
 Crafting the solution
 Lessons from Social Service

 Case Management
 Intake and Assessment
 Evaluation
Recognizing and evaluating
opportunities
The screening tool
 Collaboration vs. giving it away
 Populating your fox hole
 Who's idea was that?
 Lessons from the marketplace

Understanding Your Competitive
Advantage
What is your niche
What do you do better?
Knowing the Trends
Service as a marketing tool
Brown-bags/teasers
 Pre-packaged training
 Crowd-sourcing activities
 Using social media to establish your
servant leadership

Economics
The evolution killer: "we can't do that".
 More value for the franchise dollar
 Bearing wall approach: building on your
core
 Using current requirements to build
future capacity

Paying for the evolution
Grants
 Fee-for-service
 Finding money for others – funded
projects

Part 2…
How have the idea presented here worked
(or not) for other CMCs?
Join in as we strategize, share and
brainstorm.
Friday, 10:30 – noon
Hope to see you there!