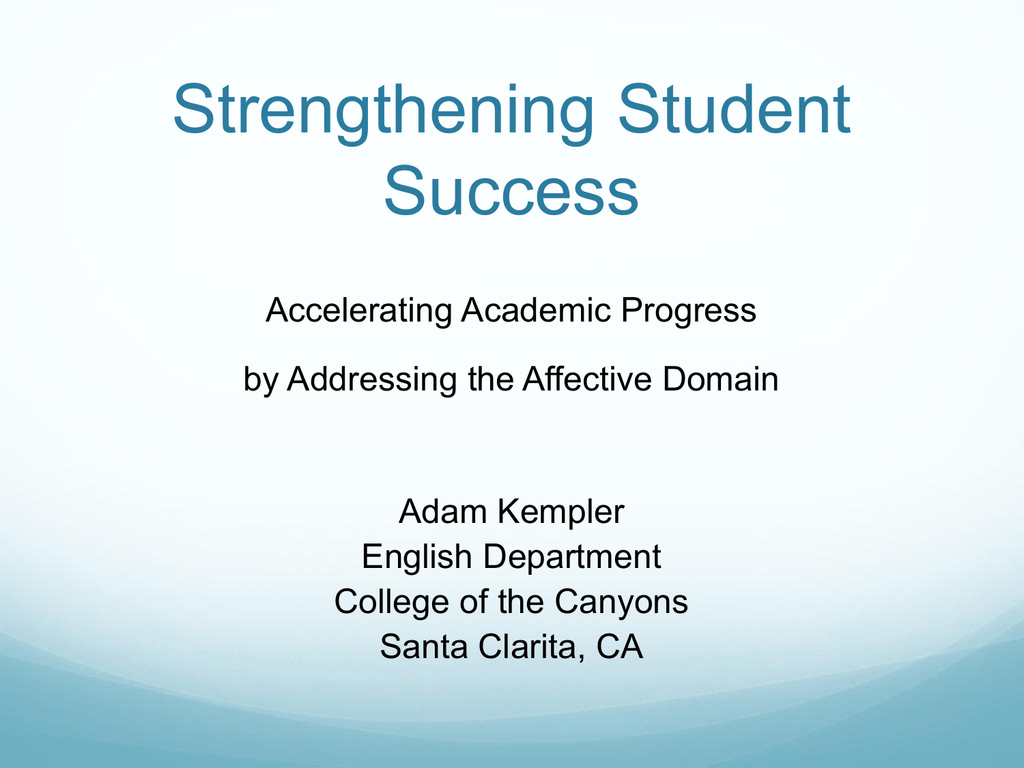 Strengthening Student
Success
Accelerating Academic Progress
by Addressing the Affective Domain
Adam Kempler
English Department
College of the Canyons
Santa Clarita, CA
Introduction
 High School: aide for severely handicapped students,
volleyball coach, English and psychology teacher
 College: English professor, chair of the English
Department, English 081 coordinator, juvenile detention
facility instructor, author and publisher, recreation
instructor
 Classes taught: American literature, British literature,
transfer composition, pre-transfer composition, reading,
children's literature, poetry, accelerated English,
surfing, backpacking and wilderness survival
Activity #1: Discussion
What experience do you have addressing the following
areas in the classroom?







Goal Setting
Motivation
Student Services
Personal Responsibility
Time Management
Note Taking
Test Taking








Critical Thinking
The Reading Process
The Writing Process
Healthy Lifestyles
Stress Management
Relationships
Personal Finances
Transferring
Activity #2: Quotes
Which 3 quotes are most important to you? Why?
 Draw an image of how you could incorporate 1 of your
ideas into the classroom.
 See handout
 Survey of top 3 quotes
1088 White Chairs
College Students Lost to
Suicide
American College Health Association: www.acha.org
Changes in the Student Body
In 2010, at the 118th American Psychological Association's
Annual Convention, John Guthman, Director of Counseling
Services at Hofstra University and author of a study on
college student mental illness said, "In the last 10 years, a
shift in the needs of students seeking counseling services is
becoming apparent. University and college counseling
services around the country are reporting the needs of
students seeking services are escalating toward more severe
psychological problems. While the condition of students
seeking counseling doesn't necessarily reflect the
experience of the average college student, our findings may
suggest students with severe emotional stress are getting
better education, outreach, and support during childhood
that makes them more likely to attend college than in the
past."
More data found at: http://www.acha-ncha.org (American College Health Association)
Success and Retention
 3 levels below transfer in English = 12-13%
 3 levels below transfer in math = 8%
 Source: Dr. Rob Johnstone of the National Center for
Inquiry & Improvement
What is the affective domain?
"The affective domain is critical for learning but is often
not specifically addressed. This is the domain that deals
with attitudes, motivation, willingness to participate,
valuing what is being learned, and ultimately incorporating
the values of a discipline into a way of life."
From "Learning Domains and Delivery of Instruction" by
Cindy Vinson, Ed.D.
Free Hugs Campaign by Sick Puppies
Where is the SLO for the affective domain?
The Affective Domain: Hugs
 Free Hugs Campaign:
https://www.youtube.com/watch?v=vr3x_RRJdd4
Affective Domain Stages
 Receiving (willing to listen)
 Responding (willing to participate)
 Valuing (willing to be involved)
 Organizing (willing to be an advocate)
 Characterization (willing to change one's behavior, lifestyle, or way
of life)
 Camp Scott and Camp Scudder (Moshe at 1,165 WPM and
March to Freedom; end of story?)
 Carol Dweck and the Growth Mindset in "Brainology"
From "Learning Domains and Delivery of Instruction" by Cindy
Vinson, Ed.D.
How do we address the
affective domain?
Learning
Domain
Activities
Delivery
Considerations
Assessment
Affective
• Goal setting
• Collaborative
assignments
• Self-reflective
writing in journal
• Practice tutorials
designed for
student success
• Face-to-face
meetings
• Active and
collaborative
• Motivational
videos
• Streaming audio
explanations and
encouragement
• Interactive video,
web casts,
conference calls
• Selfassessment
using checklist
• Pre/post attitude
survey related
to course
content
• Retention/succe
ss in course
Adapted from "Learning Domains and Delivery of Instruction"
by Cindy Vinson, Ed.D.
15 College Success Tips
 Goal: improve success and retention
 Method: teach one success tip per week (5-10 min)
 Location: materials were posted on college website
 Teachers: 10 instructors in 5 disciplines
 Students: 751 students in 24 sections
 Semester: fall, 2008
Results
100
95
Percentage of Respondents
92
80
68
60
61
Fall 2007 (Pre-College Success)
Fall 2008 (College Success)
40
20
0
Retention Rates
Success Rates
Fall 2008 Retention and Success Rates for all Course Sections Participating in the 15
Success Points program compared to the Same Courses Taught by These Instructors
in Fall 2007 (same level and delivery mode).
Student Survey Results
Percentage of Students that found the 15 Success Tips to
be Helpful or Very Helpful
Reflections
 Negatives
 Instruction often lacked an activity
 Teachers had to create/find additional materials
 Other areas need to be addressed: motivation (affective
domain), personal responsibility, writing, etc.
 Positives
 Using success tips promotes success and retention
 Teachers and students gave positive reports
 All tips were accessible and free
Success Strategies
Pilot Program
 What can students do to promote their own success?
 Faculty at several colleges created Success Strategies
 Faculty select sections (wide variety of disciplines and
levels)
 Faculty adopt the book
 Faculty spend 10+ minutes discussing 1 chapter per week
 Students write in book (100 points)
 College tracks retention and success rates
Success Strategies
• Success Strategies: Accelerating
Academic Progress by Addressing
the Affective Domain, 2nd Ed.
• Edited by Kim Gurnee
• ISBN: 978-0-9817794-5-4
• Cost: $6.00
• To order, submit the information
above to your college bookstore
with the following email:
[email protected]
Success Strategies
Program
Pilot
 Pilot Program:
 2 colleges in fall, 2013 and 12 colleges in spring, 2014
 "College Success Strategies that Address the Affective Domain"
by Student Support (Re)defined, a branch of The Research &
Planning Group for California Community Colleges
 Goal Setting on 8 (4 sections, question #2 on page 11)
 Personal Responsibility on 21 (creators/victims)
 Time Management on 28-29 (#2 on 26)
 Personal Finances on 63 (budget and savings, 66-67)
 Significance of the basics
Preliminary Survey Results
 Students considered goal setting, time management,
and motivation most useful.
 Student ranking of chapter usefulness showed interest
in all chapters.
 Student recommendation of book to another student
was tied to instructor consistency:
 Inconsistent instruction=71%
 Fairly consistent instruction=78%
 Consistent instruction=95%
 Student comments about why and how Success
Strategies was useful: see handout
Reflections
 Negatives




Cost
Class time
Value of failure
Not enough instructor and student feedback yet
 Positives




Activities (and 3 other sections) are provided
Positive feedback from instructors and students so far
Success and retention data will show impact
Instructor's attention shifts from content area to student
 Fall, 2014 (5 students to health center)
 Candice (cutting—see journal)
Activity #3
 Which chapters look most useful for your students?
 How might Success Strategies be incorporated into
your classes?
 In which classes or programs might Success Strategies
be applied on your campus to benefit the most students
(without creating redundancy for students)?
 What questions do you have about Success
Strategies?
Evidence for Addressing the
Affective Domain
 Academy for College Excellence
http://academyforcollegeexcellence.org
 Bill and Melinda Gates Foundation
http://www.gatesfoundation.org
Funding
 Students purchase for $6.00
 Grants
 Programs
 Stipends
Research Questions
 How much does success and retention improve in
sections using Success Strategies compared with
sections not using it?
 Which students benefit the most?
 What are the limitations to using Success Strategies?
 What is the best approach to implementing Success
Strategies on a campus to avoid creating redundancy
for students?
"The Puzzle of Motivation"
(1:30-3:00—more than 12 million)
 "The Puzzle of Motivation" by Dan Pink:
http://www.ted.com/talks/dan_pink_on_motivation
John Wooden
1910-2010
 10 National Titles at UCLA
 First person inducted into Basketball
Hall of
Fame as both a player and a coach
 ESPN claims, "John Wooden is the greatest coach
ever—in any sport."
 "SUCCESS IS PEACE OF MIND WHICH IS A DIRECT
RESULT OF SELF-SATISFACTION IN KNOWING YOU
MADE THE EFFORT TO BECOME THE BEST YOU
ARE CAPABLE OF BECOMING." Wooden: A Lifetime
of Observations and Reflections On and Off the Court
Yosemite Backcountry
"I've learned that people will forget what you said, people will forget what
you did, but people will never forget how you made them feel."
― Maya Angelou
On the summit of 10 Lakes Pass in Yosemite,
summer of 2013
Invitation
 Try Success Strategies and track success and
retention results
 This training is available on your campus
 Share new ways to address the affective domain
 Contact Information:




Adam Kempler
College of the Canyons
Phone: 661-362-3266
Email: [email protected]
 Questions?