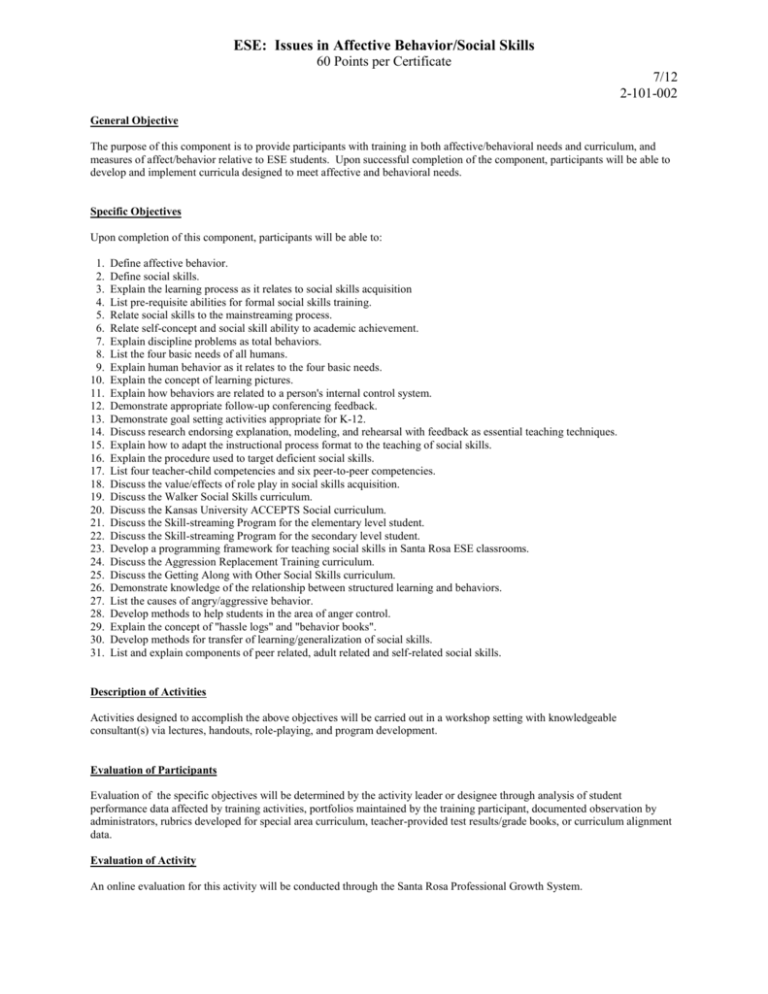 ESE: Issues in Affective Behavior/Social Skills
60 Points per Certificate
7/12
2-101-002
General Objective
The purpose of this component is to provide participants with training in both affective/behavioral needs and curriculum, and
measures of affect/behavior relative to ESE students. Upon successful completion of the component, participants will be able to
develop and implement curricula designed to meet affective and behavioral needs.
Specific Objectives
Upon completion of this component, participants will be able to:
1.
2.
3.
4.
5.
6.
7.
8.
9.
10.
11.
12.
13.
14.
15.
16.
17.
18.
19.
20.
21.
22.
23.
24.
25.
26.
27.
28.
29.
30.
31.
Define affective behavior.
Define social skills.
Explain the learning process as it relates to social skills acquisition
List pre-requisite abilities for formal social skills training.
Relate social skills to the mainstreaming process.
Relate self-concept and social skill ability to academic achievement.
Explain discipline problems as total behaviors.
List the four basic needs of all humans.
Explain human behavior as it relates to the four basic needs.
Explain the concept of learning pictures.
Explain how behaviors are related to a person's internal control system.
Demonstrate appropriate follow-up conferencing feedback.
Demonstrate goal setting activities appropriate for K-12.
Discuss research endorsing explanation, modeling, and rehearsal with feedback as essential teaching techniques.
Explain how to adapt the instructional process format to the teaching of social skills.
Explain the procedure used to target deficient social skills.
List four teacher-child competencies and six peer-to-peer competencies.
Discuss the value/effects of role play in social skills acquisition.
Discuss the Walker Social Skills curriculum.
Discuss the Kansas University ACCEPTS Social curriculum.
Discuss the Skill-streaming Program for the elementary level student.
Discuss the Skill-streaming Program for the secondary level student.
Develop a programming framework for teaching social skills in Santa Rosa ESE classrooms.
Discuss the Aggression Replacement Training curriculum.
Discuss the Getting Along with Other Social Skills curriculum.
Demonstrate knowledge of the relationship between structured learning and behaviors.
List the causes of angry/aggressive behavior.
Develop methods to help students in the area of anger control.
Explain the concept of "hassle logs" and "behavior books".
Develop methods for transfer of learning/generalization of social skills.
List and explain components of peer related, adult related and self-related social skills.
Description of Activities
Activities designed to accomplish the above objectives will be carried out in a workshop setting with knowledgeable
consultant(s) via lectures, handouts, role-playing, and program development.
Evaluation of Participants
Evaluation of the specific objectives will be determined by the activity leader or designee through analysis of student
performance data affected by training activities, portfolios maintained by the training participant, documented observation by
administrators, rubrics developed for special area curriculum, teacher-provided test results/grade books, or curriculum alignment
data.
Evaluation of Activity
An online evaluation for this activity will be conducted through the Santa Rosa Professional Growth System.