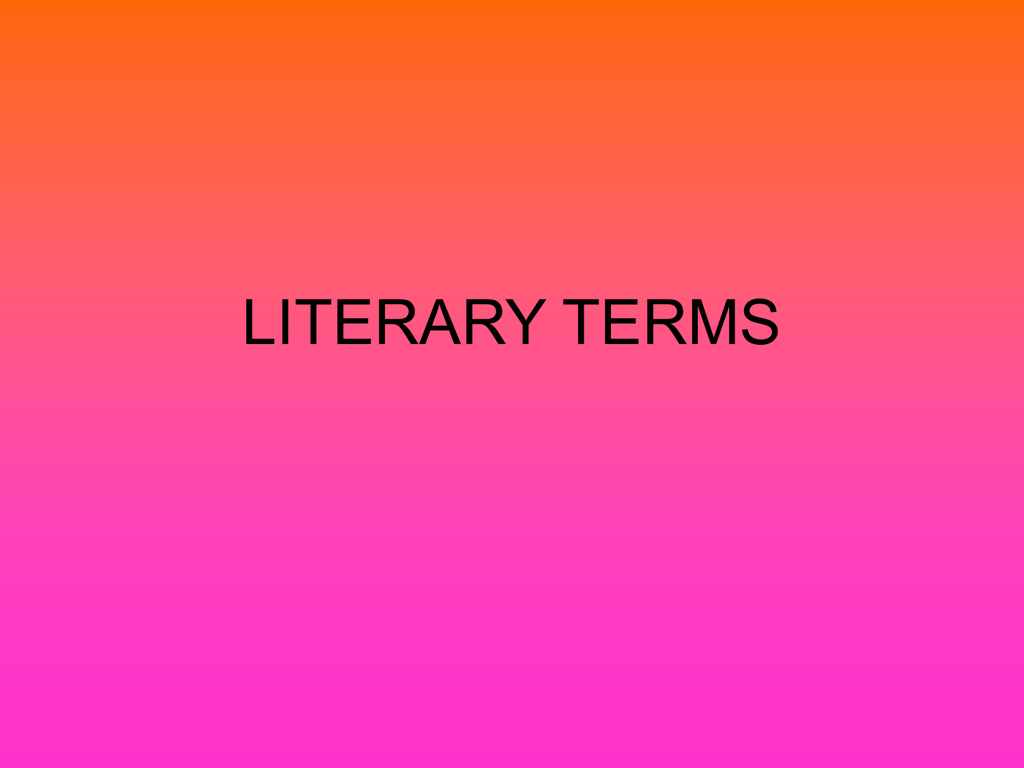 LITERARY TERMS
PLOT
• Exposition – the beginning of the story
where the characters and setting are
introduced
• Rising Action – the bulk of the story (where
most events take place) events leading up
to the climax
• Climax – The turning point of the story. If
this event did NOT happen, we would NOT
have an interesting story.
PLOT
Continued
• Falling Action – the events that come
directly after the climax
• Denouement/Resolution – the last part of
a story; this is where all conflict is
resolved. It is usually only the last or last
TWO events in a story.
THEME
• A truth about life or people that we
discover as we share the characters'
experiences
• EX – don't judge a book by its cover,
power of words, quest for power, etc
Symbol
• Persons, places, or things that function as
themselves but also stand for larger ideas.
• EX – Harry Potter: phoenix; The Hunger
Games: mockingjay
Motif
• Common features in a piece of literature
• EX – The Hunger Games: fire; Harry
Potter: darkness
point of view – who's telling the
story
• 1st person – someone in the story is telling
the story (uses I/me/we/us)
• 3rd person – someone who is NOT in the
story is telling the story (uses
he/she/them)
Main Idea
• Most important information showing the
overall understanding
Motivation of character
• "Why does the character do _______?"
• EX – why does Katniss volunteer for the
hunger games?
Summarize
• Telling the most important information in a
text or piece of literature
• EX – summarize Frozen
Foreshadowing
• Clues hinting at what will happen next
• Can you think of your own example?
Irony
• Convey (or show) a meaning that is
opposite of the literal meaning.
Tone
• The feeling the AUTHOR presents with
his/her words
• EX – solemn, sad, enthusiastic, sarcasm
Mood
• The feeling that YOU, THE READER, gets
after reading
• EX – Are you happy? Anxious?
• CONFUSED IS NOT A MOOD
Simile
• Comparison using 'like' or 'as'
• EX - You are as beautiful as a sunset.
Metaphor
• Comparison not using 'like' or 'as'
• EX – Your eyes are the ocean.
Suspense
• Makes listeners wonder what will happen
next (Anxious, curious, scared)
• Suspense can occur in stories that are not
scary.
Anachronism
• When a person, thing, or idea from a
different historical period is used in a story
• Can you think of any on your own?
Allusion
• Making a reference to another person,
place, event or literary work.
Inference
• Educated guessed based on information
you already have.
• EX - If someone has a Lamborghini or a
Porsche, you might make an inference
that they have a lot of money.
Flashback
• When the narrator goes back to an earlier
time to tell a story that relates to the main
story.