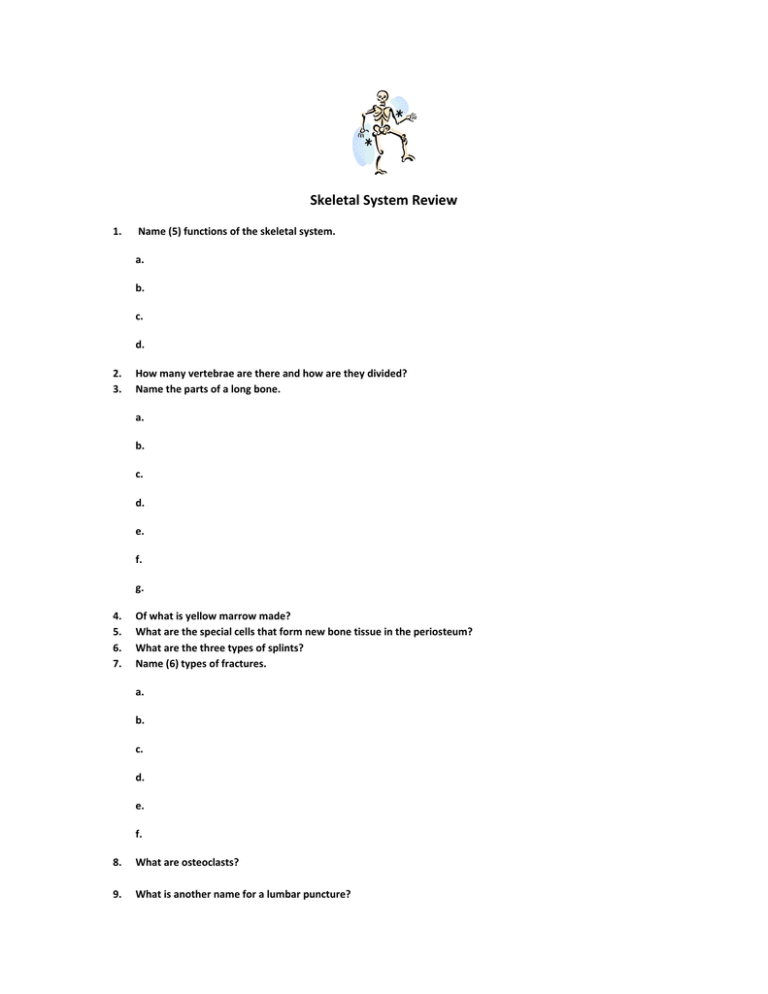 Skeletal System Review
1.
Name (5) functions of the skeletal system.
a.
b.
c.
d.
2.
3.
How many vertebrae are there and how are they divided?
Name the parts of a long bone.
a.
b.
c.
d.
e.
f.
g.
4.
5.
6.
7.
Of what is yellow marrow made?
What are the special cells that form new bone tissue in the periosteum?
What are the three types of splints?
Name (6) types of fractures.
a.
b.
c.
d.
e.
f.
8.
What are osteoclasts?
9.
What is another name for a lumbar puncture?
10. What is the only free standing bone?
11. What are the conditions that you should splint a break?
12. Where is red marrow stored in the long bone?
13. What two smaller parts of the skeleton is the skeleton divided into?
a.
b.
14. Where do the (12) sets of ribs attach in the back? In the front?
15. What are sutures?
16. What are joints. What are the three types?
17. What are ligaments? What are tendons?
18. What are fontanels?
19. What are foramina?
20. What are the sinuses?
21. What is the function of the intervertebral disks?
22. What is the difference between open and closed reduction?
23. What is the difference between a closed (simple) and an open(compound) fracture?
24. Define the following diseases:
a. arthritis
b. dislocation
c. bursitis
d. sprain
e. osteomyelitis
f. osteoporosis
g. kyphosis
h. scoliosis
i. lordosis
KNOW ALL YOUR BONES!!!!
READ CHAPTER 6:4 !!!!