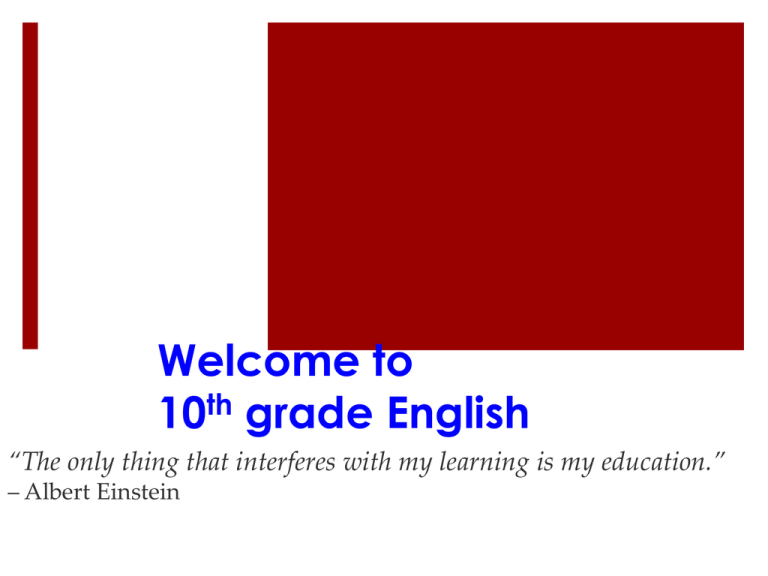 Welcome to
10th grade English
"The only thing that interferes with my learning is my education."
– Albert Einstein
Emails and Office Hours
alevine@laalliance.org
or
allisonteaches@gmail.com
I will respond within 24 hours. I promise.
Office Hours are Tuesday after school.
Syllabus
 The syllabus for my class is on my VAULT on the
school website
 http://www.heritagecollegeready.org
 Teachers/Staff
 Ms Allison Levine
 10 ELA or 10 HONORS
 ALL HOMEWORK, LINKS, REFERENCES AND
HELPFUL HINTS ARE LOCATED ON THE VAULT
 READ IT. LEARN IT. LOVE IT.
Mastery of Skills and Events
 CAHSEE exam (5 strands of Writing)
 Citing textual evidence
 Vocabulary comprehension (connotative and
denotative meanings)
 Vocabulary evolution (Greek and Latin roots)
 Literary figurative language analysis
 Research techniques and MLA citations
 Oral presentations (narrative, expository,
responses/analysis, persuasive arguments/debates
and descriptive presentations)
 Theatrical presentations
 Rhetoric (ethos, logos and pathos)
Reading & Writing Activities
 Comparison and contrast essays
 Personal narrative
 Original short stories
 Literary criticism
 Expository compositions
 Persuasive compositions and debate
 Business/personal letters
 Technical/workplace documents
 Manuscripts, movie scripts, one-act plays
 Character analysis
Projects
 Power Point/Prezi Presentations on the First Parent's
night in September
 Literature Circles, memorized and recited Ancient Greek
Poetry, The World Myth Project
 The Persuasive Essay and Debate
 Rhetoric, political campaign analysis, theatrical
presentations, Poetry analysis, song lyric analysis,
reflective essay, literary criticism, and film making
 Archetypes, plot structure, film analysis, murals and
original one-act plays
Theme for the Year – Heroism
No, not heroin
Essential Questions and Big Ideas:
 There are several different types of heroes and we will
explore each one.
 What is the difference between a classic hero, an antihero and a reluctant hero?
 What is "The Hero's Journey" and "The Dichotomy of
Man"?
 What is "mythology" and how does it differ from
culture to culture?
 What is "Absolute Individualism"?
 What is the meaning of life? (according to society and
according to you)
HONORS
 You will have the same books (with the addition of
"Fahrenheit 451")
 You will have supplemental reading and extra
projects to create a more rigorous classroom
environment – such as Science Fiction analysis and
evaluation, Short story writing, Creation of the
Future project
 If you miss more than 3 assignments during the
semester, you will be dropped from the class.
Classroom Rules
& Expectations
 What is the difference between Rules and
Expectations?
Rules: Laws, Regulations,
Decrees, Imperatives
Expectations: Hopes, Prospect,
Anticipations
 NO GUM (seriously, if I ruin one more pair of pants because of
gum…) NO FOOD (I don't like bugs) and WATER ONLY.
 TAKE YOUR BACKPACKS OFF WHEN YOU WALK INTO
THE CLASSROOM.
 IF YOU SWEAR OR SAY "SHUT UP" IT WILL COST YOU 5
CENTS (25 CENTS FOR THE REALLY BIG WORDS) AND NO,
YOU CAN'T GIVE ME A DOLLAR AND THINK YOU HAVE
CREDIT.
 I DO NOT ACCEPT LATE WORK
 OWN YOUR MISTAKES, NO EXCUSES
 SHOW UP ON TIME AND READY TO WORK – A DO NOW
ON THE BOARD MEANS "DO IT NOW
 PARTICIPATION COUNTS IN MY CLASSROOM (BUT NOT
THE DISRUPTIVE KIND)
 BE SELFISH WITH YOUR EDUCATION - YOU ARE IN
CHARGE OF YOUR EDUCATIONAL DESTINY
Don't press me on these…
 Don't be disruptive and annoy me or others
 When I raise my hand and count to five (silently) I
EXPECT YOU TO QUIET DOWN. If you don't, you will
be assigned SAT vocabulary homework. Every 5 count =
5 words.
 If you don't turn in homework, you will write a
"slacker" essay during class and receive a zero for the
day.
 Don't "WHAT IF?" me to death.
 Teleparent, phone calls home and you will translate if
needed.
No Homework = No Grade
 I'm stating the obvious here
 The difference between a zero and a one makes an
incredible difference
 You will fail my class if you do not do your
homework
 Homework is preparation for class
 READING!
 CAHSEE Prep
CONSEQUENCES
 Musical students
 Sent to another classroom
 Detention
 Referral to the office
 Teleparent
 Phone call home
 Parent-Teacher conference
 I will drop you from the class if you make it impossible
for others to learn.
TUTORING
 If you are failing my class but are doing your homework,
you will be "invited" to after school tutoring
 If you want to be in my after school tutoring, I will think
you are awesome and probably give you a cookie.
 If you want my help, just ask. I actually want you to do
well in my class.
 Please care about your education because I do.
A few more things…
 Write in PENCIL, BLUE OR BLACK INK ONLY
 Bring highlighters, pencil sharpeners, staplers, rulers,
markers, lined paper – ALL THINGS YOU WILL
NEED!!
 Composition books will be stored in class (please
have them by Thursday/Friday)
 All extensions must be requested at least one week
prior to assignment date and are subject to approval.
The request must have a note from your parent or
guardian.
 ACADEMIC HONESTY
Just Behave and Do the Work
 This class is only as fun as you make it.
 Trust me, you don't want to piss me off.
 Project Based Learning (PBL)
 Art projects
 Plays
 Films
 Creative and enjoyable ways to learn
 IF YOU ARE DISRUPTIVE AND DON'T PARTICIPATE, YOU WILL HAVE
INDEPENDENT STUDY FOR THE REST OF THE UNIT. WHICH IS NO
FUN.
SERIOUSLY…
I love being an English teacher (I'm a
total nerd) and look forward to sharing
my love of literature with you.
I am here for questions, comments,
concerns and cupcakes.
I'm a strict, but fair teacher. Remember
that.
Other Stuff to Discuss
 Units
 Class Jobs
 Following directions
 Diagnostic testing this week
 Who are you??