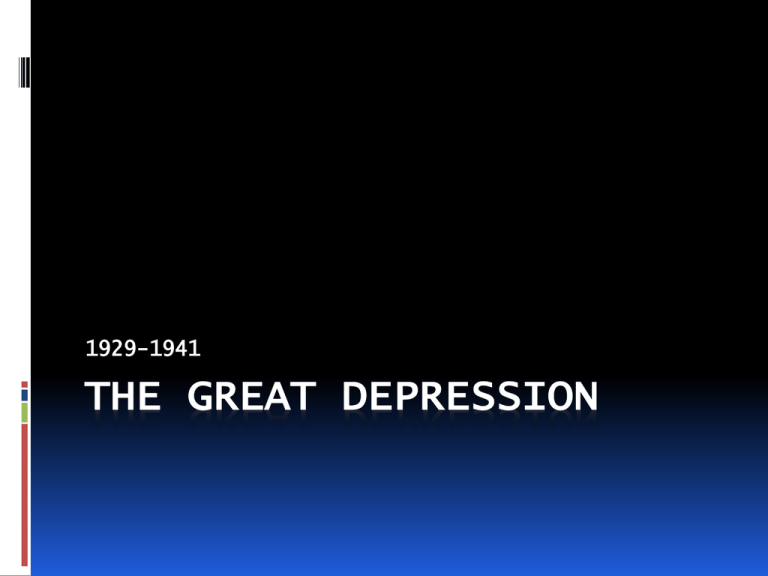 1929-1941
THE GREAT DEPRESSION
1928-1932
PRESIDENT HERBERT HOOVER
SIGNS OF THE DEPRESSION:
1. INCREASING UNEMPLOYMENT
2. FARMERS LOST THEIR LAND.
3. STOCK PRICES DECLINED.
4. POVERTY LEVEL INCREASED.
CAUSES OF THE DEPRESSION:
1.UNCONTROLLED STOCK SPECULATION
2.BAD BANKING STRUCTURE
3.OVERPRODUCTION OF GOODS
4.UNEQUAL DISTRIBUTION OF WEALTH
5.DECREASE IN THE MONEY SUPPLY
THE CRASH OF THE STOCK MARKET:
•
OCTOBER 24,1929-BLACK THURSDAY
•
OCTOBER 28, 1929- $4 BILLION LOSS
•
OCTOBER 29, 1929-TERRIBLE TUESDAY,
$16 BILLION LOST
CRASH OF THE BANKS:
•
UNREGULATED
•
CREDIT OVER EXTENDED
•
BAD INVESTMENTS
•
NO CASH RESERVES.
•
ALLOWED CUSTOMERS TO BORROW MONEY
TO INVEST IN STOCK MARKET, USING
THE STOCK WAS COLLATERAL.
RESULTS:
FAMILIES THAT PLAYED THE MARKET LOST
THEIR SAVINGS.
BANKS HAD NO ASSETS OR CASH
COMING IN.
• FAMILIES DEFAULTED ON BANK LOANS.
• INVESTORS COULD NOT PAY THE BANKS.
• BANKS COULD NOT GIVE THE
DEPOSITORS' THEIR MONEY WHEN THEY
TRIED TO WITHDRAW IT.
1932: 25% OF THE BANKS - GONE
1920-1933
9,000 BANKS
GONE, $2.5
BILLION LOST.
1932-WORST
YEAR
GNP DOWN 25%
25% OUT OF A JOB
THE FARMING COLLAPSE:
• 1929-1933: FARMERS INCOME DOWN
50%.
• 1930-1934: THE DUST BOWL HIT.
• MILLIONS LOST EVERYTHING &
MOVED TO CALIFORNIA TO FIND
JOBS
PRES. HOOVER & HIS ADVISORS:
WHAT WERE THEY DOING?
• CONGRESS- DEMOCRAT CONTROLLED,
HARD TO GET THINGS DONE.
• HOOVER-BELIEVED IN RUGGED
INDIVIDUALISM, CHARITY COMES FROM
PEOPLE, NOT THE WHITE HOUSE.
• BELIEVED THE DEPRESSION WAS PART
OF A NORMAL ECONOMIC CYCLE.
FINALLY SOME HELP COMES:
• 1930-PRESIDENT & CONGRESS ASK
BUSINESS TO KEEP PRODUCTION UP.
• HAWLEY-SMOOT TARIFF PASSED- RAISED
TARIFF, SPENT $500 MILLION TO HELP
FARMERS.
• 1931- RECONSTRUCTION FINANCE
CORPORATION LOANED $2 BILLION TO
AID THE STATES
JUNE 1932-THE BONUS ARMY
• 20,000 VETS MARCHED INTO
WASHINGTON, D.C.
• WANTED THEIR VETERANS PENSION NOW
INSTEAD OF 1945.
• JULY- HOOVER ORDERED GENERAL D.
MACARTHUR TO CLEAR THE CAMPS.
TANKS, BAYONETS, AND GAS WERE
USED. DOZENS KILLED AND WOUNDED.
ELECTION 1932
REPUBLICAN PARTY:
HERBERT HOOVER
"IT COULD HAVE
BEEN WORSE"
ELECTION 1932
DEMOCRATIC PARTY
FRANKLIN D.
ROOSEVELT
"HAPPY DAYS ARE
HERE AGAIN"
"A NEW DEAL FOR
THE FORGOTTEN
MAN"
ELECTION RESULT:
ROOSEVELT-
• 58% OF THE POPULAR VOTE
• 472 OUT OF 531 ELECTORAL VOTES.
NOVEMBER 1932-MARCH 1933
• THE LAME DUCK PERIOD- HOOVER &
ROOSEVELT SHOULD HAVE WORKED
TOGETHER FOR A SMOOTH TRANSITION
INTO THE WHITE HOUSE.
• FDR/HOOVER REFUSE TO WORK
TOGETHER. ECONOMY BECOMES WORSE.
• THE 20TH AMENDMENT PASSED TO SWEAR
IN NEW PRESIDENT IN JANUARY. IT
REDUCED THE AMOUNT OF TIME BETWEEN
ELECTION DAY AND INAUGURATION DAY.