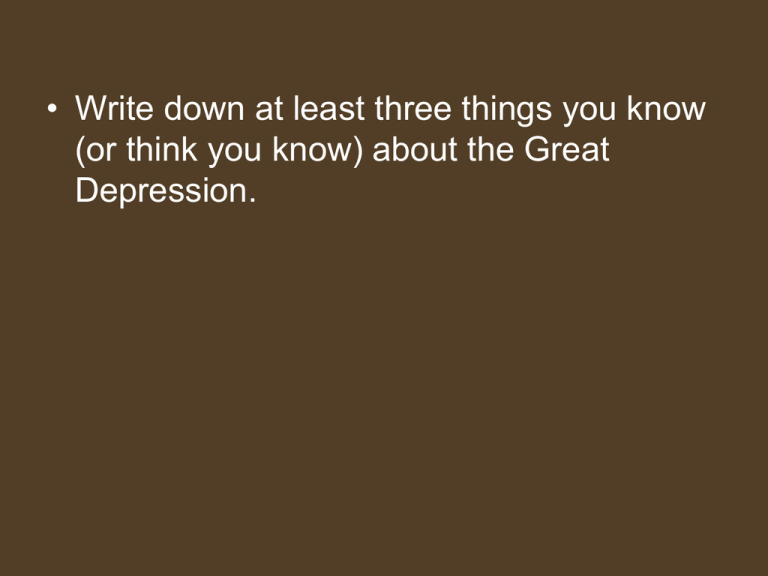 • Write down at least three things you know
(or think you know) about the Great
Depression.
• Bread Line
• Stock Market Crash
• Herbert Hoover
Dust Bowl
Okies
• Hooverville
• Hoover Flag
• Franklin Delano Roosevelt (FDR)
• The New Deal
Herbert Hoover and The Great
Depression
1928-1932
Herbert Hoover
• World famous for organizing relief of Europe
after WWI.
• Was Sec. of Commerce under Harding and
Coolidge.
• Ran for Pres. In 1928 as the Republican
nominee vs. Al Smith (the first Catholic to run
for Pres. & Smith was also a "wet").
• Hoover won in a landslide (although Smith won
most of the big cities).
What Hoover Was For
• Hoover had been an orphan who worked hard and eventually went
to Stanford.
• He made millions as a mining engineer.
• He believed in "rugged individualism."
• Rugged Individualism = If the govt. stayed out of the way, individuals
could succeed through hard work.
• He was not as conservative as Harding or Coolidge but still believed
in a limited Govt.
• "A chicken in every pot."
The Stock Market Crash
• During the 1920s, many investors bought stocks on
margin.
– The customer only put 5% down and borrowed the rest from the
broker.
– The broker financed the loans by borrowing from banks.
– The banks loaned $ from their customers accounts.
– THE PRICES ONLY STAY HIGH AS LONG AS INVESTORS
KEEP PUTTING $ INTO THE MARKET.
– OPEN BOOK TO PAGE 419.
• Speculation drove the prices of stocks up
artificially.
• Some investors began to sell their stocks and
prices began to drop.
• Brokers began calling in their margins which
many people could not pay.
• Brokers than started to sell large amounts of
stock to recoup their loses.
• This caused a Panic.
Review
• 1. Explain buying stocks on "margin" and how this led to
the stock market crash.
• 2. What year did the stock market crash?
•
•
•
•
A = 1929
3. Who was President when the stock market crashed?
A = Herbert Hoover
4. What was the name of Hoover's political philosophy
and what did it mean?
• A = "Rugged Individualism"
• 5. What was historic about the 1928 election?
• A = 1st in which ha Catholic ran (Al Smith—he lost to
Hoover).
Black Tuesday
• Tuesday, October 29, 1929 was what
many have called, "the most devastating
day in the history of markets."
• This was the day that began the panic—
people trying to unload their stocks.
• When it (the Crash) was all over, over
$30-billion in stock value was wiped out.
Bank Failures
• When the brokers couldn't re-pay the $ they had
borrowed from the banks, the banks couldn't
give money to all of their customers.
• Soon more and more people began demanding
their $ from banks at the same time and this
caused banks to fail (go out of business).
• When a bank goes under, people loose their $.
• By 1933, more than 9,000 banks had closed.
Bank Failures
4500
4000
3500
3000
2500
2000
1500
1000
500
1944
1942
1940
1938
1936
1934
1932
1930
1928
1926
1924
1922
0
Stock Market Crash did NOT cause
the Great Depression
• 1. Overproduction—too many goods =Depressed farms
and industry. And as people earn less (or loose their
jobs), they have less $ to buy things.
• 2. Unequal Wealth Distribution —Still a lot of poor
people which meant that they can't buy goods.
•
3. Govt. chose restrictive monetary policy —high
interest rates and curtailed the amount of money in
circulation.
• 4. Decline in Foreign Trade —High tariffs and no loans
to foreign countries meant that those countries couldn't
buy American goods. .
Go to Hoover's Response and
the Okies
Causes of Great Depression
• 1. Lack of Diversification —Construction &
Automobiles.
• 2. Unequal distribution of
wealth=imbalance between supply and
demand (overproduction).
• 3. Credit structure of economy —Farmer's
debts & investment in stock market & too
many people buying on creidt what they
could not afford.
•
•
•
•
4.
A.
B.
C.
Declining Exports:
High tariffs (Smoot-Hawley Tariff).
Less demand
European financial difficulties.
• 5. International Debt Structure —
Countries like Germany needed more
loans to pay of war reparations.
Federal Reserve Board's
Response
• Raised interest rates in 1931.
• = less money in circulation.
• Severe Contraction.