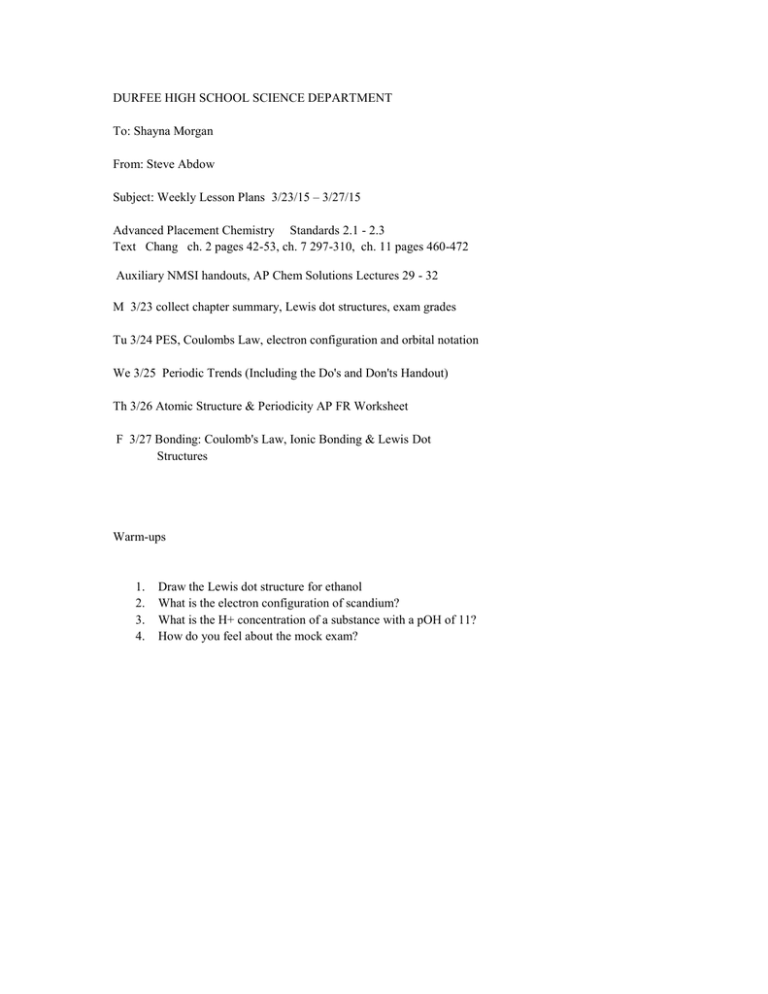 DURFEE HIGH SCHOOL SCIENCE DEPARTMENT
To: Shayna Morgan
From: Steve Abdow
Subject: Weekly Lesson Plans 3/23/15 – 3/27/15
Advanced Placement Chemistry Standards 2.1 - 2.3
Text Chang ch. 2 pages 42-53, ch. 7 297-310, ch. 11 pages 460-472
Auxiliary NMSI handouts, AP Chem Solutions Lectures 29 - 32
M 3/23 collect chapter summary, Lewis dot structures, exam grades
Tu 3/24 PES, Coulombs Law, electron configuration and orbital notation
We 3/25 Periodic Trends (Including the Do's and Don'ts Handout)
Th 3/26 Atomic Structure & Periodicity AP FR Worksheet
F 3/27 Bonding: Coulomb's Law, Ionic Bonding & Lewis Dot
Structures
Warm-ups
1.
2.
3.
4.
Draw the Lewis dot structure for ethanol
What is the electron configuration of scandium?
What is the H+ concentration of a substance with a pOH of 11?
How do you feel about the mock exam?