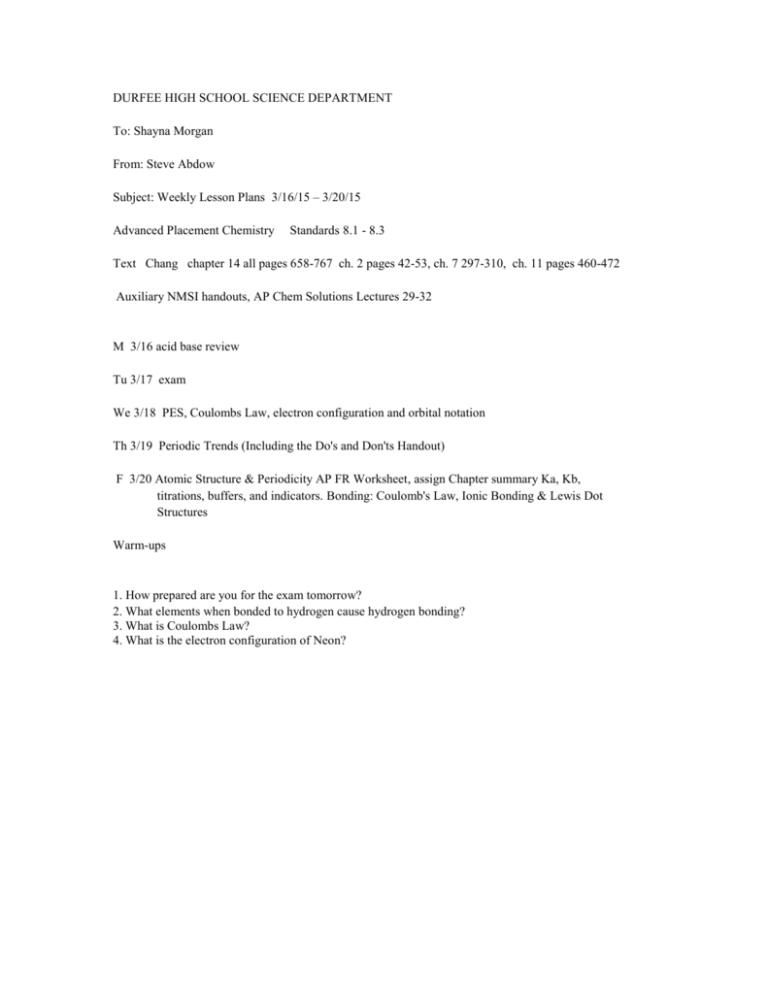 DURFEE HIGH SCHOOL SCIENCE DEPARTMENT
To: Shayna Morgan
From: Steve Abdow
Subject: Weekly Lesson Plans 3/16/15 – 3/20/15
Advanced Placement Chemistry
Standards 8.1 - 8.3
Text Chang chapter 14 all pages 658-767 ch. 2 pages 42-53, ch. 7 297-310, ch. 11 pages 460-472
Auxiliary NMSI handouts, AP Chem Solutions Lectures 29-32
M 3/16 acid base review
Tu 3/17 exam
We 3/18 PES, Coulombs Law, electron configuration and orbital notation
Th 3/19 Periodic Trends (Including the Do's and Don'ts Handout)
F 3/20 Atomic Structure & Periodicity AP FR Worksheet, assign Chapter summary Ka, Kb,
titrations, buffers, and indicators. Bonding: Coulomb's Law, Ionic Bonding & Lewis Dot
Structures
Warm-ups
1. How prepared are you for the exam tomorrow?
2. What elements when bonded to hydrogen cause hydrogen bonding?
3. What is Coulombs Law?
4. What is the electron configuration of Neon?