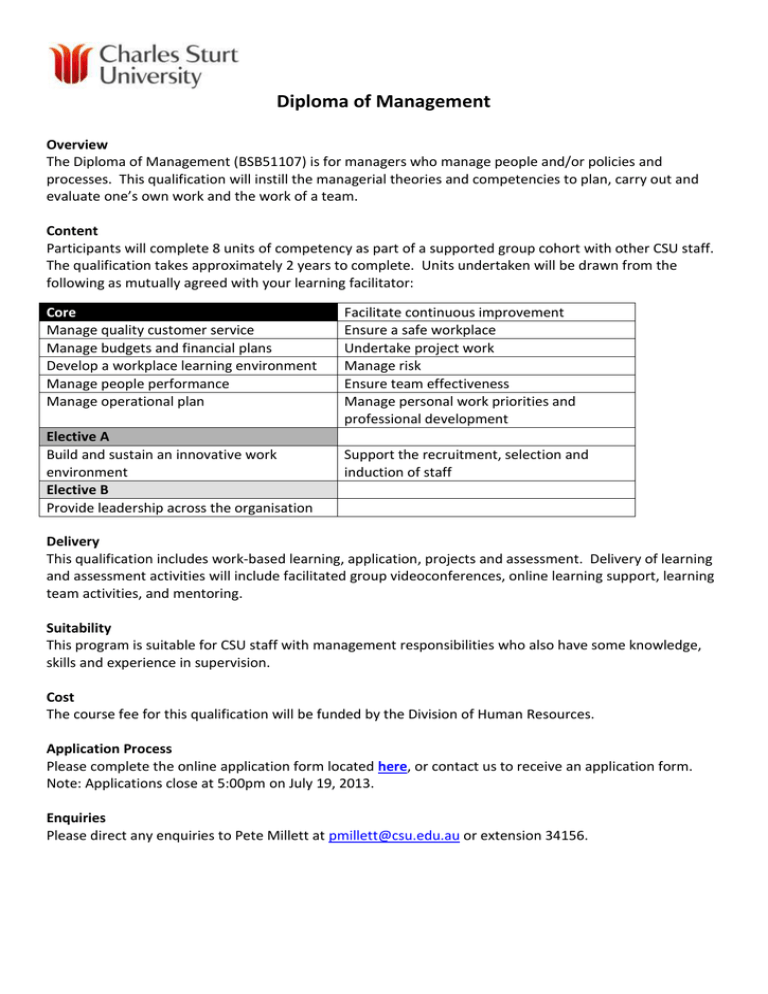 Diploma of Management
Overview
The Diploma of Management (BSB51107) is for managers who manage people and/or policies and
processes. This qualification will instill the managerial theories and competencies to plan, carry out and
evaluate one's own work and the work of a team.
Content
Participants will complete 8 units of competency as part of a supported group cohort with other CSU staff.
The qualification takes approximately 2 years to complete. Units undertaken will be drawn from the
following as mutually agreed with your learning facilitator:
Core
Manage quality customer service
Manage budgets and financial plans
Develop a workplace learning environment
Manage people performance
Manage operational plan
Elective A
Build and sustain an innovative work
environment
Elective B
Provide leadership across the organisation
Facilitate continuous improvement
Ensure a safe workplace
Undertake project work
Manage risk
Ensure team effectiveness
Manage personal work priorities and
professional development
Support the recruitment, selection and
induction of staff
Delivery
This qualification includes work-based learning, application, projects and assessment. Delivery of learning
and assessment activities will include facilitated group videoconferences, online learning support, learning
team activities, and mentoring.
Suitability
This program is suitable for CSU staff with management responsibilities who also have some knowledge,
skills and experience in supervision.
Cost
The course fee for this qualification will be funded by the Division of Human Resources.
Application Process
Please complete the online application form located here, or contact us to receive an application form.
Note: Applications close at 5:00pm on July 19, 2013.
Enquiries
Please direct any enquiries to Pete Millett at pmillett@csu.edu.au or extension 34156.