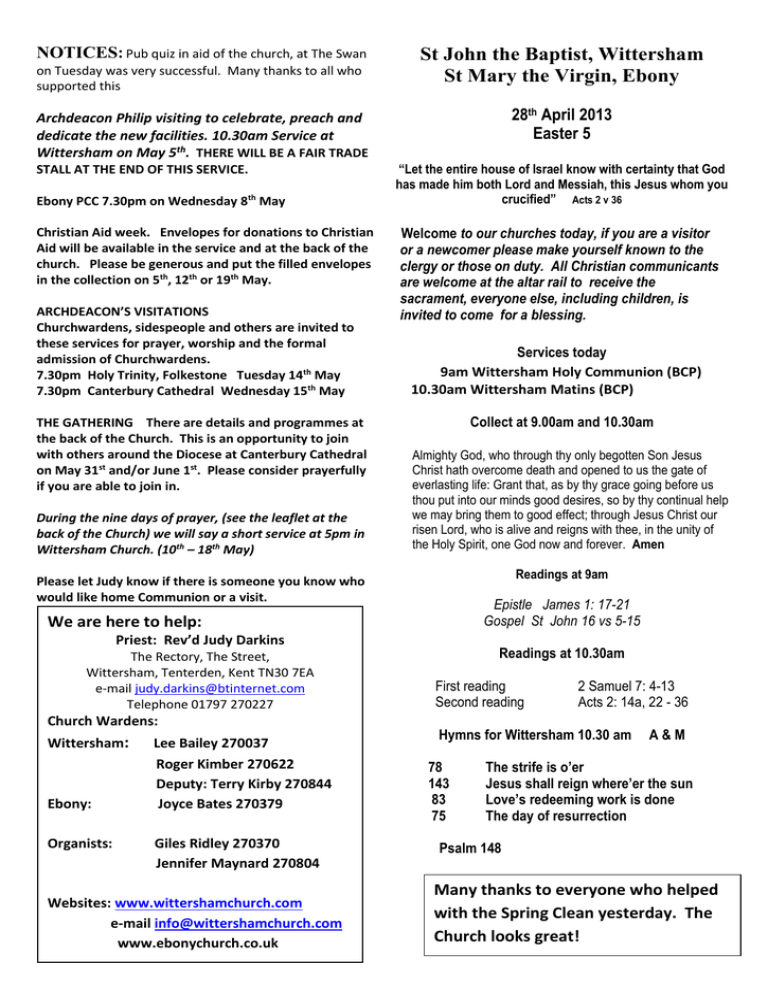 NOTICES: Pub quiz in aid of the church, at The Swan
on Tuesday was very successful. Many thanks to all who
supported this
St John the Baptist, Wittersham
St Mary the Virgin, Ebony
28th April 2013
Easter 5
Archdeacon Philip visiting to celebrate, preach and
dedicate the new facilities. 10.30am Service at
Wittersham on May 5th. THERE WILL BE A FAIR TRADE
STALL AT THE END OF THIS SERVICE.
Ebony PCC 7.30pm on Wednesday 8th May
Christian Aid week. Envelopes for donations to Christian
Aid will be available in the service and at the back of the
church. Please be generous and put the filled envelopes
in the collection on 5th, 12th or 19th May.
ARCHDEACON'S VISITATIONS
Churchwardens, sidespeople and others are invited to
these services for prayer, worship and the formal
admission of Churchwardens.
7.30pm Holy Trinity, Folkestone Tuesday 14th May
7.30pm Canterbury Cathedral Wednesday 15th May
THE GATHERING There are details and programmes at
the back of the Church. This is an opportunity to join
with others around the Diocese at Canterbury Cathedral
on May 31st and/or June 1st. Please consider prayerfully
if you are able to join in.
During the nine days of prayer, (see the leaflet at the
back of the Church) we will say a short service at 5pm in
Wittersham Church. (10th – 18th May)
"Let the entire house of Israel know with certainty that God
has made him both Lord and Messiah, this Jesus whom you
crucified" Acts 2 v 36
Welcome to our churches today, if you are a visitor
or a newcomer please make yourself known to the
clergy or those on duty. All Christian communicants
are welcome at the altar rail to receive the
sacrament, everyone else, including children, is
invited to come for a blessing.
Services today
9am Wittersham Holy Communion (BCP)
10.30am Wittersham Matins (BCP)
Collect at 9.00am and 10.30am
Almighty God, who through thy only begotten Son Jesus
Christ hath overcome death and opened to us the gate of
everlasting life: Grant that, as by thy grace going before us
thou put into our minds good desires, so by thy continual help
we may bring them to good effect; through Jesus Christ our
risen Lord, who is alive and reigns with thee, in the unity of
the Holy Spirit, one God now and forever. Amen
Readings at 9am
Please let Judy know if there is someone you know who
would like home Communion or a visit.
Epistle James 1: 17-21
Gospel St John 16 vs 5-15
We are here to help:
Priest: Rev'd Judy Darkins
The Rectory, The Street,
Wittersham, Tenterden, Kent TN30 7EA
e-mail judy.darkins@btinternet.com
Telephone 01797 270227
Church Wardens:
Wittersham:
Ebony:
Organists:
Lee Bailey 270037
Roger Kimber 270622
Deputy: Terry Kirby 270844
Joyce Bates 270379
Giles Ridley 270370
Jennifer Maynard 270804
Websites: www.wittershamchurch.com
e-mail info@wittershamchurch.com
www.ebonychurch.co.uk
Readings at 10.30am
First reading
Second reading
2 Samuel 7: 4-13
Acts 2: 14a, 22 - 36
Hymns for Wittersham 10.30 am
78
143
83
75
A&M
The strife is o'er
Jesus shall reign where'er the sun
Love's redeeming work is done
The day of resurrection
Psalm 148
Many thanks to everyone who helped
with the Spring Clean yesterday. The
Church looks great!
For Children:
There are activities in the
children's corner at
Wittersham.
Toilet facilities at Wittersham: are
working and located just outside the Church,
turn left and follow the path round to the
building on your right.
Weekday Services this week ...There will
be Morning Prayer (CW) said in Wittersham Church
on Monday, Tuesday and Thursday at 8:30am.
Evening Prayer(CW) is at 5pm in church on
Thursday.
Friday 3rd May Evensong (BCP) at 6.30pm, at
Summerhouse Wittersham. For more details
contact Rev'd Simon Ridley on 01797 270215
After the 10:30 morning service you are
invited to stay for tea or coffee.
GOLF DAY – In aid of Wittersham Church
MONDAY 24TH JUNE AT LYDD GOLF CLUB
Further details from Jenny Newton 01797
270 739. Entry forms at the back of the
church
Services in the coming weeks………….
May 5th Easter 6
9am Ebony Holy Communion (BCP)
10.30 am Wittersham Parish Eucharist (CW)
At this service we welcome the Archdeacon of
Ashford the Venerable Philip Down to celebrate,
preach and dedicate our new facilities.
Thursday May 9th – Ascension Day
Parish Eucharist at 7.30 pm
May 12th Easter 7
9.00am Wittersham Holy Communion (BCP)
10.30 am Wittersham All Age Worship
May 19th Pentecost
9.00 am Ebony Holy Communion (BCP)
10.30 am Wittersham Parish Eucharist (CW)
May 26th Trinity Sunday
9.00am Wittersham Holy Communion (BCP)
10.30 am Wittersham Matins (BCP)
6.30 pm Wittersham Choral Evensong
Some thoughts for prayer:
From the Diocesan prayer diary this week we pray
for the churches in Madagascar, Canada, USA and
Papua New Guinea. For the people and clergy of
the Elham Deanery.
We pray for all those caught up in war and
violence and also those recovering after the
tragedies of Boston ,Texas and Bangladesh. We
pray for the work of the Churches there.
We pray for the work of Christian Aid
Pray for Archbishop Justin Welby and Bishop
Trevor asking for God's blessing on their
ministries. We pray for the Archdeacon's,
Philip, Sheila and Stephen as they prepare for
their visitations in May. We also remember
with thanks all who give their time and talents
to our churches, especially our
churchwardens and sidespeople.
We give thanks for the preparations made for
the nine days of prayer in May.
We pray for God's blessing on the
preparations and opportunities for time
together during The Gathering in Canterbury
For our parishes, both Wittersham and Ebony.
For Wittersham School, the children and staff.
giving thanks for a successful week away for
the older children.
For the sick and all in any kind of need that
they may know Christ's presence with them:
Hilary Parker, Nicole Turner, David
Pennyfather, Tony & Audrey Mayer,
Geoffrey Waters, Tim Jupp, Baby Jack and
Charlotte Aspinall.
We pray for the families of Ray Marshall,
Elizabeth Wright, Lynn Wyatt and Joan
Goodman and for all who mourn their
passing. May they rest in peace.