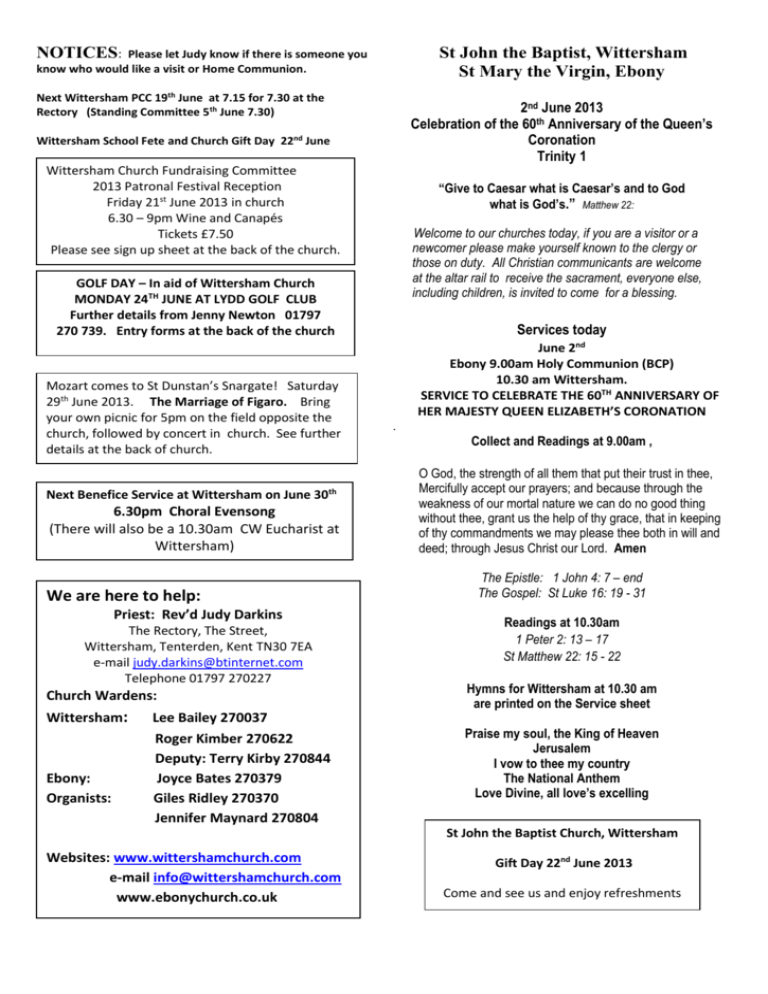 NOTICES:
St John the Baptist, Wittersham
St Mary the Virgin, Ebony
Please let Judy know if there is someone you
know who would like a visit or Home Communion.
Next Wittersham PCC 19th June at 7.15 for 7.30 at the
Rectory (Standing Committee 5th June 7.30)
2nd June 2013
Celebration of the 60th Anniversary of the Queen's
Coronation
Trinity 1
Wittersham School Fete and Church Gift Day 22nd June
Wittersham Church Fundraising Committee
2013 Patronal Festival Reception
Friday 21st June 2013 in church
6.30 – 9pm Wine and Canapés
Tickets £7.50
Please see sign up sheet at the back of the church.
"Give to Caesar what is Caesar's and to God
what is God's." Matthew 22:
Welcome to our churches today, if you are a visitor or a
newcomer please make yourself known to the clergy or
those on duty. All Christian communicants are welcome
at the altar rail to receive the sacrament, everyone else,
including children, is invited to come for a blessing.
GOLF DAY – In aid of Wittersham Church
MONDAY 24TH JUNE AT LYDD GOLF CLUB
Further details from Jenny Newton 01797
270 739. Entry forms at the back of the church
Mozart comes to St Dunstan's Snargate! Saturday
29th June 2013. The Marriage of Figaro. Bring
your own picnic for 5pm on the field opposite the
church, followed by concert in church. See further
details at the back of church.
Next Benefice Service at Wittersham on June 30
th
6.30pm Choral Evensong
(There will also be a 10.30am CW Eucharist at
Wittersham)
We are here to help:
Priest: Rev'd Judy Darkins
The Rectory, The Street,
Wittersham, Tenterden, Kent TN30 7EA
e-mail judy.darkins@btinternet.com
Telephone 01797 270227
Church Wardens:
Wittersham:
Ebony:
Organists:
Lee Bailey 270037
Roger Kimber 270622
Deputy: Terry Kirby 270844
Joyce Bates 270379
Giles Ridley 270370
Jennifer Maynard 270804
Services today
June 2nd
Ebony 9.00am Holy Communion (BCP)
10.30 am Wittersham.
SERVICE TO CELEBRATE THE 60TH ANNIVERSARY OF
HER MAJESTY QUEEN ELIZABETH'S CORONATION
.
Collect and Readings at 9.00am ,
O God, the strength of all them that put their trust in thee,
Mercifully accept our prayers; and because through the
weakness of our mortal nature we can do no good thing
without thee, grant us the help of thy grace, that in keeping
of thy commandments we may please thee both in will and
deed; through Jesus Christ our Lord. Amen
The Epistle: 1 John 4: 7 – end
The Gospel: St Luke 16: 19 - 31
Readings at 10.30am
1 Peter 2: 13 – 17
St Matthew 22: 15 - 22
Hymns for Wittersham at 10.30 am
are printed on the Service sheet
Praise my soul, the King of Heaven
Jerusalem
I vow to thee my country
The National Anthem
Love Divine, all love's excelling
St John the Baptist Church, Wittersham
Websites: www.wittershamchurch.com
e-mail info@wittershamchurch.com
www.ebonychurch.co.uk
Gift Day 22nd June 2013
Come and see us and enjoy refreshments
For Children:
There are activities in the children's
corner at Wittersham.
Some thoughts for prayer:
From the Diocesan prayer diary this week we pray
for the churches in Madagascar, Michigan, Texas,
Pennsylvania, Uganda, Philippines and
Queensland, Australia.
Toilet facilities at Wittersham: are
located just outside the Church, turn left and
follow the path round to the building on your
right.
Weekday Services this week ...There will
be Morning Prayer (CW) said in Wittersham Church
on Monday, Tuesday and Thursday at 8:30am.
Evening Prayer (CW) on Thursday evening at 5pm
Friday 7th June Evensong (BCP) at 6.30pm, at
Summerhouse Wittersham. For more details
contact Rev'd Simon Ridley on 01797 270215
After the 10:30 morning service you are
invited to stay for tea or coffee.
Services in the coming weeks………….
June 9th Trinity 2
Wittersham 9.00am Holy Communion (BCP)
Wittersham 10.30 am Parish Eucharist (CW)
June 16th Trinity 3
Ebony 9.00am Holy Communion (BCP)
Wittersham 10.30 am All Age Worship for
Father's Day
June 23rd Trinity 4
Wittersham 9.00 am Holy Communion (BCP)
Wittersham 10.30 am Matins (BCP)
June 30th Trinity 5
Benefice Services for St John the Baptist Patronal Festival
Wittersham 10.30 am Parish Eucharist (CW)
Wittersham 6.30pm Choral Evensong
July 7th
Trinity 6
Ebony 9.00 am Holy Communion (BCP)
Wittersham 10.30 Parish Eucharist (CW)
For the people and clergy of the Canterbury
Deanery.
We pray for Her Majesty the Queen and all the
Royal family.
We pray for all those caught up in war or violence
of any sort. Those who are suffering hunger and
the victims of natural disasters. We pray for the
work of Churches and relief agencies in those
areas.
Pray for Archbishop Justin Welby and Bishop
Trevor asking for God's blessing on their
ministries.
We pray for all new Churchwardens in the many
churches in our Diocese.
We ask God's blessing on Judy Vinson who has
been elected as the new Lay Chair for our Deanery
and for Lindsay Hammond as he takes up the post
of Area Dean.
We also remember with thanks all who give their
time and talents to our churches, especially this
week we pray for our organists and PCC.
Please pray for Evelyn India Walker who will be
baptised in Biddenden on the 2nd of June.
For our parishes, both Wittersham and Ebony and
for all events and celebrations we plan for June.
For Wittersham School and the preparations for
their fete.
For all who are taking exams especially those
taking GCSE's
For the sick, particularly those in hospital or
hospice, and all in any kind of need that they
may know Christ's presence with them:
Kathy Head, David Pennyfather, Tony & Audrey
Mayer, Geoffrey Waters, Tim Jupp, and
Charlotte Aspinall.
We pray for all who mourn the passing of loved
ones especially the family of Edith May Bogle.
May those who have died rest in peace.