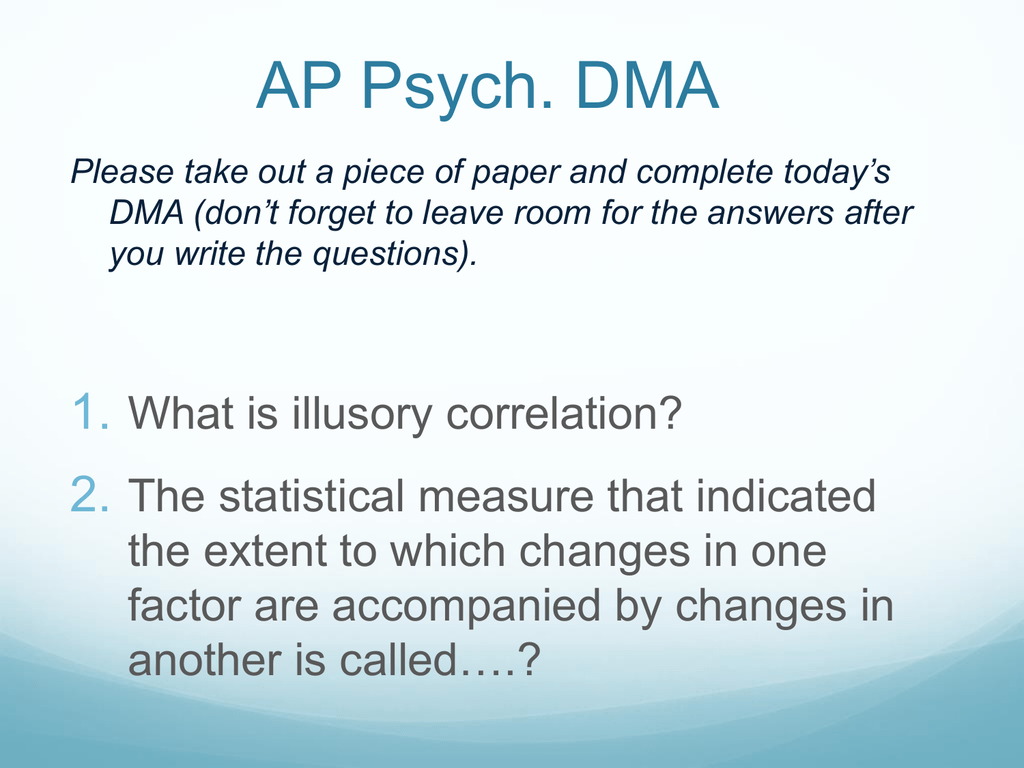 AP Psych. DMA
Please take out a piece of paper and complete today's
DMA (don't forget to leave room for the answers after
you write the questions).
1. What is illusory correlation?
2. The statistical measure that indicated
the extent to which changes in one
factor are accompanied by changes in
another is called….?
 DMA
 Prologue
 Psychology's roots
 Chap. 1
 Psychology as a science
 Pass-out take-home test
Homework
•Prologue AND Chapter 1 notes – due Monday, Sept. 19th
•Prologue & Chapter 1 take home test – due Monday, Sept. 19th (you will
receive the test on 9/15/11)
•Deadline to submit FRQs for feedback – Thursday, Sept. 15th
•DMAs are due Friday
Today's Agenda
Prologue:
Psychology's Roots
 Definition of Psychology
 The science of behavior (what we do)
and mental processes (sensations,
perceptions, dreams, thoughts, beliefs,
and feelings)
Psychology's Perspectives
Prologue: Contemporary Psychology
 Psychology's Perspectives
 A lot depends on your viewpoint
What are the steps in the
scientific method?
 Theory
 an explanation using
The Need for
Psychological
Science
an integrated set of
principles that
organizes and predicts
observations
 Hypothesis
 a testable prediction
 often implied by a
theory
The Need for Psychological
Science
 Operational Definition
 a statement of
The Need for
Psychological
Science
procedures (operations)
used to define research
variables
 Example intelligence may be
operationally defined as
what an intelligence test
measures
Smiling Experiment
 Hypothesis "girls smile more than boys"
 What are some valid ways to test this?
 Find a partner and grab a copy of the yearbook page.
 With your partner - gather data to test the hypothesis
Smiling - Operational Definition
 What were some issues that you had?
 What is a smile?
 Researchers must first create an operational
definition for what a "smile" is.
 Operational definition must be precise.
 Replication
 repeating the research
The Need for
Psychological
Science
study to see whether the
basic finding generalizes
to other participants and
circumstances
 usually with different
participants in different
situations
Description
Psychologists
describe behavior
using case studies,
surveys, and
naturalistic
observation
Prologue & Chapter 1 take
home test
 Everyone needs a copy of the test & a scantron
 Make sure you:
 Use a #2 pencil
 Write your FRQ on a separate piece of paper.
 Remember that questions from previous chapters are on
current chapter tests.
 Test is due on Monday
 Prologue & Chapter 1 notes are due on Monday.