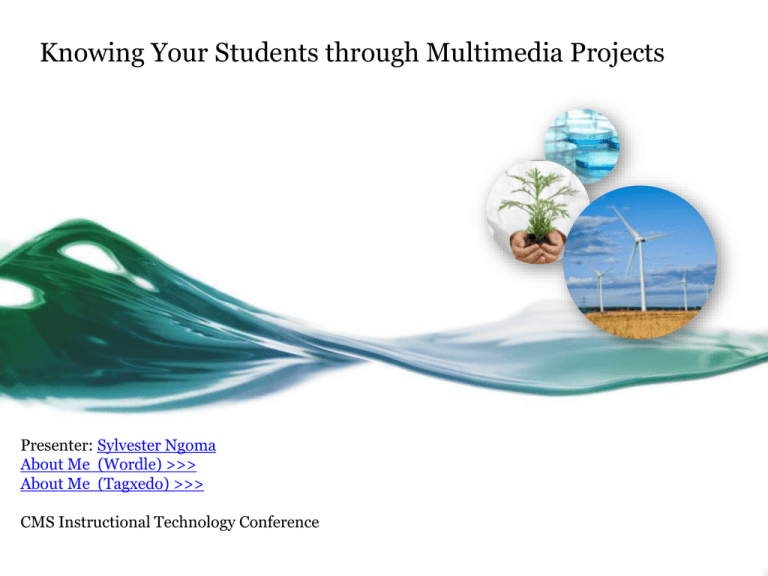 Knowing Your Students through Multimedia Projects
Presenter: Sylvester Ngoma
About Me (Wordle) >>>
About Me (Tagxedo) >>>
CMS Instructional Technology Conference
Presentation Objectives
•
Improve teaching practices
•
Improve student learning
•
Increase success and reduce failure
Resistance to learning
•
•
•
•
•
•
•
Disjunction between teaching styles and learning styles
Rhythm or pace of learning
Poor self-image
Fear of the unknown
Poor teaching or testing practices
Apparent irrelevance of learning activities
Students' dislike of teachers
Responding to Resistance
•
Research your students' backgrounds, values, career goals, learning
styles
•
•
•
Sort out causes of resistance
Use a variety of teaching methods
Build a case for learning
Tools
•
•
•
•
•
•
•
Mixbook
Wordle
Tagxedo
Animoto
Photostory
Glogster
VisuWords
Samples
Mixbook
•
•
•
•
•
•
•
Laura's Memories
Rani's Memories
Sidney's Memories
Kayla's Memories
The American Storm by Shakia Watson (Senior Exit Project)
My Students' SciVis Projects
Embedded Mixbook
Glogster Presentations for Unit Summary
•
•
•
•
Ethical Use of Electronic Media by Alexis
Medical Imaging Careers by Marcella
Basic Presentation Techniques by Chelsea
Maya Angelou (Interdisciplinary Projects)
Tagxedo
•
•
•
•
•
•
Electronic Communication by Watson
Software and Hardware by Chelsea
Symbols by Aarti
Violence by Akiyl
Software by Fay
Software by Marcella
Wordle
•
•
•
•
•
Project Ideas by Kayla
Screen Saver by Akiyl
Screen Saver by Rani
Screen Saver
Screen Saver
The First Word: IDEAL & SAFE
•
•
•
•
•
•
•
•
•
•
•
•
SAFE by Shakia Watson
IDEAL by Alexis Harrison
IDEAL by Chelsea Anderton
IDEAL by Farzaana Carey
SAFE by Farzaana Carey
IDEAL by Brittany Waters
SAFE by Brittany Waters
IDEAL by Deanca Crouch
SAFE by Deanca Crouch
IDEAL by Brittany Jordan
IDEAL by Alana Luke
IDEAL by Courtney Meeker
2. Unit Recall through Wordle
•
•
•
•
•
•
•
•
•
Network Systems by Jada Brown
IT Security by Jada Brown
Network Systems by Maria Gonzales
IT Security by Maria Gonzales
Network Systems by Randy Cao
Network Systems by Randy Cao
IT Security by Randy Cao
Network Systems by Sahra Mohamed
Network Systems by Chelsea Brinson
Other Tools
•
•
•
•
•
•
•
•
Animoto
Photostory
Bubbl.com
SlideRocket
Combining Wordle with Movie Maker
Combining Tagxedo with Movie Maker
Combining Wordle with Photostory
Combining Tagxedo with Photostory
Learning Style Surveys
•
•
•
Edutopia
LD Pride
Index of Learning Styles Questionnaire (NC State
University)
Introduction Activity
•
In this assignment, you are asked to introduce yourself to the class
through a multimedia product. Using Wordle or Tagxedo, create a
screen saver that captures your learning style, your personality, your
career dreams, what makes you unique, something interesting about
you, your worries as a student, your fears, your accomplishments. Be
sure to use at least 200 words.
•
•
•
Save the file as JPG
Open it in Movie Maker
Add audio explaining each word. Be as funny and as creative as you can
be.
FIN
•
•
•
c
Use YouTube Tutorials
o
Mixbook
o
Glogster 1
o
Glogster 2
Use converters
o
•
Audio Converter Example
Cardinal Principle of Effective Teaching: Know Your Students.