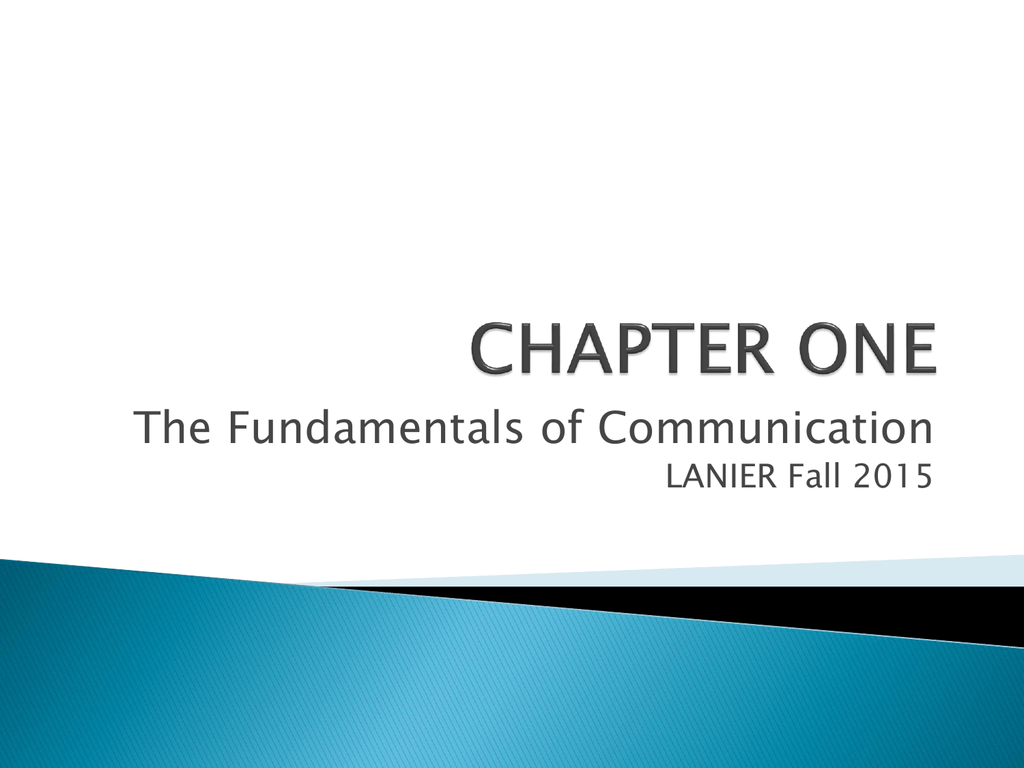 The Fundamentals of Communication
LANIER Fall 2015


Turn to a partner and write down your own
definition.
DEFINITION:
◦ Communication: a process for exchanging ideas
and creating meaning.







Has vital SOCIAL, ACADEMIC, CIVIC, and PROFESSIONAL
importance.
Social:
How you connect with others
Academic:
Good communication skills help students and teachers
express themselves clearly and understand others as they
clarify meaning and ask questions.
Civic:
A thriving society relies on GOOD communication.
Through communication, we can set up rules and
practices.
 Connections
made
through GOOD
communication open up
new opportunities
socially, at school, and at
work.

1. SELF: Effective communicators consider themselves first.
◦ What am I trying to say? How do I feel about it? How can I say it
appropriately?

2. LISTENER: Effective communicators consider their listeners.
◦ How are they responding to what I am saying? How can I adjust what I'm
saying to get a better response.
◦ EXAMPLE: Teachers and Students-changing tactics

3. OCCASION: Effective communicators consider the occasion.
◦ What is the occasion? What is my role? What is the role of the listener?

4. TASK: Effective communicators consider the task.
◦ Do I care about this task? How can it be accomplished?

MESSAGE:
◦ the idea the sender is trying to communicate

SENDER:
◦ the one who initiates the message

RECEIVER:
◦ the target of the message

FEEDBACK:
The response the receiver gives the sender
CONTEXT
Time or place where communication occurs
CHANNEL
Means used to transmit the message
INTERFERENCE
Anything that blocks the message from being sent
or received.

How does this model pertain to you, as a
public speaker?
◦ Who is the sender?
◦ Who is the receiver?

Discuss in small groups what type of
feedback, channels and interference you will
experience as a public speaker.

NEVER STOPS
◦ When you stop talking, your silence still
communicates ideas, mood, etc.

ALWAYS CHANGES
◦ You naturally move from one topic or thought to
another.

VARIES
◦ Changing any ONE variable in the process changes
the communication act itself.