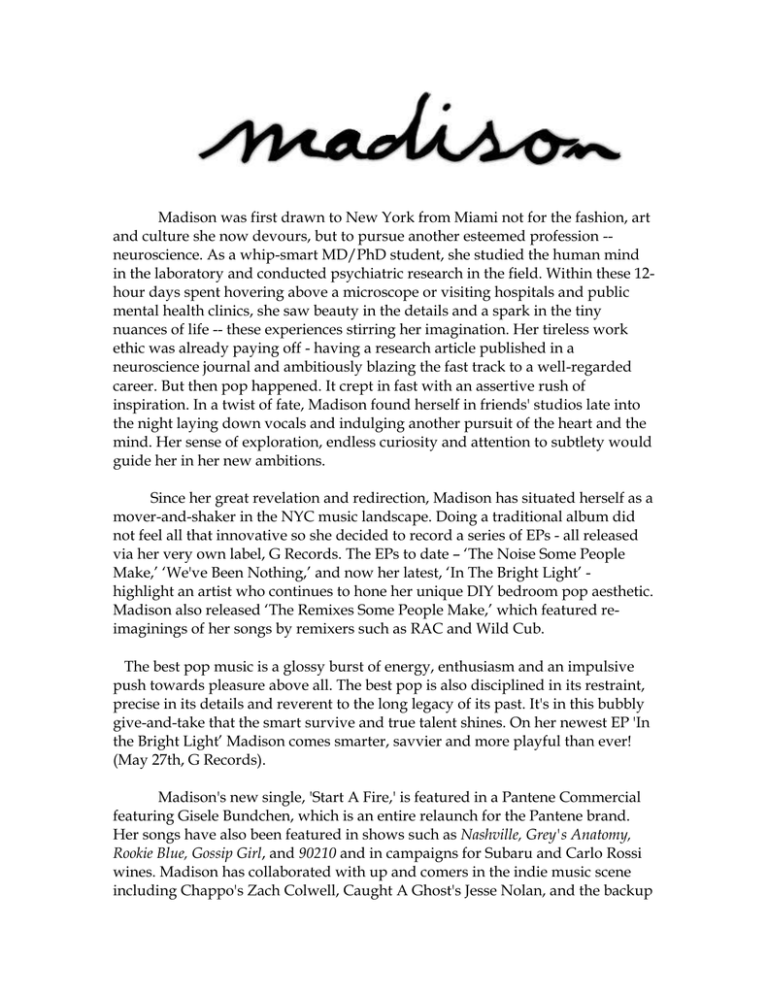 Madison was first drawn to New York from Miami not for the fashion, art
and culture she now devours, but to pursue another esteemed profession -neuroscience. As a whip-smart MD/PhD student, she studied the human mind
in the laboratory and conducted psychiatric research in the field. Within these 12hour days spent hovering above a microscope or visiting hospitals and public
mental health clinics, she saw beauty in the details and a spark in the tiny
nuances of life -- these experiences stirring her imagination. Her tireless work
ethic was already paying off - having a research article published in a
neuroscience journal and ambitiously blazing the fast track to a well-regarded
career. But then pop happened. It crept in fast with an assertive rush of
inspiration. In a twist of fate, Madison found herself in friends' studios late into
the night laying down vocals and indulging another pursuit of the heart and the
mind. Her sense of exploration, endless curiosity and attention to subtlety would
guide her in her new ambitions.
Since her great revelation and redirection, Madison has situated herself as a
mover-and-shaker in the NYC music landscape. Doing a traditional album did
not feel all that innovative so she decided to record a series of EPs - all released
via her very own label, G Records. The EPs to date – 'The Noise Some People
Make,' 'We've Been Nothing,' and now her latest, 'In The Bright Light' highlight an artist who continues to hone her unique DIY bedroom pop aesthetic.
Madison also released 'The Remixes Some People Make,' which featured reimaginings of her songs by remixers such as RAC and Wild Cub.
The best pop music is a glossy burst of energy, enthusiasm and an impulsive
push towards pleasure above all. The best pop is also disciplined in its restraint,
precise in its details and reverent to the long legacy of its past. It's in this bubbly
give-and-take that the smart survive and true talent shines. On her newest EP 'In
the Bright Light' Madison comes smarter, savvier and more playful than ever!
(May 27th, G Records).
Madison's new single, 'Start A Fire,' is featured in a Pantene Commercial
featuring Gisele Bundchen, which is an entire relaunch for the Pantene brand.
Her songs have also been featured in shows such as Nashville, Grey's Anatomy,
Rookie Blue, Gossip Girl, and 90210 and in campaigns for Subaru and Carlo Rossi
wines. Madison has collaborated with up and comers in the indie music scene
including Chappo's Zach Colwell, Caught A Ghost's Jesse Nolan, and the backup
singers from The Heavy, Mavis and Kiki. She even found time to craft the
soundtrack to the award-winning indie film Missed Connections as music
supervisor, featuring some of her favorite artists from Alexander, Chiddy Bang,
White Arrows, to Joan as Policewoman and Langhorne Slim.
Her Tumblr, Instagram, and Twitter - @noiseofmadison - reads like a day in
the life of an excitable dreamer, mixing uptown fashion shots with back alley
street art, cityscapes and inspirations for her style, label and her music. She has a
style all her own - it is high art for the low brow. Forever hustling, Madison
knows that every experience counts. 'In the Bright Light' showcases all of these
diverse pieces of the world-according-to-Madison, in a tight, sophisticated and
clever set of upbeat pop gems.