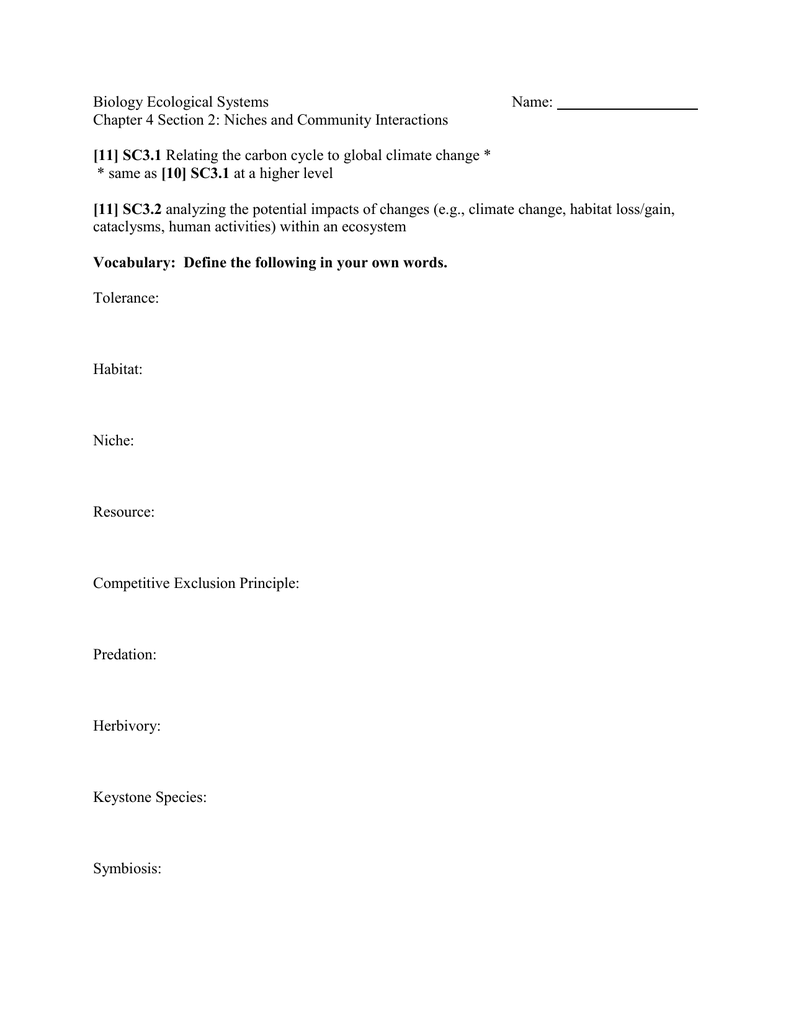 Biology Ecological Systems
Chapter 4 Section 2: Niches and Community Interactions
Name:
[11] SC3.1 Relating the carbon cycle to global climate change *
* same as [10] SC3.1 at a higher level
[11] SC3.2 analyzing the potential impacts of changes (e.g., climate change, habitat loss/gain,
cataclysms, human activities) within an ecosystem
Vocabulary: Define the following in your own words.
Tolerance:
Habitat:
Niche:
Resource:
Competitive Exclusion Principle:
Predation:
Herbivory:
Keystone Species:
Symbiosis:
Mutualism:
Parasitism:
Commensalism:
KEY CONCEPTS
1. We have found that primary producers in the oceans have a narrow range of temperatures
in which they can survive. Why should humans be concerned about the survival of
primary producers?
2. What three components make of the niche of an organism?
3. Why do we rarely see a large overlap of the niches occupied by two species?
4. Look at Figure 4.7; What would happen if two warbler SPECIES tried to occupy the
same niche in the same tree at the same time?
5. Based on the Herbivore – Plant relationship, why do you think most herbivores move
around from place to place?
6. Based on the Predator – Prey relationship, how could the killing off of predators, affect
the population of primary producers in their environment?
7. Why would salmon be considered a keystone species in Bristol Bay?
8. Explain the differences between Mutualism, Parasitism and Commensalism.