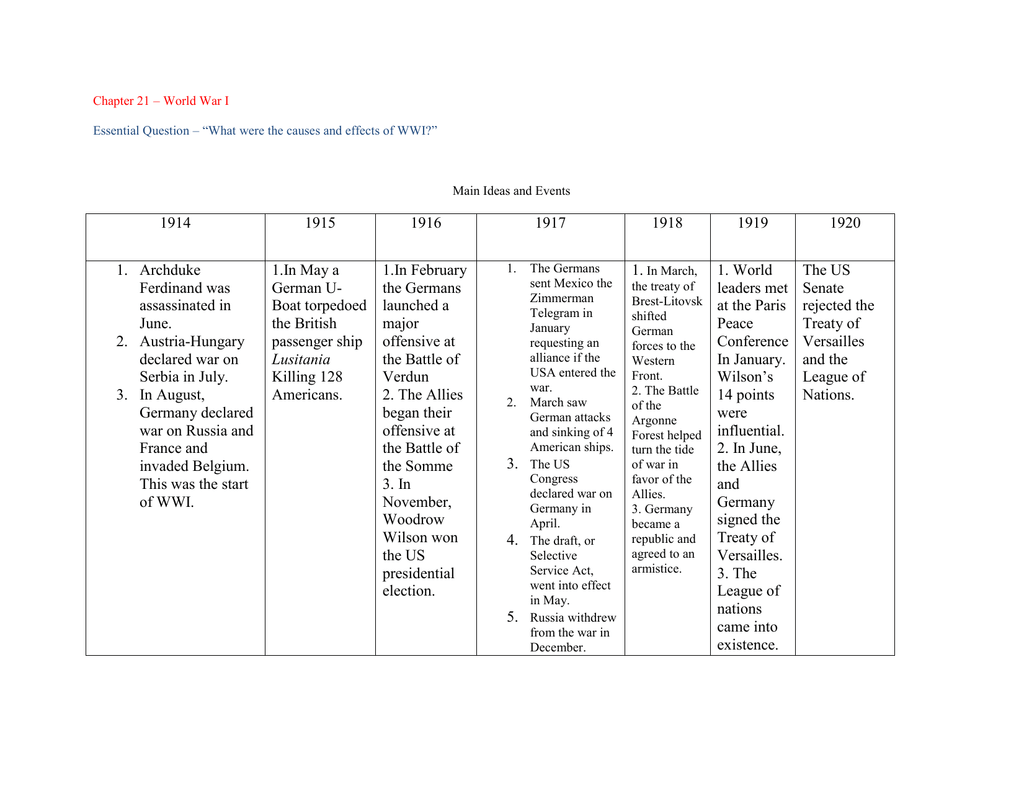 Chapter 21 – World War I
Essential Question – "What were the causes and effects of WWI?"
Main Ideas and Events
1914
1. Archduke
Ferdinand was
assassinated in
June.
2. Austria-Hungary
declared war on
Serbia in July.
3. In August,
Germany declared
war on Russia and
France and
invaded Belgium.
This was the start
of WWI.
1915
1916
1.In May a
German UBoat torpedoed
the British
passenger ship
Lusitania
Killing 128
Americans.
1.In February
the Germans
launched a
major
offensive at
the Battle of
Verdun
2. The Allies
began their
offensive at
the Battle of
the Somme
3. In
November,
Woodrow
Wilson won
the US
presidential
election.
1917
1.
2.
3.
4.
5.
The Germans
sent Mexico the
Zimmerman
Telegram in
January
requesting an
alliance if the
USA entered the
war.
March saw
German attacks
and sinking of 4
American ships.
The US
Congress
declared war on
Germany in
April.
The draft, or
Selective
Service Act,
went into effect
in May.
Russia withdrew
from the war in
December.
1918
1919
1. In March,
1. World
leaders met
at the Paris
Peace
Conference
In January.
Wilson's
14 points
were
influential.
2. In June,
the Allies
and
Germany
signed the
Treaty of
Versailles.
3. The
League of
nations
came into
existence.
the treaty of
Brest-Litovsk
shifted
German
forces to the
Western
Front.
2. The Battle
of the
Argonne
Forest helped
turn the tide
of war in
favor of the
Allies.
3. Germany
became a
republic and
agreed to an
armistice.
1920
The US
Senate
rejected the
Treaty of
Versailles
and the
League of
Nations.