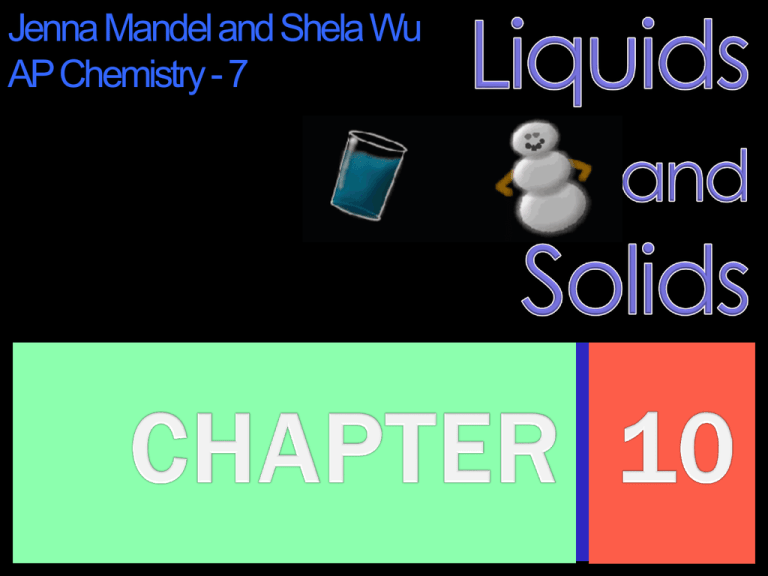 Jenna Mandel and Shela Wu
AP Chemistry - 7
Intermolecular
BETWEEN MOLECULES
VS
Intramolecular
KEEPS MOLECULE TOGETHER
When something undergoes a phase change, the changes
occur in the intermolecular forces.
Occurs between two polar molecules
HYDROGEN
BONDING
Strong form of dipole-dipole attractions
Occurs in molecules with hydrogen that is
bonded with an element with a high E.N.
High difference in electronegativity & small
size contributes to its great strength
INSTANTANEOUS
DIPOLES
IN LARGE
ATOMS, CAN BE
MORE
SIGNIFICANT
THAN DIPOLEDIPOLE
FORCES
London Dispersion Forces
OCCURS
BET WEEN 2
NON-POLAR
MOLECULES
surface tension the resistance of a liquid to an increase in its surface area
capillary action
spontaneous rising of a liquid in a narrow tube
a result of adhesion and cohesion
Concave shape of meniscus
shows adhesive > cohesive
Viscosity:
measure of liquid's resistance to flow
adhesive versus cohesive
force between liquid and surrounding
liquid particles attracted to themselves
as apposed to amorphous solids…
LATTICE
describes the locations of the pieces in a
UNIT
CELL
smallest repeating unit of the lattice
crystalline solid
ions at lattice points
small molecules at
lattice points
atoms at
lattice points
Metallic Solids
Positively charged & held together by neutrons.
Delocalized
electron sea theory
atoms at
lattice points
Network Solids
Atoms bond covalently in a continuous network.
Strong Bonds -> High mp & bp
Do not conduct electricity
atoms at
lattice points
Group 8A Solids
Noble gases bonded with London Dispersion Forces
Occur at very low temperatures!
It's ductile!
It's malleable!
strong &
nondirectional
ELECTRON SEA MODEL
metal cations in valence econduct heat and electricity
malleable and ductile
Diamond
VERSUS
Graphite
Hardest naturally
occurring
substance
Slippery, black, & a
conductor
carbon surrounded by a
tetrahedral
Layers of carbon atoms in
6 member rings
sp3 hybridization
sp2 hybridization
large gap between filled
and empty levels in
energy diagram
weak bonding between
layers accounts for slippery
texture
PHASE CHANGES
Heat of Vaporization
ENERGY NEEDED TO VAPORIZE A MOLE OF LIQUID
When does a liquid boil?
its vapor pressure
EQUALS
pressure of the
environment
 Pvap,T
ln 
 Pvap,T

1
2
 Hvap  1
1

 =



R
T
T
 2
1

ΔHvap = enthalpy of vaporization
R = 8.3145 J/K·mol
T = temperature (kelvin)
C=constant
Determine heat of vaporization,
and can also be used to find
Pvap
Rate of
evaporation
remains constant
while rate of
condensation
increases as
number of
molecules in vapor
phase increases,
until they become
equal, and thus
reach equilibrium.