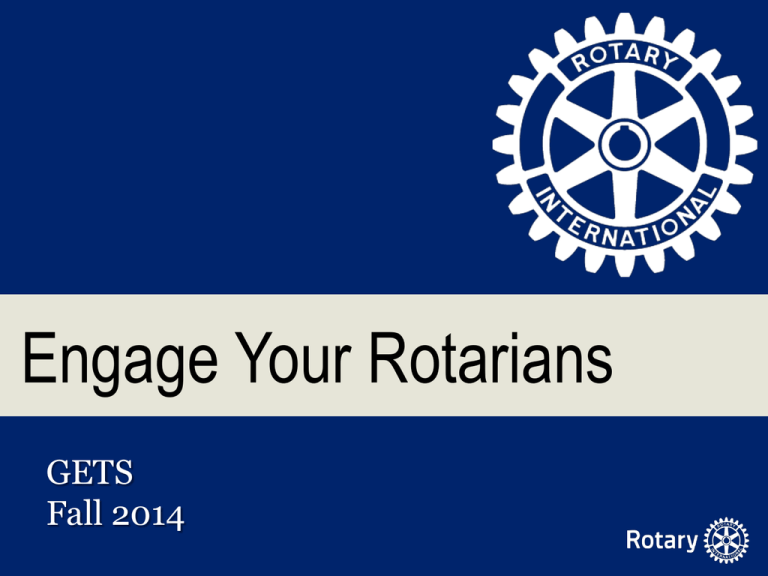 Engage Your Rotarians
GETS
Fall 2014
Session Objectives
To increase awareness of the many ways we
can engage with the Rotarians in our district.
What is "Engagement"
Two Elements:
The Media
The Message
What's in the Message
Info - who, what, where, when, why & how
Provide Motivation
Provide Specific Next Steps
Establish Timing
Convey Respect
Engage with Electronic Media
E-mail
Website & Web services
Video E-mail
Power Point Presentations
Social Media
Engage with Electronic Media
Position Yourself Purposefully
By The Media You USE!
Frequency of Engagement
Early, Often
Variety of Media
Consistent
Timely
E-mail - Help or Hindrance?
Fast, Inexpensive, Efficient, Graphic
Widely Accepted
An Incredible Tool if Properly Used
Easily Misused and OVER Used
Impersonal
Contact lists can be out of date quickly
CONFIRM WITHIN 24 HOURS
E-mail - Help or Hindrance?
Once you hit this button,
send
have you communicated?
Website
Make it Relevant, Useful, Habit-forming
Keep it Updated
Newsletter vs. site
Drive the Right People
Power Point (Less)
Effective Tool
Not Primary
Can be overdone
Oversimplifies issues
Benefits of Visuals
Dramatize ideas
Guide the presentation
direction
Make the message easy
to understand
3 Rules of PowerPoint
The "6 x 6" Rule
The "10-Second" Rule
Don't look at the
screen!
Other Tools - Written
Written Word
Letters
Notes
Newsletters
Other?
Other Tools - Verbal
Verbal Communications
Phone Calls
Club Visits
District Meetings
One-on-One
Verbal Communications
Compliments – Giving / Receiving
Dealing with confrontation
What about stress?
Physical Communications
Hugs and kisses
Respecting Others
Maintaining Respect
Support
Assistant Governors
District Leadership
Club Presidents
Influential People in District & Clubs
Key Elements of Effective Engagement
Listen
Empathize
Respect
Assume Goodness in Others
Provide Clear Message
Feedback to Different Generations
Veterans
"No news is good news"
Boomers
"Once a year and in writing"
Gen X
"How am I doing?"
Gen Y
"Instant feedback at your
fingertips"
Messages That Motivate
Veterans
"Your experience is respected"
Boomers
"You are valued and needed"
Gen X
"You are creative. Do it your way"
Gen Y
"Unmatched spirit, creativity &
energy"
Parting Thought
"If you are not in the process of becoming
the person you want to be,
you are automatically engaged in becoming
the person you don't want to be."
Dale Carnegie
Engagement Your Best Friend!
Be a
Rotary
Champion !