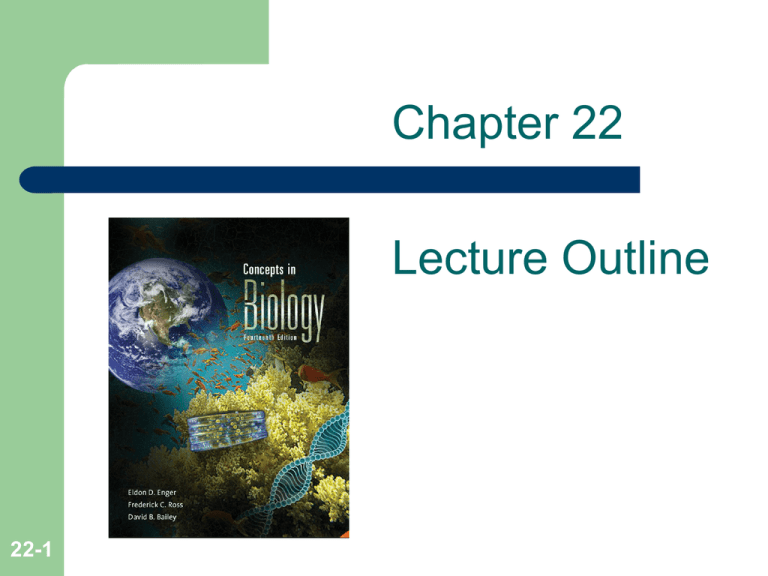 Chapter 22
Lecture Outline
22-1
What Is a plant?






Eukaryotic
Multicellular
Photosynthetic
Contains chlorophyll a and b
Has cellulose cell walls
Live in a variety of terrestrial habitats
–

22-2
And a few shallow aquatic habits
Exhibits alternation of generations
Plant Diversity
22-3
Alternation of Generations

A life cycle that involves two generations
1.
Sporophyte generation



2.
Gametophyte generation




22-4
Diploid
Undergoes meiosis to generate haploid spores
Spores germinate and divide by mitosis to give rise to
a haploid gametophyte generation.
Haploid generation
Undergoes mitosis to produce haploid gametes
Gametes unite to form a zygote.
Zygote divides by mitosis to form the sporophyte
generation.
Alternation of Generations
22-5
The Evolution of Plants

Freshwater green algae are thought to be the
ancestors of plants.
–
–

The evolution of plants shows two trends.
–
–
22-6
Green algae have the same types of chlorophyll.
There is great similarity in the DNA of green algae
and plants.
Toward greater specialization for living in a dry
environment
Toward a more prominent sporophyte generation
The Evolution of Plants

Primitive plants
–
–
–

More advanced plants
–
–
–
22-7
Lack vascular tissue to carry water
Usually live in moist situations
Have dominant gametophyte generation
Have specialized cells that transport water
Typically live in dryer situations
Have dominant sporophyte generation
The Evolution of Plants
22-8
Nonvascular Plants


Commonly known as the
bryophytes
Include
–

Common features
–
–
–
–
–
22-9
Mosses, hornworts, liverworts
Lack vascular tissue
Do not have true roots or leaves
Gametophyte is dominant
Sperm swim to egg
Are small and confined to moist
habitats
Moss Life Cycle
22-10
Kinds of Nonvascular Plants

Mosses
–
–

Liverworts and hornworts
–
–
22-11
Grow as a carpet of many individual
gametophyte plants
Each individual is less than 5 cm tall.
Form flat sheets only a few cells thick
Cells of hornworts only contain one
large chloroplast.
The Significance of
Vascular Tissue


Vascular tissue allows plants to transport water and
nutrients throughout the plant
Vascular tissue is associated with development of
–
–
–
–
–

Two types of vascular tissue
–
22-12
Leaves for photosynthesis
Stems for positioning leaves and transporting materials
Roots for absorbing water and minerals
An increase in plant size
The appearance of a waterproof coating on the plant
surfaces
–
Xylem
Phloem
Xylem


22-13
A series of dead, hollow
cells that form tubes
Transports water and
minerals from the soil to
the leaves
Xylem
22-14
Phloem

Carries organic molecules produced in the leaves to
the rest of the plant
–
–
22-15
Sugar
Amino acids
Phloem
22-16
The Development of Roots,
Stems, and Leaves




22-17
The appearance of
vascular tissue allowed
for the development of
specialized plant parts.
Roots are specialized
for absorption.
Stems are specialized
for transport.
Leaves are specialized
for photosynthesis.
Roots

Underground parts of a plant that
–
–
Anchor in the soil
Absorb water and nutrients



22-18
Move the nutrients into the vascular system
Grow from the tips
Important storage sites for food
Stems

Above-ground
structures that
–
–
–
22-19
Support the leaves
Transport raw material
from the roots to the
leaves
Transport manufactured
material from the leaves
to other parts of the plant
The Love TreeRAY: This was sent to us by Bob Powers
from Shreveport, LA. Here it is.A teenage boy smitten with a
teenage girl in his high school freshman class, made his
feelings known. Overjoyed at finding them reciprocated, he
took pen knife to a young hard wood in the vicinity and
carved their initials within a heart, five feet up the tree's
trunk. TOM: I see the puzzler already. RAY: By their senior
year, however, the girl's ardor had cooled. She took her
diploma, went away to the big city and married. The boy was
crushed, inconsolable. Bidding his family farewell, he took
his small savings that he got from selling lemonade, bought
a bus ticket, went to the east coast and shipped out in a
menial job on a broken down freighter. Twenty-five years
later, captain of his own vessel, owner of a small freighter
fleet and with a major interest in a few oil tankers, he
indulged in a nostalgic whim and returned for the first time
ever, to his old hometown. Imagine his joy, when he
discovered his old sweetheart living there, now a
widow.One thing led to another. The flame reignited, and
one day they searched for their tree. It was not hard to find.
It was near a rock, near a river, and they immediately found
it. Now, here's the puzzler. If the tree had added 35% to its
height in the first 15 years of his absence, 10% in the
following in the five years and 2.5% in the ensuing eight
years, how far up the trunk did they have to look to find the
carving with their initials? Think you know? Drop Ray a
note!
Leaves

Specialized for photosynthesis
–
–
–
Have large surface area to collect sunlight
Relatively thin to allow light penetration
Have bundles of vascular tissue to support
leaf tissue and provide transport


–
–
22-20
Water and minerals transported to the leaf
Sugar produced by photosynthesis from
the leaf
Are arranged to minimize shading of lower
leaves
Covered by a waxy coating to minimize
water loss
The Structure of a Leaf
22-21
Leaves

Transpiration, stomates, and photosynthesis
–
Transpiration involves several processes

–
Role of stomates


22-22
Water evaporates and exits leaves through stomates.
Stomates must be open to allow water and oxygen to exit, and
carbon dioxide to enter leaves and allow for photosynthesis.
Stomates can close to regulate water loss in drought or during
dry part of the day
Stomates
22-23
Seedless Vascular Plants

Include
–
–
–

Have vascular tissue
–

Are not limited to aquatic environments
Do not have seeds
–
–
22-24
Horsetails
Club mosses
Ferns
Have flagellated sperm
Must have moist conditions to reproduce
Fern Life Cycle
22-25
Kinds of Seedless Vascular Plants

Ferns
–
22-26
Most common
seedless vascular
plant
Kinds of Vascular Seedless Plants

Horsetails
–
–
–

22-27
Low-growing plants with jointed stems
Most photosynthesis occurs in the stems.
Have silicon dioxide in their cell walls
 Called (and used as) scouring brushes
by pioneers
Club mosses
Seed-Producing Vascular Plants


Gymnosperms and angiosperms produce
seeds.
A seed is a specialized structure that
contains
–
–
–

Seeds allow plants to live in dry habitats.
–
–
22-28
An embryo
Stored food
A protective outer coating (seed coat) that
prevents drying
Germinate and grow when conditions are
right
Aid in dispersal
Gymnosperms


Gymnosperm means
"naked seed".
Produce seeds that are
not enclosed (naked)
–

22-29
Produce seeds in cones
Woody, perennial
plants
The Pine Life Cycle
22-30
Kinds of Gymnosperms

Cycads
–
–

Woody plants with a ring of
fern-like leaves at the top
Live in tropical regions
Ginkgo
–
–
Ginkgo biloba is the only living
species.
A tree with fan-shaped leaves

22-31
Used in many herbal medicines
Kinds of Gymnosperms

Conifers
–
–
–
Trees and shrubs that bear cones
Have needle-shaped leaves
Called evergreens because they do not lose their
leaves all at one time

–
22-32
Do shed needles throughout the year
Used in the production of lumber
Several Gymnosperms
22-33
Angiosperms



Produce flowers
Have vascular tissue, seeds, and pollen
Have seeds enclosed in a fruit
–
22-34
A modification of the ovary wall
Flower Structure

Composed of highly modified leaves
–
–
–
–
22-35
Petals and sepals surround pistils and
stamens.
Petals and sometimes sepals are large
and showy in insect-pollinated plants.
Flowers of insect-pollinated plants typically
produce nectar and odors to attract
insects.
Much variation in structure of flowers
Flower Structure (continued)

Specialized for sexual reproduction
–
Female parts in the center

–
Male parts surround the pistil.

–
–
22-36
Pistil (stigma, style, and ovary)
– Ovary produces eggs
Stamens (filament and anther)
– Anther produces pollen which contains sperm
nucleus.
Perfect flowers have both pistils and stamens.
Imperfect flowers have either pistils or stamens.
Flower Structure
22-37
The Life Cycle of a
Flowering Plant
22-38
Pollination Strategies

Wind pollination
–
–
Plants with inconspicuous flowers are usually
wind-pollinated.
Produce many flowers and much pollen


–
Responsible for hay fever

22-39
Grasses and sedges
Many trees such as aspens, birches, and oaks
Some people have allergic reactions to certain kinds
of pollen.
Strategies for Pollination

Animal pollination
–
–
Plants with showy flowers are usually animal-pollinated.
Flowers attract insects, birds, and small mammals.


–
The animals feed on the nectar and pick up the pollen.

22-40
These flowers usually produce nectar.
Also produce odors that attract animals
Then move to another plant for more nectar, transferring
the pollen
Wind- and Insect-Pollinated
Flowers
22-41
Fruit



A modification of the ovary that contains seeds
Involved in dispersal of seeds
Many fruits are nutritive to animals.
–
–


22-42
The animals eat the fruit and ingest the seeds.
The seeds pass through the digestive tract unharmed
and get "planted" in the animals' feces.
Other fruits burst open and release light seeds that
are dispersed by wind.
Other fruits have sticky surfaces that cling to animals
that pass by.
Types of Fruits
22-43
Angiosperm Diversity

Classified as either monocots or dicots
–
Cotyledons (seed leaves) store food for the
growing embryo.

–
Monocot and dicot refers to the number of
cotyledons found in the seeds of the species.


22-44
They emerge as the first leaves.
Monocots have one cotyledon (grasses, lilies, etc).
Dicots have two cotyledons (beans, apples, etc).
Embryos in Dicots and Monocots
22-45
Monocots vs. Dicots
22-46
Growth of Woody Plants


All gymnosperms and many dicots are woody
plants.
Woody plants are perennials that have the
ability to grow continuously for many years.
–


22-47
They get taller and grow in diameter each year.
Growth in length occurs at the tips of the
roots and stems.
Growth in diameter occurs by adding new
xylem and phloem to the outside of the stem.
Copyright © The McGraw-Hill Companies, Inc. Permission required for
reproduction or display.
Phototropism
22-48
Coevolution of Plants
and Animals

The first terrestrial organisms were plants.

Insects and amphibians were the terrestrial animals.

Symbiotic relationships evolved between plants and
animals.
–
Many flowering plants are pollinated by insects and birds.

–
Grasses and grazers have coevolved.


–
Grass has silicon that wears down grazers' teeth.
Grazers have very long teeth that take a long time to wear down.
Many angiosperms produce nutritive fruit.

22-49
These flowers are brightly colored, have nectar, and have odor.
Animals eat the fruit and distribute the seeds.