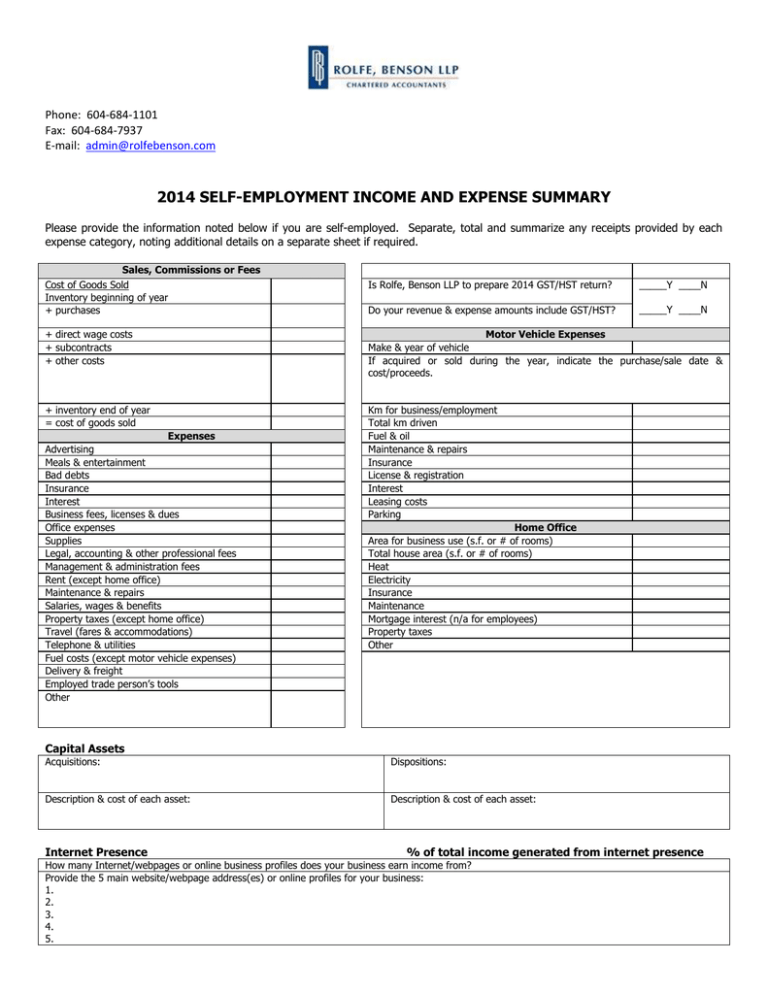 Phone: 604-684-1101
Fax: 604-684-7937
E-mail: admin@rolfebenson.com
2014 SELF-EMPLOYMENT INCOME AND EXPENSE SUMMARY
Please provide the information noted below if you are self-employed. Separate, total and summarize any receipts provided by each
expense category, noting additional details on a separate sheet if required.
Sales, Commissions or Fees
Cost of Goods Sold
Inventory beginning of year
+ purchases
Is Rolfe, Benson LLP to prepare 2014 GST/HST return?
_____Y ____N
Do your revenue & expense amounts include GST/HST?
_____Y ____N
+ direct wage costs
+ subcontracts
+ other costs
Motor Vehicle Expenses
Make & year of vehicle
If acquired or sold during the year, indicate the purchase/sale date &
cost/proceeds.
+ inventory end of year
= cost of goods sold
Km for business/employment
Total km driven
Fuel & oil
Maintenance & repairs
Insurance
License & registration
Interest
Leasing costs
Parking
Expenses
Advertising
Meals & entertainment
Bad debts
Insurance
Interest
Business fees, licenses & dues
Office expenses
Supplies
Legal, accounting & other professional fees
Management & administration fees
Rent (except home office)
Maintenance & repairs
Salaries, wages & benefits
Property taxes (except home office)
Travel (fares & accommodations)
Telephone & utilities
Fuel costs (except motor vehicle expenses)
Delivery & freight
Employed trade person's tools
Other
Home Office
Area for business use (s.f. or # of rooms)
Total house area (s.f. or # of rooms)
Heat
Electricity
Insurance
Maintenance
Mortgage interest (n/a for employees)
Property taxes
Other
Capital Assets
Acquisitions:
Dispositions:
Description & cost of each asset:
Description & cost of each asset:
Internet Presence
% of total income generated from internet presence
How many Internet/webpages or online business profiles does your business earn income from?
Provide the 5 main website/webpage address(es) or online profiles for your business:
1.
2.
3.
4.
5.