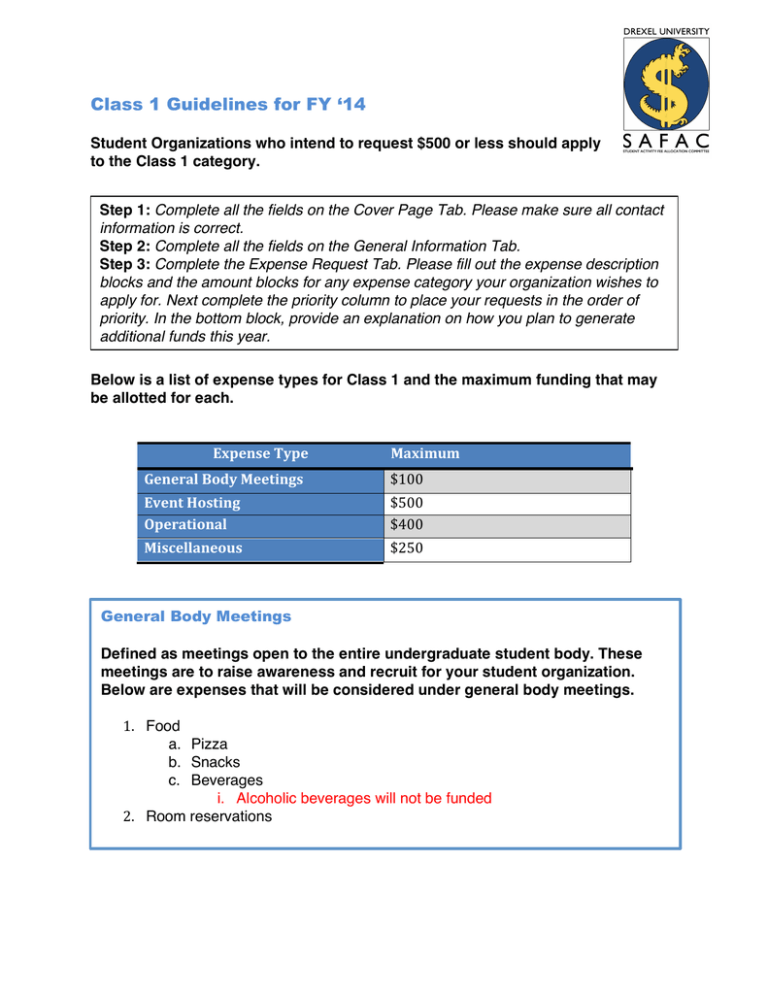 Class 1 Guidelines for FY '14
Student Organizations who intend to request $500 or less should apply
to the Class 1 category.
Step 1: Complete all the fields on the Cover Page Tab. Please make sure all contact
information is correct.
Step 2: Complete all the fields on the General Information Tab.
Step 3: Complete the Expense Request Tab. Please fill out the expense description
blocks and the amount blocks for any expense category your organization wishes to
apply for. Next complete the priority column to place your requests in the order of
priority. In the bottom block, provide an explanation on how you plan to generate
additional funds this year.
Below is a list of expense types for Class 1 and the maximum funding that may
be allotted for each.
Expense Type Maximum General Body Meetings $100 Event Hosting Operational $500 $400 Miscellaneous $250 General Body Meetings
Defined as meetings open to the entire undergraduate student body. These
meetings are to raise awareness and recruit for your student organization.
Below are expenses that will be considered under general body meetings.
1. Food
a. Pizza
b. Snacks
c. Beverages
i. Alcoholic beverages will not be funded
2. Room reservations
Event Hosting
Defined as events based upon the mission of your student organization.
Events must be open to the entire undergraduate student body. Below are
expenses that will be considered under event hosting.
1. Food
a. Catered meals
b. Snacks
c. Beverages
i. Alcoholic beverages will not be funded
d. All catering must go through Drexel's catering services through Sodexo
i. http://www.drexel.edu/oca/raf/catering.asp
ii. Catering of less than $100 does not need to go through Sodexo
2. Room reservations
3. Guest Speaker
a. Speaker fees
b. Transportation for speaker, if required
c. Speaker honorarium
i. Honorarium is defined as a token of gratitude for a speaker
whom has waived any speaker fees
ii. Gift cards will not be funded
4. Functional Operational
a. Equipment charges for event
b. DUST packages
i. http://www.drexel.edu/oca/raf/dust.asp
c. Event services
i. http://www.drexel.edu/dbs/eventConference/eventServices/stude
nts/
Operational
Defined as expenses necessary for the functioning of the organization. These
expenses must be mission critical to your organization. Below are expenses
that will be considered under operational.
1. Functional Operational
a. This includes licensing fees, or other services necessary for the
operations of the organization.
2. Standard Operational
a. This covers advertisement materials and general supplies not found in
the SORC.
b. Promotional materials will not be funded.
i. Promotional materials are defined as anything with the
organizations name/logo that is given out to members or nonmembers.
ii. This includes t-shirts, buttons, stickers, pens, pencils, magnets,
etc. used for the purpose of promoting your organization.
3. Capital Expenses
a. This includes physical materials such as uniforms, tools, books, etc.
that are mission critical for your organization.
b. All capital equipment must be returned to the SAFAC office at the end
of your event.
Miscellaneous
Defined as expenses unique to your organization that do not fit the categories
above. For this expense type to be eligible for review, please provide
reasonable need as well as proof of impact to the Drexel community. Some
suggestions are listed below, however you may attach documentation outside
of the suggested list.
*Please note that items requested within this expense type must still meet
SAFAC guidelines
1.
2.
3.
4.
5.
6.
Invoices from previous purchases
List of past successful events
Recommendation letter from advisor
Photos from past events
Flyers/posters used to advertise previous events
Copy of awards organization has received
General Rules
*Once allocated, you may use the funding in whichever manner you deem
appropriate. Note that requests in each category must be spent in that category. For
example, if you receive $100 for general body meetings, you may not spend that
funding on an event hosting or standard operational expenses.
*SAFAC annual allocation funding may not go towards:
1. Promotional items
2. Conferences
3. Fundraising
4. Awards/gifts/giveaways
5. Potlucks
6. Concerts
Please be reminded that SAFAC is a subsidizing source and it
is not in SAFAC's mission or scope to fully fund individual
organizations.