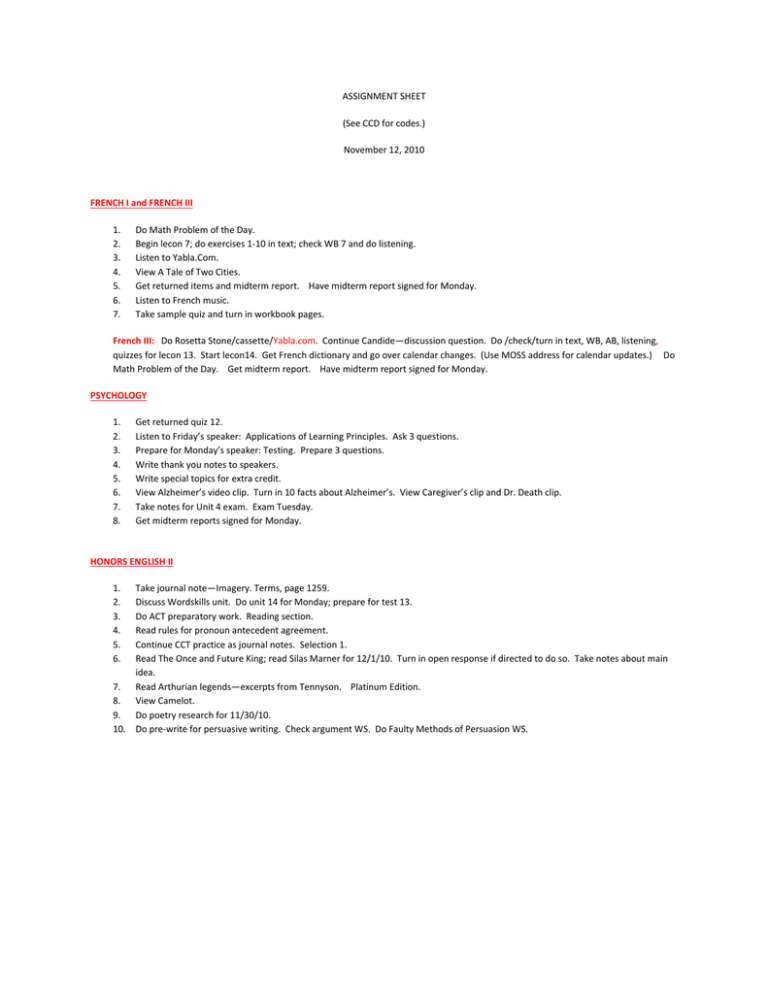 ASSIGNMENT SHEET
(See CCD for codes.)
November 12, 2010
FRENCH I and FRENCH III
1.
2.
3.
4.
5.
6.
7.
Do Math Problem of the Day.
Begin lecon 7; do exercises 1-10 in text; check WB 7 and do listening.
Listen to Yabla.Com.
View A Tale of Two Cities.
Get returned items and midterm report. Have midterm report signed for Monday.
Listen to French music.
Take sample quiz and turn in workbook pages.
French III: Do Rosetta Stone/cassette/Yabla.com. Continue Candide—discussion question. Do /check/turn in text, WB, AB, listening,
quizzes for lecon 13. Start lecon14. Get French dictionary and go over calendar changes. (Use MOSS address for calendar updates.) Do
Math Problem of the Day. Get midterm report. Have midterm report signed for Monday.
PSYCHOLOGY
1.
2.
3.
4.
5.
6.
7.
8.
Get returned quiz 12.
Listen to Friday's speaker: Applications of Learning Principles. Ask 3 questions.
Prepare for Monday's speaker: Testing. Prepare 3 questions.
Write thank you notes to speakers.
Write special topics for extra credit.
View Alzheimer's video clip. Turn in 10 facts about Alzheimer's. View Caregiver's clip and Dr. Death clip.
Take notes for Unit 4 exam. Exam Tuesday.
Get midterm reports signed for Monday.
HONORS ENGLISH II
1.
2.
3.
4.
5.
6.
Take journal note—Imagery. Terms, page 1259.
Discuss Wordskills unit. Do unit 14 for Monday; prepare for test 13.
Do ACT preparatory work. Reading section.
Read rules for pronoun antecedent agreement.
Continue CCT practice as journal notes. Selection 1.
Read The Once and Future King; read Silas Marner for 12/1/10. Turn in open response if directed to do so. Take notes about main
idea.
7. Read Arthurian legends—excerpts from Tennyson. Platinum Edition.
8. View Camelot.
9. Do poetry research for 11/30/10.
10. Do pre-write for persuasive writing. Check argument WS. Do Faulty Methods of Persuasion WS.