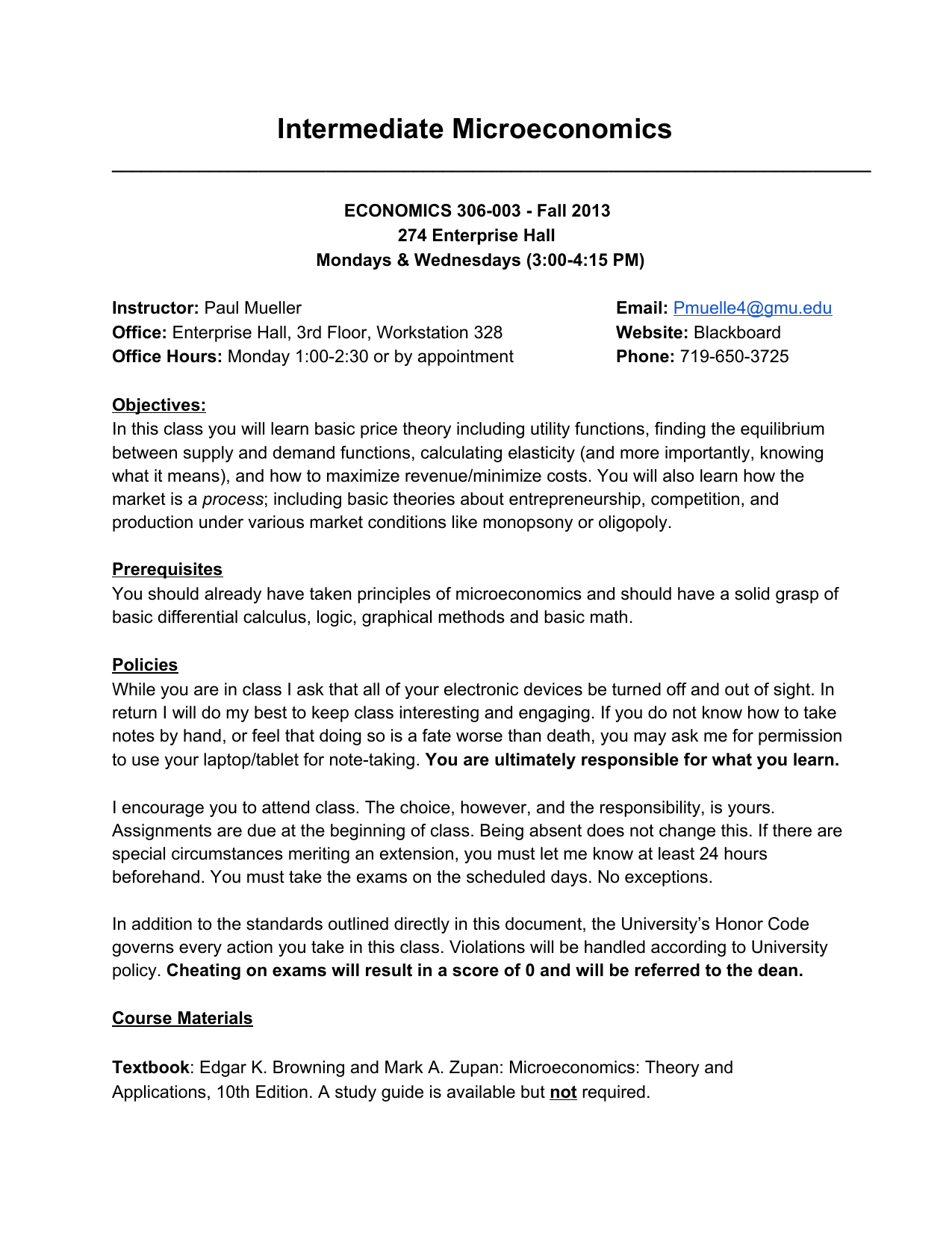 Intermediate Microeconomics
______________________________________________________________________________
ECONOMICS 306­003 ­ Fall 2013
274 Enterprise Hall
Mondays & Wednesdays (3:00­4:15 PM)
Instructor: Paul Mueller
Office: Enterprise Hall, 3rd Floor, Workstation 328
Office Hours: Monday 1:00­2:30 or by appointment
Email: [email protected]
Website: Blackboard
Phone: 719­650­3725
Objectives:
In this class you will learn basic price theory including utility functions, finding the equilibrium
between supply and demand functions, calculating elasticity (and more importantly, knowing
what it means), and how to maximize revenue/minimize costs. You will also learn how the
market is a process; including basic theories about entrepreneurship, competition, and
production under various market conditions like monopsony or oligopoly.
Prerequisites
You should already have taken principles of microeconomics and should have a solid grasp of
basic differential calculus, logic, graphical methods and basic math.
Policies
While you are in class I ask that all of your electronic devices be turned off and out of sight. In
return I will do my best to keep class interesting and engaging. If you do not know how to take
notes by hand, or feel that doing so is a fate worse than death, you may ask me for permission
to use your laptop/tablet for note­taking. You are ultimately responsible for what you learn.
I encourage you to attend class. The choice, however, and the responsibility, is yours.
Assignments are due at the beginning of class. Being absent does not change this. If there are
special circumstances meriting an extension, you must let me know at least 24 hours
beforehand. You must take the exams on the scheduled days. No exceptions.
In addition to the standards outlined directly in this document, the University's Honor Code
governs every action you take in this class. Violations will be handled according to University
policy. Cheating on exams will result in a score of 0 and will be referred to the dean.
Course Materials
Textbook: Edgar K. Browning and Mark A. Zupan: Microeconomics: Theory and
Applications, 10th Edition. A study guide is available but not required.
Articles: I may assign articles during the course. If so, I will make them available on Blackboard
at least one week in advance.
Grading
Your grade will be based upon the following categories:
●
●
●
●
Homework 25%
1st Midterm 20%
2nd Midterm 20%
Final Exam 35%
Notes on Grading
●
You may collaborate on the homework but remember that you should be able to answer
the questions independently as there will be similar questions on exams.
● I will try to return assignments by the next class period.
● I will not go through the answers to midterm exams unless a majority of the class
struggled on a particular problem. I will answer any questions you have about your
individual exam after it has been returned for more than 24 hours.
Course Schedule
We will not have class on Monday 9/2 (Labor Day), Monday 10/14 (Columbus Day), or on
Wednesday 11/27 (Thanksgiving). We will have class on Tuesday 10/15 (same time and place)
1st Midterm: Wednesday 10/2
2nd Midterm: Wednesday 11/6
Final Exam: Monday 12/16 from 1:30­4:15
Other Important Dates
Last day to add classes/Drop with no tuition penalty — September 3rd
Last day to drop (33% tuition penalty) — September 18th
Last day to drop (67% tuition penalty) — September 27th
Selective Withdrawal Period — September 30 ­ October 25th
Note about Disabilities
If you are a student with a disability and you need academic accommodations, please see me
and contact the Office of Disability Services at 703.993.2474 or ods.gmu.edu. All academic
accommodations must be arranged through that office.