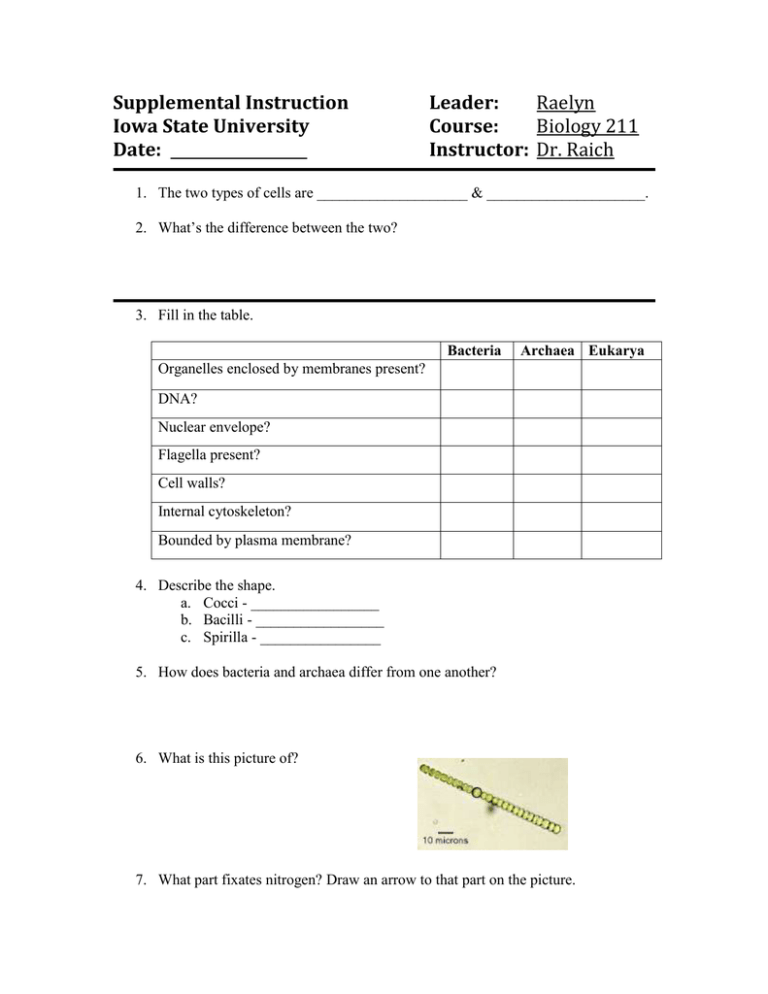 Supplemental Instruction
Iowa State University
Date:
Leader:
Raelyn
Course:
Biology 211
Instructor: Dr. Raich
1. The two types of cells are ____________________ & _____________________.
2. What's the difference between the two?
3. Fill in the table.
Bacteria
Archaea Eukarya
Organelles enclosed by membranes present?
DNA?
Nuclear envelope?
Flagella present?
Cell walls?
Internal cytoskeleton?
Bounded by plasma membrane?
4. Describe the shape.
a. Cocci - _________________
b. Bacilli - _________________
c. Spirilla - ________________
5. How does bacteria and archaea differ from one another?
6. What is this picture of?
7. What part fixates nitrogen? Draw an arrow to that part on the picture.
8. Explain why only a small amount of bacteria and archaea are named.
REVIEW
9. Write out the binomial for humans.
10. What is the difference between a branch and a node?
11. List the taxonomy classes from smallest to largest.
a.
b.
c.
d.
e.
f.
g.
12. What are the three components of cell theory?
a.
b.
c.