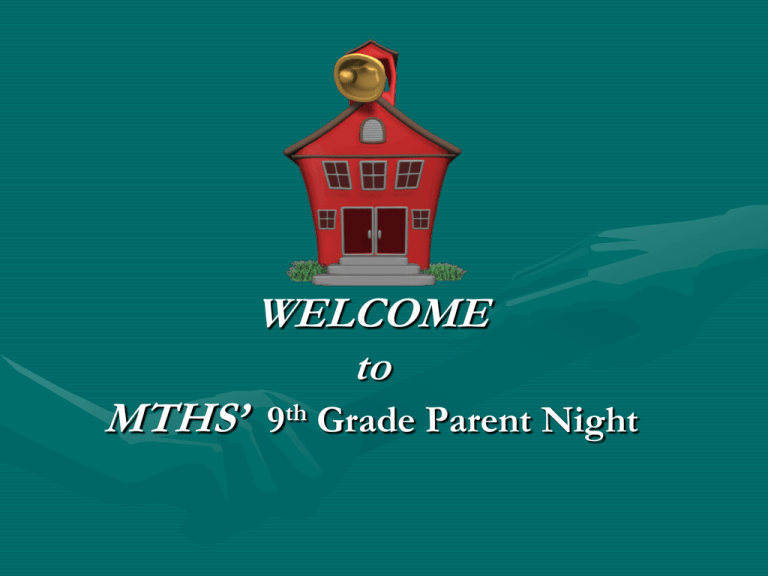 WELCOME
to
MTHS' 9th Grade Parent Night
Administrators
• Greg Schwab, Principal
– Last Names R – Z
• Peter Schurke- Assistant Principal
– Last Names I - Q
• Scott Morrison, Assistant Principal
– Last Names A – H
"Who is my counselor?"
•
•
•
•
•
Colleen Egger
A-E x5657
Tanya Ummel
F-K x5665
Julie Petterson
L-Re x5658
Pam Salvatore (MTW) Rf-Z x5659
Maggie Mosholder (Th F) Rf-Z x5659
• Interns:
Jamie Eager and Aleesha Greeg
All staff email addresses are Last name and First initial
@edmonds.wednet.edu. For example,
eggerC@edmonds.wednet.edu
Counseling Office Staff
• Secretaries: Kim Runkel and Vicki Stewart
– Homework requests, mailings, transcript request, etc.
• Registrar: Mary Kikikis
– Student records, transcripts, grading, student
enrollment, Skyward
• School-to-Work Coordinator: Erika Spellman
– Volunteer Service, Testing, Scholarships, College
Visitations.
Other Support Staff
• Julie Schwab
School Psychologist
• Ashley Johnson
Student Family Advocate
• Anthony Williams
Student Behavior Coordinator
• Sue VanSenus
Campus Security/BECCA
Counseling Services
• Counselors handle questions or difficulties that a student might
have, from class schedules to personal problems.
• Counselors make referrals to other local professionals in the area for
concerns such as substance abuse or long term counseling.
• Counselors help students and serve as a resource to parents and
teachers regarding performance in classes, which may include
arranging teacher conferences.
• Information about Free/Reduced Lunch, Clothes for Kids, etc. is
available in the Counseling Center (must meet income requirements)
• Safe School Tip Line – 425-431-7010
Counseling Appointments
• Counselors are available on a "Drop in" basis
every day (during lunch), as well as before and
after school.
• Counseling appointments (for parents or
students) can be made by contacting our
counseling secretary, Kim Runkel or by
emailing your counselor.
• Counselors are ALWAYS available in case of
emergency!
The Nuts and Bolts
• School starts every day at 7:20 am and ends at 1:50 pm.
• Most students take 6 classes per day, classes are 54 minutes long
and are worth a .50 credit per semester.
• Students have a half hour lunch.
1st lunch is from 10:23 to 10:53
2nd lunch is from 11:22-11:52
• Students' lunch time is determined by their 4th period class.
4A= 2nd lunch and 4B=1st lunch
Nuts and Bolts cont.
• We have a closed campus. Students may go off campus for
lunch in grades 10-12 if they have an "Off Campus Pass"
which is available in the Attendance Office.
• Picture Day is Sept. 9th
• Curriculum Night is Sept. 29th
• Homecoming is the week of October 24-28 (frosh wear
Gray)
Credits Count!
• Really! Every credit earned is a step toward
graduation.
• Every course taken becomes part of your
student's permanent transcript.
• Class of 2015 has some new graduation
requirements
To earn a MTHS diploma,
students must:
• Pass all required classes and earn 22 credits
• Pass state tests or approved alternatives
– Must pass reading, writing, math, and science
• Complete a Culminating Project
• Complete a High School and Beyond Plan
District Graduation Requirements
for the Class of 2015
English
Math (must pass Alg 2 or Equivalent)
Science
Social Studies
Health & Fitness
Career and Tech Ed
Personal Finance
Arts
Electives
4.0
3.0
2.0
3.5
2.0
1.5
.5
1.0
4.5
22.0 credits total
Minimum WA State Public College
Requirements for 4-year Admission
(now called CADRs)
English
Math* (min. through Alg. 2)
Science
Social Studies
Health & Fitness
World Language
Arts
•
4.0
3.0
2.0
3.0
2.0
2.0
1.0
Notes: WWU requires a year of Chemistry or Physics
Private and out of state colleges may have additional
requirements.
*A math-based class is required grade 12.
Ways to Support Your Student
Use…
Skyward Family Access!
www.edmonds.wednet.edu/mths
Click on "Skyward Family Access"
Be sure to enter your email address! This will allow
you to:
– Retrieve your password
– Read the Hawktalk
– Get other important information
Skyward
Skyward enables you to:
–
–
–
–
–
–
Monitor attendance
View missing assignments
View current grade status (updated bi-monthly)
Review graduation status
See standardized test scores (HSPE)
and more...
Email access to teachers is a click away!
MTHS Website!
edmonds.wednet.edu/MTHS
• The most current information (changes in schedule,
upcoming events, access to HawkTalk, etc.)
• Graduation Requirements
• Course Catalog
• Career Center Information (jobs, volunteer
opportunities, etc.)
• Teacher web pages
MTHS is now on Facebook!
• "Like" us on Facebook and get updated
information on all the happenings here at
MTHS.
What About Supplies?
•
•
•
•
•
•
•
Three ring notebook with dividers
Flash drive
Notebook paper
Pens and pencils
Weekly Planner/Calendar
Hand sanitizer is recommended
Individual teachers may require additional
supplies
Ways to Help MTHS
Supplies are especially needed this year due to
budget cuts. Please consider donating:
• Reams of copier paper
• Boxes of tissues and hand sanitizer
• Extra school or office supplies
• Your time as a volunteer
How Can You Get Involved?
• Please join the MTHS Parent-Teacher-Student
Association (PTSA)
• Patrick Severson, PTSA Vice-President
• Melissa Reid, MTHS Sports Boosters
What are some warning signs
that indicate your student may
be struggling?
"RED" flag statements
1.
I don't have any homework.
2.
I did my homework at school.
3.
I know that SKYWARD says that I am
failing, but I've got everything under
control.
4.
That assignment is not worth very much.
5.
I don't need the class to graduate.
6.
I've already lost credit, so why bother?
Attendance Matters!
• Poor attendance is the #1 predictor of lack of student
success.
• Monitor your student's attendance regularly on Skyward.
• Arrange for Big Mouth calls to go to your private cell
phone number.
– kikikism@edmonds.wednet.edu
• Written excuse notes (in ink) must be provided to the
Attendance office within 48 hours of an absence.
• Pre-arranged absence applications are available in the
Attendance Office PRIOR to planned absences.
Remember…
• Students are responsible for "making up" missed work
if they are absent!
• Know the policy of late/missed work for each teacher.
• If a student will be absent for three or more consecutive
days, parents may request homework from the
Counseling Secretary.
(24 hour turnaround is needed).
Where can students go for help???
•
•
•
•
•
•
Hawk Study Club- 2:00 – 3:00 Daily in the Library
Initiate email contact with teachers
Honor Society tutors may be available
Find a study partner in each class
Paid Tutors
Online Live Homework Help
– 3-10pm daily at www.sno-isle.org (click on "teen page
link.")
– Sno-Isle library card required, available at your library.
– Help is also available for Spanish speakers.
What questions do
you have???
We may have answers!
Thank you for attending!