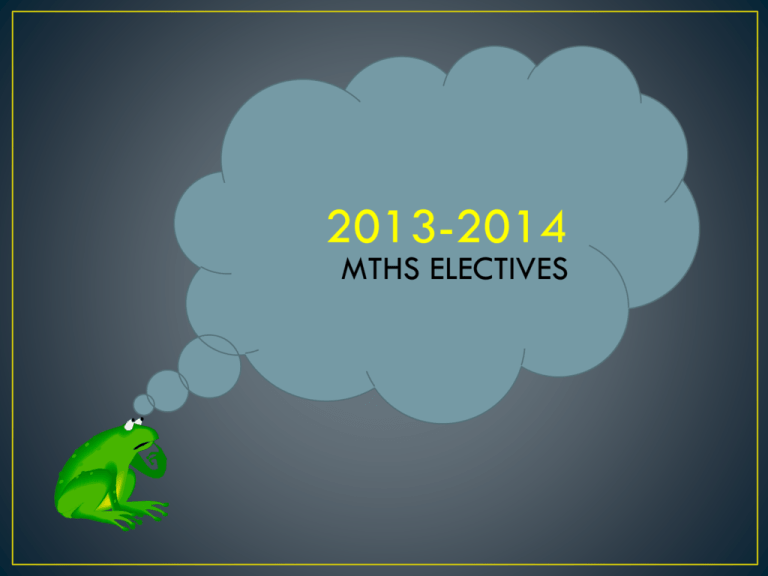 2013-2014
MTHS ELECTIVES
Let's take a tour
around our district to find out
what
YOU can
take during YOUR
MTHS adventure!
• Journalism & Advanced Journalism
• Business/Finance
• Culinary Arts (Chef I, Chef II, Hawk Chef)
• STEM (Robotics, Intro to Engineering Design, Principles of
Engineering, Digital Electronics, Aerospace Engineering)
• Biotechnology
• Interior & Fashion Design
• Child Psychology
• Information Technology (Digital Communications, Computer
Applications, Computer Programming, Computer Animation, Web
Design)
• Photography (Digital Photography, Advanced Digital Photography)
• Graphic Arts
• Video & Film Production (Hawk TV, Advanced Video Production)
• Drama (Beginning Drama, Advanced Drama, Technical Theatre,
Play Production, Musical Theatre)
• Speech & Debate
• Studio Art/Advanced Studio Art
• Sculpture, Drawing, Pottery, & Jewelry
• Auto Basics
• Symphonic Band
• Wind Ensemble
• Chamber Winds
• Accents (Women's Vocal Ensemble)
• Dynamics Vocal Jazz Ensemble
• Jazz I & II
• Concert Orchestra
• Chamber Orchestra
• Chamber Choir
• History of Rock and Roll & Guitar
• Advanced Placement (AP) Classes (English, History, Calculus, Physics,
Chemistry, Biology, Psychology, Computer Science)
• World Languages (Spanish, French, ASL)
• PE Classes (Dance, Individual Team Sports, Fit for Life, Aerobics,
Weight Conditioning, PE Basics)
• Computer Animation
• Family Sociology
• Robotics
• Sports Medicine (Field Experience Sports Medicine)
• Computer Science Principles
• AP Computer Science
• Biotechnology
• Speech & Debate
• Broadcast Field Productions (period 7)
• Auto Technology(at Meadowdale)
But Wait!!!
Did you know you can take classes at other
High Schools in our district and that you can
Get college credit for them as well?
BIOTECHNOLOGY
What is Biotechnology at Lynnwood & Meadowdale?
Click on the above link to view this short video to see
what YOU can take as an elective class.
CARPENTRY & CONSTRUCTION
What is Carpentry at MTHS?
Click on the link above to view this short video (from last year
at Lynnwood) to see what YOU can take as an elective class next
year at MTHS.
HEALTHCARE PROFESSIONS
Healthcare Professions at EWHS
Click on the link above to view this short video to learn
more about the Healthcare Professions course YOU can
take at EWHS.
Architectural Drafting
Biotechnology
Fire Service Technology
Horticulture/Flower Shop
Online Personal Finance
Auto Technology
Carpentry & Building
Construction
Health Care Professionals
Law and Justice
Besides Intra-District
Courses and MTHS CTE
Electives
…what else can YOU take?
MATH COURSES
SPANISH &
WINDS
P.E. &
POTTERY/ART
THEATRE
CHOIR
ORCHESTRA
FRENCH
BAND
Information Technology
Computer/Web Programming
Computer, Servers & Networking
Robotics, Electronics, and
Computers
Business, Marketing &
Management
Cosmetology
Culinary Arts
Fashion and Merchandising
Human Services
Criminal Justice
Fire Service Technology
Science & Health
Dental Assisting
Medical Assisting
Nursing Assistant
Veterinary Assisting &
Grooming
Trade & Industry
Auto Technician Training
Construction Trades
Diesel Mechanics
Precision Machining
Welding/Metal Fabrication
HOW TO GET COLLEGE CREDIT FOR
ELECTIVE CLASSES!
Figure out WHICH elective
courses YOU want to learn
more about!
(Course details are available
under the
"Academics" tab on the MTHS Website:
drop down to "Course Catalog."
Come talk to your counselor, or Ms. Brister
in the Career Center!
Thanks for
all of your
help!
Registration begins on February 26th. Paperwork will be due March 6th
so stay tuned for more information and ways YOU can learn more about
MTHS and the Edmonds School Districts Electives!