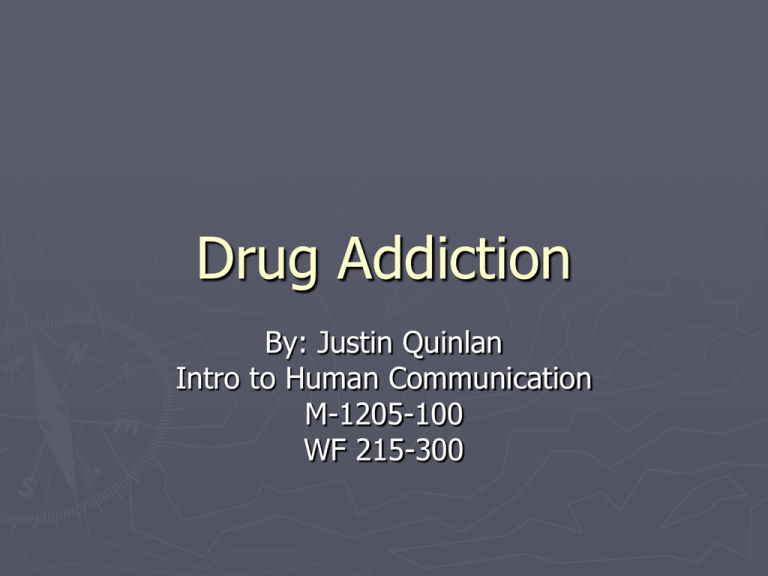 Drug Addiction
By: Justin Quinlan
Intro to Human Communication
M-1205-100
WF 215-300
Why did I choose drug addiction?
► Christopher
M. Bryce
 Died of Drug overdose
March 27, 2005 (22)
► Stacey
C. Quinlan
 Died of Drug overdose
July 13, 2006 (37)
What is Drug Addiction?
►
Drug addiction, substance dependence or chemical
dependency is the compulsive use of psychoactive drugs,
to the point where the user has no effective choice but to
continue use.
(Wikipedia Online)
How the Brain Works
►
Your brain controls more than the way you think. The brain controls our physical sensations and body
movements. How we understand what we see, hear, smell, taste, and touch. When we feel good for
whatever reason the reward system is activated.
►
When you do a drug it travels through the reward center of the brain attributing something good to a
bad thing which leads to and addiction.
►
Develop tolerance for the drug and it's only an amount of time before you take it to far and overdose.
What can you get addicted too?
►
►
►
►
►
►
Amphetamines/ Barbiturates


An amphetamine is a drug that is a stimulant to the central nervous system.
Pills Such as: Oxycoton or Vicadin.


Powder or Rock
A potent brain stimulant and one of the most powerfully addictive drugs.


A synthetic drug with amphetamine-like and hallucinogenic properties.
Pill Form


Affects the brain's pleasure systems and interferes with the brain's ability to perceive pain.
Brown Powder


LSD is the most common hallucinogen and is one of the most potent mood-changing chemicals.
Colored tablets, blotter paper, clear liquid, and thin squares of gelatin.

Weed, the most often used illegal drug in this country
Cocaine
Ecstasy
Heroin
LSD
Marijuana
Most Abused Drugs
►
►
Cigarettes

nicotine is one of the most heavily used addictive drugs in the United States. In 2004, 29.2
percent of the U.S. population 12 and older (70.3 million people) used tobacco at least once in
the month prior to being interviewed.

440,000 premature deaths in the United States caused by tobacco
Alcohol

15.1 million Americans are alcohol-abusing or alcohol-dependent individuals.

46,170 per year, 3,597 per month, 968 per week, 152 per day, 6 per hour
Signs of Drug Use
►
►
►
►
►
►
►
►
►
►
►
Increase or decrease in appetite; changes in eating habits, unexplained weight
loss or gain.
Change in overall attitude / personality with no other identifiable cause.
Changes in friends: new hang-outs, avoidance of old crowd, new friends are
drug users.
Change in activities; loss of interest in things that were important before.
Drop in school or work performance; skips or is late to school or work.
Defensiveness, temper tantrums, resentful behavior (everything's a hassle).
Unexplained moodiness, irritability, or nervousness.
Violent temper or bizarre behavior.
Paranoia -- suspiciousness.
Secretive or suspicious behavior.
Chronic dishonesty;
Reasons for Drug Abuse
►
ineffective parenting
►
chaotic home environment
►
lack of mutual attachments/nurturing
►
poor social coping skills
►
affiliations with deviant peers
►
perceptions of approval of drug-using behaviors in the school, peer,
and community environments
Treatment

Goal of treatment is to return to productive functioning
►
Dropout rates highest first 30 days (30-40%)
►
Completion rate: 10-25% of all admissions
►
Drug treatment is as successful as treatment of diabetes, asthma, and
hypertension
►
Problem is most drug addicts never see that they have a problem and
they can leave whenever they want.
Who goes to Treatment?
►
70-75% male
►
Most from broken homes/disrupted families
►
30-40% have prior treatment
►
High anxiety/depression
►
Low IQ
►
Low self esteem
►
Immature/antisocial
Recovery
►
Change in lifestyle and personal identity not just habit but
physical addiction.
►
Motivation: Treatment is through staff and peers
►
Social learning
►
Most die before realizing the have an addiction.