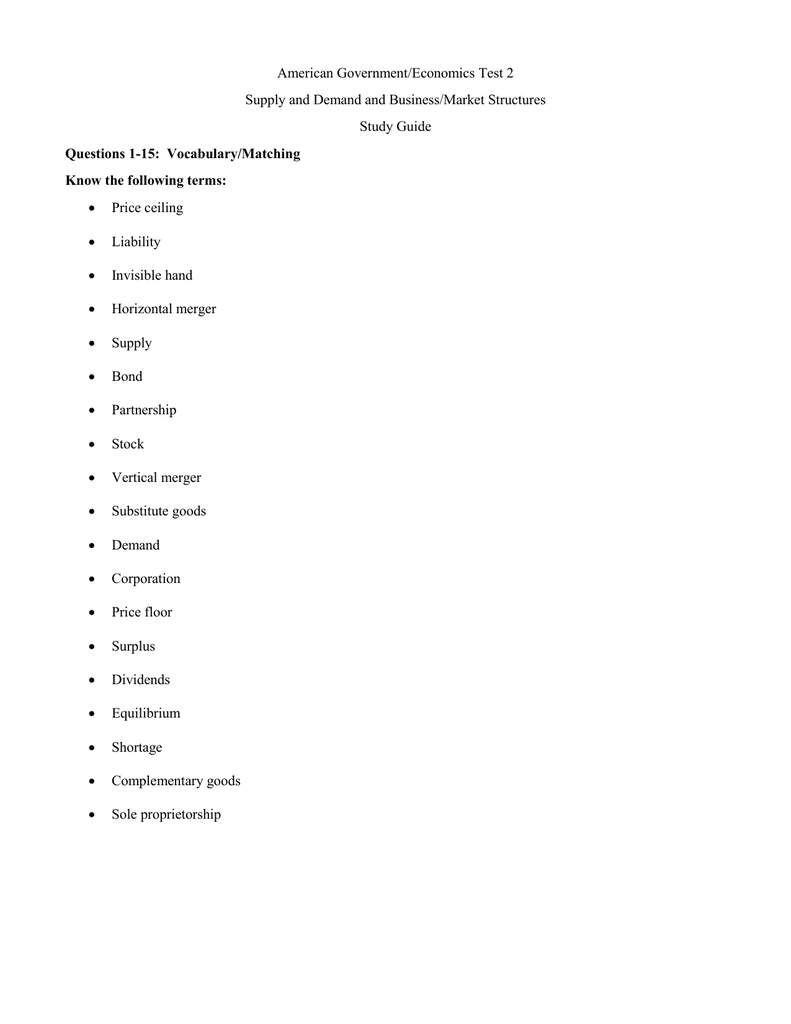 American Government/Economics Test 2
Supply and Demand and Business/Market Structures
Study Guide
Questions 1-15: Vocabulary/Matching
Know the following terms:

Price ceiling

Liability

Invisible hand

Horizontal merger

Supply

Bond

Partnership

Stock

Vertical merger

Substitute goods

Demand

Corporation

Price floor

Surplus

Dividends

Equilibrium

Shortage

Complementary goods

Sole proprietorship
Multiple Choice Questions 16-41

During the paper chain activity what was the term for when marginal output decreased?

What is the term for when there is a change in quantity demanded at every price?

Computers and computer games are an example of what type of goods?

Will supply or demand be affected first if there is a $5 tax on manufacturers?

What is the effect of future price on current demand?

What is a product example of inelastic demand where demand is not related to price?

What will change first, if the price is increased, supply or demand?

What is the relationship between quantity demanded, quantity supplied and price?

Be able to identify equilibrium price in a chart.

What is the effect of the invisible hand on a market that is in disequilibrium?

What would be the effect on supply of a price ceiling?

What business model has all partners sharing liability equally?

What market structure has barriers to entry so high that it is virtually impossible to have new competition?

What is an oligopoly?

What does it mean for a product to have inelastic demand?

In which market structure does a business have the least market power?

What are the advantages enjoyed by corporations?

What is meant by economy of scale?

What is the most common business structure in the United States?

What are the ways government can influence supply?

What are the weaknesses of a sole proprietorship?

What is monopolistic competition?

What are inferior goods?

Public utilities are an example of what type of monopoly?

If a business fails and all of the owners lose everything, what type of business did they have?

What are the strengths and weaknesses of a business partnership?
Fill in the Blank Questions 42-50

The primary difference between perfect competition and monopolistic competition is the type of product; in
monopolistic competition the product is ___.

A business owned and managed by a single individual is called a ___.

In 1993, the demand for Jack in the Box food suddenly and drastically decreased when 3 children died from
of e. coli poisoning after eating Jack in the Box hamburgers. The reason for this sudden decrease in demand
is that there was a change in ___.

If a lot of people move into Idaho from California, the demand for houses will ___ because of ___.

One way to know if a company is part of a monopoly market structure is if the product they sell is ___.

If a market is in equilibrium and supply increases, the price of the good must ___ in order for the market to
return to equilibrium.

In a monopoly, the company has almost total control over the price of their product. What is the only thing
that limits a monopoly's control over price?

If the rent on commercial buildings increases, supply will decrease because of ___.

Who owns a corporation?