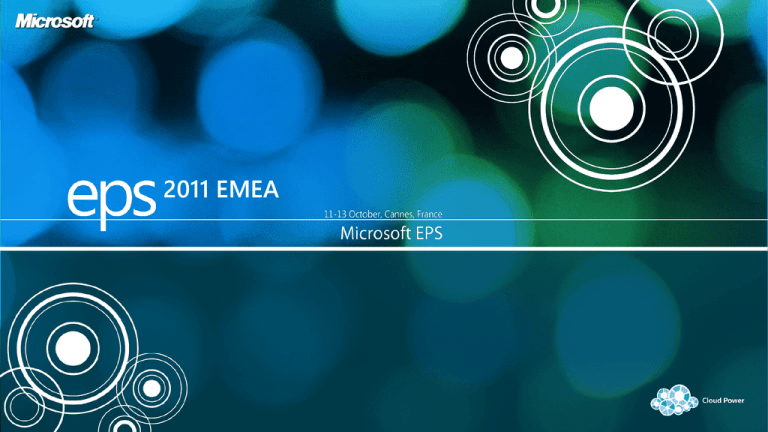 2011 EMEA
Doug Kennedy
Vice President,
Dynamics Partners & Support Service Programs
Microsoft Corporation
DYNAMIC
BUSINESS
RUNS
Not a liability
Without sacrificing power
Not inflexible software which requires customizations
Not data overload
"The product's enhanced flexibility and
usability will position it well in deals at the
margins of the enterprise category—
companies with $500 million to $2 billion
in revenues."
– Paul Hamerman, China Martens,
Forrester Research Inc.
"What is fundamentally different today is the
mindset about how the city works and how we can
use technology to be much better at what we do.
Microsoft Dynamics AX 2012 is probably the strongest
example of how technology can help us improve constituent
services so that people can interact easier with the city, get
their questions answered faster, and experience a much
more transparent, responsive municipal government."
– Mike Bailey, CFO, City of Redmond.
"I think Microsoft has really, really thought about what ERP should be and they've committed to
making that happen."
– Rif Kiamil, CIO, JJ Food Services.
Manufacturing Division
Operational ERP
Divisional
Operational ERP
Administrative
ERP Corporate HQ
Subsidiary
Operational ERP
Distribution Division
Operational ERP
"Increasing numbers of
companies are evaluating a
two-tier ERP strategy;
running separate lower-cost
regional solutions for small-tomidsize subsidiaries, despite, in
many cases, already rolling out
a global ERP system."
Nigel Montgomery – Gartner
Two-Tier ERP Suite Strategy:
Considering Your Options
– July 2010
Benefit from application overhaul opportunity
Increase 'share of wallet' in IT budget
Improve your ERP practice P&L
Global Luxury Retail Customer
SAP customer selects AX globally for €3B
division of company, beginning in Asia
Competitive win against SAP and Oracle
200 concurrent users
Optimized cost and standard processes
allow customer to grow internationally
and expand through acquisition
Agility and flexibility to adapt to
Initial License
Initial Services
3 year Ops Contract
Consultants
Architects
Developers
Customers
Implementations
Industry Solution
Product Roadmap
3 Keynotes
60 Breakouts
24 Chalk Talks
10 HOLs
Audience
Topics
Sessions
Nice, 14-16 Nov
Market leader as recognized by Gartner & Forrester
Over 1,750,000 users in more than 80 countries with 40+
languages
Over 28,000 customers from small to enterprise
Over 10,000 Dynamics CRM Advisor Partners
Over 65 service providers hosting Dynamics CRM solutions
CRM Online in 40 markets, 41 languages
"Microsoft Dynamics CRM shines by offering
flexibility for large and midsized organizations."
"Buyers also like Microsoft Dynamics CRM's usability, lower
price, and its quick time-to-value compared with traditional
CRM applications." ~ Bill Band
Distributor Relationship
Management
Partner Relationship
Management
Asset
Management
Property
Management
Reseller Relationship
Management
Fleet
Management
Employee Relationship
Management
Case
Management
Contractor Relationship
Management
Task
Management
Supplier Relationship
Management
Event
Management
Organizations need
to extend the power
of CRM to maximize
other relationships
Microsoft Dynamics
CRM 2011 is easily
customized to
support Extended
CRM scenarios
Selling Partners
Distributors, LARs,
Syndication partners
Solution Partners
ISVs, SIs, VARs
Support Partners
Hosting, Cloud Services
and Service Brokers
Global Chemical Customer
Lotus Notes replaced for sales force
6 month sales cycle
50 seat Proof-of-Concept
Expanded to 2400+
partner hosted users
Significant partner revenue from long
term operations contract
Initial 3yr License
Initial Services
3 year Ops Contract
Microsoft Dynamics CRM 2011
delivers an average 243% ROI
and Payback period of 4.1 months.
"Based on the study's findings,
companies looking to implement
Microsoft Dynamics CRM 2011 can anticipate
significant productivity gains and cost savings."
Forrester's Total Economic Impact™ Study, May 2011
© 2011 Microsoft Corporation. All rights reserved. Microsoft, Windows, Windows 7 and other product names are or may be registered trademarks and/or trademarks in the U.S. and/or other countries.
The information herein is for informational purposes only and represents the current view of Microsoft Corporation as of the date of this presentation. Because Microsoft must respond to changing market
conditions, it should not be interpreted to be a commitment on the part of Microsoft, and Microsoft cannot guarantee the accuracy of any information provided after the date of this presentation.
MICROSOFT MAKES NO WARRANTIES, EXPRESS, IMPLIED OR STATUTORY, AS TO THE INFORMATION IN THIS PRESENTATION.