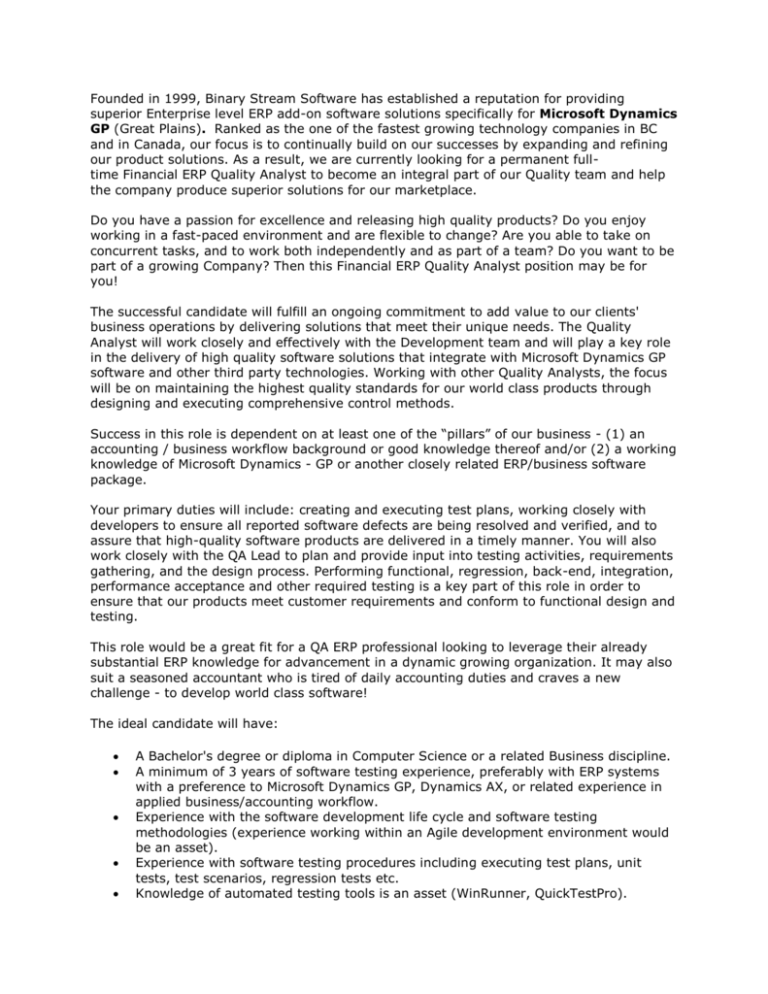 Founded in 1999, Binary Stream Software has established a reputation for providing
superior Enterprise level ERP add-on software solutions specifically for Microsoft Dynamics
GP (Great Plains). Ranked as the one of the fastest growing technology companies in BC
and in Canada, our focus is to continually build on our successes by expanding and refining
our product solutions. As a result, we are currently looking for a permanent fulltime Financial ERP Quality Analyst to become an integral part of our Quality team and help
the company produce superior solutions for our marketplace.
Do you have a passion for excellence and releasing high quality products? Do you enjoy
working in a fast-paced environment and are flexible to change? Are you able to take on
concurrent tasks, and to work both independently and as part of a team? Do you want to be
part of a growing Company? Then this Financial ERP Quality Analyst position may be for
you!
The successful candidate will fulfill an ongoing commitment to add value to our clients'
business operations by delivering solutions that meet their unique needs. The Quality
Analyst will work closely and effectively with the Development team and will play a key role
in the delivery of high quality software solutions that integrate with Microsoft Dynamics GP
software and other third party technologies. Working with other Quality Analysts, the focus
will be on maintaining the highest quality standards for our world class products through
designing and executing comprehensive control methods.
Success in this role is dependent on at least one of the "pillars" of our business - (1) an
accounting / business workflow background or good knowledge thereof and/or (2) a working
knowledge of Microsoft Dynamics - GP or another closely related ERP/business software
package.
Your primary duties will include: creating and executing test plans, working closely with
developers to ensure all reported software defects are being resolved and verified, and to
assure that high-quality software products are delivered in a timely manner. You will also
work closely with the QA Lead to plan and provide input into testing activities, requirements
gathering, and the design process. Performing functional, regression, back-end, integration,
performance acceptance and other required testing is a key part of this role in order to
ensure that our products meet customer requirements and conform to functional design and
testing.
This role would be a great fit for a QA ERP professional looking to leverage their already
substantial ERP knowledge for advancement in a dynamic growing organization. It may also
suit a seasoned accountant who is tired of daily accounting duties and craves a new
challenge - to develop world class software!
The ideal candidate will have:





A Bachelor's degree or diploma in Computer Science or a related Business discipline.
A minimum of 3 years of software testing experience, preferably with ERP systems
with a preference to Microsoft Dynamics GP, Dynamics AX, or related experience in
applied business/accounting workflow.
Experience with the software development life cycle and software testing
methodologies (experience working within an Agile development environment would
be an asset).
Experience with software testing procedures including executing test plans, unit
tests, test scenarios, regression tests etc.
Knowledge of automated testing tools is an asset (WinRunner, QuickTestPro).



Exposure to Microsoft based languages and development tools including Dexterity,
.NET, C#, SQL Server, Sharepoint, and eConnect) is a tremendous asset
Accounting or financial related experience and/or education would be an asset
Superior English Communication skills - both written and verbal.
Bring your passion for excellence to Binary Stream! Excellent opportunities for career
advancement in the software industry are here for the right candidate.
For more details on the position, you can view the Job Description on our website at
www.binarystream.com under the Careers section.
Location: #201 - 4238 Lozells Avenue, Burnaby BC V5A 0C4
Position Start Date: Immediately.
Salary is $45,000 to $55,000 per annum commensurate with experience and fit.
Benefits: Comprehensive health and dental plan, MSP coverage and RRSP matching
program
Contact: Send your resume to hr@binarystream.com along with salary expectations. Only
those candidates selected for interview will be contacted.