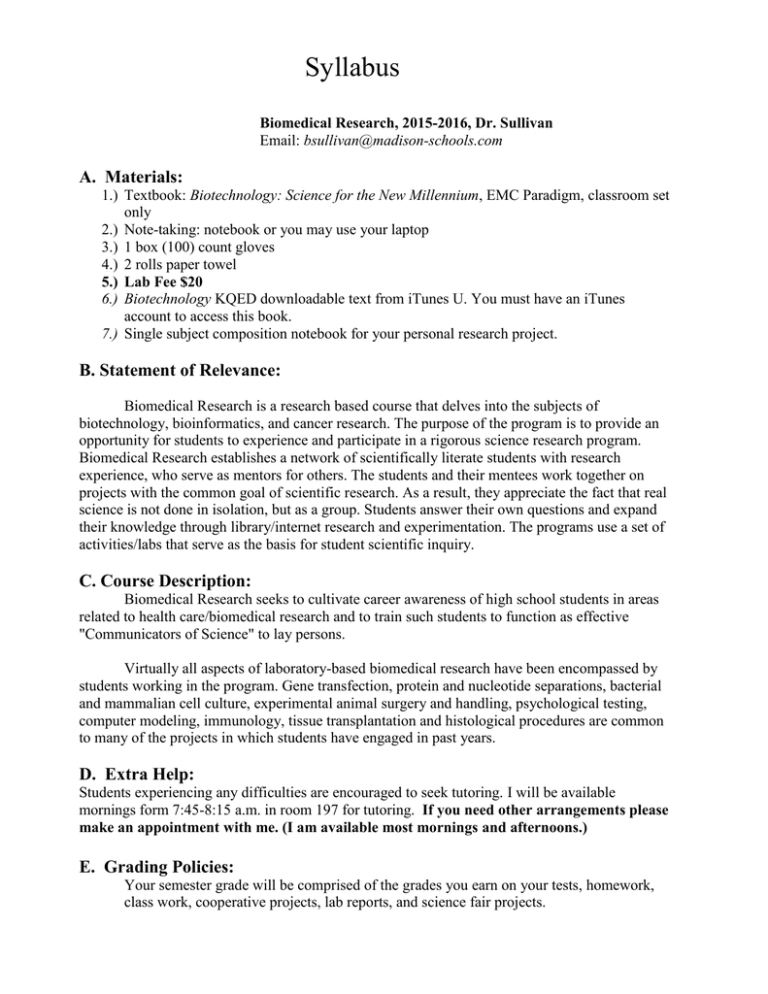 Syllabus
Biomedical Research, 2015-2016, Dr. Sullivan
Email: bsullivan@madison-schools.com
A. Materials:
1.) Textbook: Biotechnology: Science for the New Millennium, EMC Paradigm, classroom set
only
2.) Note-taking: notebook or you may use your laptop
3.) 1 box (100) count gloves
4.) 2 rolls paper towel
5.) Lab Fee $20
6.) Biotechnology KQED downloadable text from iTunes U. You must have an iTunes
account to access this book.
7.) Single subject composition notebook for your personal research project.
B. Statement of Relevance:
Biomedical Research is a research based course that delves into the subjects of
biotechnology, bioinformatics, and cancer research. The purpose of the program is to provide an
opportunity for students to experience and participate in a rigorous science research program.
Biomedical Research establishes a network of scientifically literate students with research
experience, who serve as mentors for others. The students and their mentees work together on
projects with the common goal of scientific research. As a result, they appreciate the fact that real
science is not done in isolation, but as a group. Students answer their own questions and expand
their knowledge through library/internet research and experimentation. The programs use a set of
activities/labs that serve as the basis for student scientific inquiry.
C. Course Description:
Biomedical Research seeks to cultivate career awareness of high school students in areas
related to health care/biomedical research and to train such students to function as effective
"Communicators of Science" to lay persons.
Virtually all aspects of laboratory-based biomedical research have been encompassed by
students working in the program. Gene transfection, protein and nucleotide separations, bacterial
and mammalian cell culture, experimental animal surgery and handling, psychological testing,
computer modeling, immunology, tissue transplantation and histological procedures are common
to many of the projects in which students have engaged in past years.
D. Extra Help:
Students experiencing any difficulties are encouraged to seek tutoring. I will be available
mornings form 7:45-8:15 a.m. in room 197 for tutoring. If you need other arrangements please
make an appointment with me. (I am available most mornings and afternoons.)
E. Grading Policies:
Your semester grade will be comprised of the grades you earn on your tests, homework,
class work, cooperative projects, lab reports, and science fair projects.
Grade Category
Tests and Lab Reports / Practicums
Daily work, Homework, and Quizzes
*2 quizzes = 1 test
Grade weight
65%
35%
Your SEMESTER grade will be determined as follows:
1st 9 weeks grade – 40%
2nd 9 weeks grade-40%
Semester Exam-20%
FINAL GRADE = average of 1st and 2nd semester grades.
Homework will be assigned regularly. As in any science course, the student should allow
time on a daily basis to complete homework, lab reports and study. LATE WORK will NOT be
accepted. Excused absences will be allowed to makeup work according to school policy. Check
the homework link on my website for work. No other makeup work will be accepted during the
semester.
The daily class work grade is earned if the following takes place:
(1)Acceptable classroom behavior
(2) Pay attention in class (no head on desk or sleeping)
(3) Work only on Biomedical Research (no English, math, history, etc.)
(4) Complete assignments in class
(5) Participate in group work
(6) Bring and maintain your notebook
(7) Bring your textbook to class
Grading Scale
90-100 A
80-89
B
70-79
C
65-69
D
0-64
F
F. Exemptions for Final Exam:
1.
Grade:
90-100
80-89
70-79
Number of allowed absences
4
2
0
NO OFFICE REFERRALS
NO OFFICE REFERRALS
NO OFFICE REFERRALS
2. Medical excuses do count towards absences for exemptions!
G. Absences
1. 11 absences are allowed the entire year.
2. On the 12th absence you lose credit for the class.
3. Medical excuses will NOT count toward the 12th absence policy.
4. You must return to class with a pass before the tardy bell on the day you return.
5. If you miss class for school business, you are responsible for getting the work that you
missed.
H. TARDIES
1. You are allowed 3 tardies per semester, which result in no punishment.
2. The division principal will handle all punishment when you have 4+ tardies.
3. If you are 25 minutes late, it counts as an absence. Also, if you check out 25 minutes
before the class is over, it counts as an absence.
4. 3 tardies = 1 absences
5. The only excused tardies that do not count against you are: bus permits, administrator
pass and medical pass.
6. Returning to class after the lunch tardy bell still counts as a tardy. Take care of personal
business during lunch as you will not be allowed to leave the room after lunch.
I. MAKE UP WORK- Excessive absences can have an adverse effect on your grade.
1. Make up work is only accepted from students who have excused absences.
2. Make-up work is your responsibility!
3. As noted in the Student Handbook, make up work is due the 2nd class meeting after
your return to school.
4. Class work and Homework will be posted on my teacher webpage. There is no excuse
not to know what material you missed.
5. Test: If you were present when a test has been assigned, you are required to make up
that test when you return to class.
6. If you miss class for school business, you are responsible for getting the work that you
missed.
7. Class work and homework
It is the student's responsibility to determine the work missed. The assignments are
located online. All make-up work should be placed in the appropriate class folder on
the student table. Work that was due on the day of absence is due upon return.
8. Tests and quizzes
Tests will made up before school or the following class period. Wednesday mornings
from 7:30-8:20 will be reserved for making up of tests. POP Quizzes will not have to
be made up.
9. Labs
If you are absent on the day of a lab, you will be required to thoroughly understand the
lab we performed. You will take a makeup lab quiz.
All missed work that is not made up in the allotted time will result in a zero.
J. General Classroom Rules
1. Your homework must be in the basket before the tardy bell rings.
2. You must be sitting in your desk when the tardy bell rings. If you not in your assigned
desk you will be counted tardy.
3. Raise your hand to be acknowledged.
4. Put your cell phone AWAY (as in NOT in use)
5. Do not leave your seat without permission.
6. There is absolutely no food or beverages allowed in the class at any time. The
presence of food, beverages, or gum during a lab will result in a grade of zero for the
day.
K. Consequences
When a student exhibits inappropriate behavior, the following steps will be taken:
A.) First Offense-warning
B.) Second Offense- conference with student
C.) Third Offense- detention hall and/or call parents
D.) Fourth Offense- office referral
Severe misbehavior will result in an immediate office referral.
L. Independent Research Projects
Each student scientist in Biomedical Research is REQUIRED to conduct independent
research, collect and analyze data from the research, and present their work to their peers and
research scientists. Student scientists will participate in a number of in class activities. It will be
through these activities that students may identify research areas to explore independently.
Your work will be entered into competitions such as the MCHS Science Fair, the Mississippi
Academy of Sciences Conference, and the Mississippi Regional Junior Science and Humanities
Symposium.
M. Community Science
Each year the biomedical research class makes presentations to the Mayor and Board of Aldermen
on various topics of research. We will again make presentations. The date(s) of the presentations
are to be determined once the calendar for the Board of Aldermen is set.
N. Syllabus/Pacing Guide
Day
Topic
Class introduction/ safety review
1
Research basics/science fair project
2
3
4
5
6
7
8
9
10
11
rules/Book Talk
Identifying problems/Writing
hypotheses/Identifying Variables/ Book
Talk
Lab: Collecting, Organizing and
Presenting Data/ Book Talk
Using Statistics: Chi-squared test/ Book
Talk
Writing lab reports/APA / Book Talk
Test: Safety & Lab Reports
History of Biomedical Research
Cell division review
Cancer:
History/Issues/Research/Treatment
Test: BMR history/DNA/Cell
Division/Cancer
Assessment
Topic approval
Written hypotheses
Identified variables
Data sheets
Class work
Written lab report
Test
Timeline development
Quiz
Test
12
13
14
15
16
17
18
19
20
21
22
23
24
25
26
27
28
29
30
31
32
33
34
35
36
37
38
39
40
41
42
43
44
45
46
47
48
Lab: Micropipetting skills
DNA: review of structure
DNA: replication & synthesis
Lab: DNA collection
Lab: DNA fingerprinting/ Gel
electrophoresis
Lab: PCR
DNA: protein synthesis
Lab: protein synthesis
Test: DNA & Proteins
A&P: Skeletal, Muscular, & Integumentary
systems
A&P: Circulatory system: Cardiovascular
+ Lymphatic
A&P: Nervous System & Respiratory
System
A&P: Digestive System & Excretory
System
Lab: Vital Statistics
Test: Systems
Lab: Understanding X-rays/determining
fracture
Prokaryotic vs Eukaryotic Cells
Bacteria: Types / Lab: bacterial collection
Lab: bacterial growth
Bacterial Reproduction
Lab: Identifying types of bacteria
Lab: Bacterial Transformation
Lab: Bacterial Transformation
Diseases: bacterial
Diseases: viral
Lab: ELISA test for HIV (simulation)
Diseases: prion, fungal, others
Diseases: Genetic
Diseases: Genetic
Diseases: Genetic
Lab: Disease identification
Review & Exam
Lab practicum
2nd Book Talk
2nd Book Talk
Science Fair presentations
Science Fair presentations
Presentation
Presentation
Presentation
Presentation
Lab practicum
Lab report
Lab practicum
Class work
Lab practicum
Test
Lab Data Collection
Test
Quiz
Quiz
Lab practicum
Lab report
Lab report
Quiz
Quiz
Presentation
Lab questions
49
50
51
52
53
54
55
56
57
Training: Community Heath Advocate
Training: Community Health Advocate
Training: Community Health Advocate
CHA: Health Screening for Study Body
Case study: atherosclerosis
CHA: Health Screening for Teachers
PBL: treating atherosclerosis
PBL: treating atherosclerosis
Field trip to UMMC
58
59
60
PBL: treating atherosclerosis
Blood: types & components
Lab: Simulated blood typing
Discussion: Wrong blood typing
CHA: Health Screening for Students
Lab: Identifying your blood type (optional)/
transfusions
Lab: making slides
CHA: Health Screening for Teachers
Test: Blood
CHA: Health Screening for Students
Cancer in depth
Lab: Morphology of Cancer Cells
Setting up Surveys
Surveying the Student Body
Analyzing survey results
Field Trip TBD
61
62
63
64
65
66
67
68
69
70
71
72
73
74
75
76
77
78
79
80
81
82
83
84
85
86
PBL: case study
PBL: solution
PBL: solution
PBL: solution presentation
Forensics: blood analysis/ spatter
Forensics: hair
Forensics: DNA analysis
Forensics: other evidence
Forensics: crime scene evidence
collection
Forensics: court room evidence
Book talk #3
Book talk #3
Book talk #3
Exam review
Leading station
Leading station
Project
Project
Raise funds for bus &
lunch
Project Presentations
Quiz
Lab questions
Leading station
Lab questions
Lab practicum
Leading station
Test
Quiz
Lab questions
Survey development
Survey application
Raise funds for trip &
lunch
Presentations
practicum
Presentations
87
Final Exams
* Once a week during the spring semester, selected students will participate in Discovery U at
UMMC. These students will be graded on the attendance. Those remaining at MCHS will receive
the regular class scores.
Classroom Syllabus & Procedure Agreement
My signature indicates that I have read the classroom syllabus. I also acknowledge that I have
received and read a copy of our classroom procedures. Also, please indicate whether or not
your student's picture may appear on my website.
Student Name: __________________________________________________________
Student Signature: _______________________________________________________
My student's picture may be placed on the teacher's website. Please circle:
Yes
No
Parent Signature: ______________________________________________________
Date: _________________________________________________________________
Print this page only, sign and submit to Dr. Sullivan.