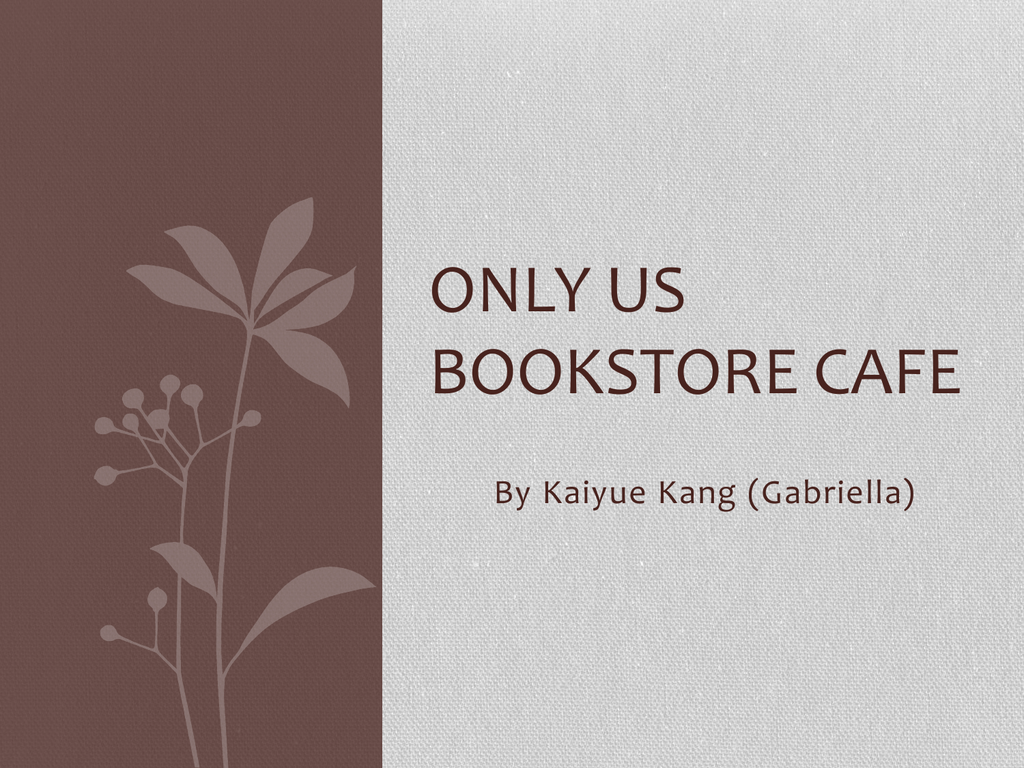 ONLY US
BOOKSTORE CAFE
By Kaiyue Kang (Gabriella)
Mission
• To become a place and a new trend of hanging out
places, and the first and most popular choice for
young people where they can enjoy their coffee time
while reading, chatting or playing games with friends.
Products
• Different coffee products, tea, pastries
• Books and magazines
• Experiences
Industry Analysis
• According to the Coffee Statistics Report (2012):
there are about 83% adults drink coffees in the U.S.,
and the coffee consumption represents 75% of all
caffeine absorbed in this country. There is an annual
growth rate of 7% of coffee shops and this represents
the fastest growing segment in the food service
industry.
Competitive Analysis
• Famous brands coffee shops like Starbucks
• S: new experiences of coffee shops
• W: smaller market share
• O: bring something different into the market
• T: build trust between customers and my business
Market Analysis
• Target Market: 18 to 29
• Mainly local customer
• Population of my target market will be approximately
52,065 in 2015
Marketing Plan
• Price:
Our price will be 20% higher than the prices in
Starbucks
All the books, magazines and games are free for
customers who purchase our coffee products.
• Promotion:
Website, SNS, etc.
Business opening, table games and video games
competitions, and special events during festivals
Growth Strategy
• Open the second shop in five years.
• Have a stable growth of $20,000 in sales in the first
three years.
• Have a growth of $25,000 and $30,000 in the forth
and fifth year by opening the second shop and
planning more special events and promotion
activities.
Management Plan
• General Manager (Owner)
• Assistant Manager
• Marketing and Accounting Coordinator
• Full time and Part time Staff (3-5)
• 3% Annual Increase of wages.
• Extra bonus for good ideas of promotion activities.
Financial Plan
• Set-up Cost: $300,000
Net Operating Income
$100,000.00
$90,000.00
$80,000.00
$70,000.00
$60,000.00
$50,000.00
$40,000.00
Net Operating Income
$30,000.00
$20,000.00
$10,000.00
$0.00
1
2
3
4
5
6
Risk Management
• Human Risks
• Equipment and Information Technology Risks
• Food Safety Risks
All the employees are required to have a food
handler certificate to prevent food safety issues.
All the foods and drinks making processes should
follow strict procedures to make sure all the foods and
drinks we provide to customers are safe.
Questions?