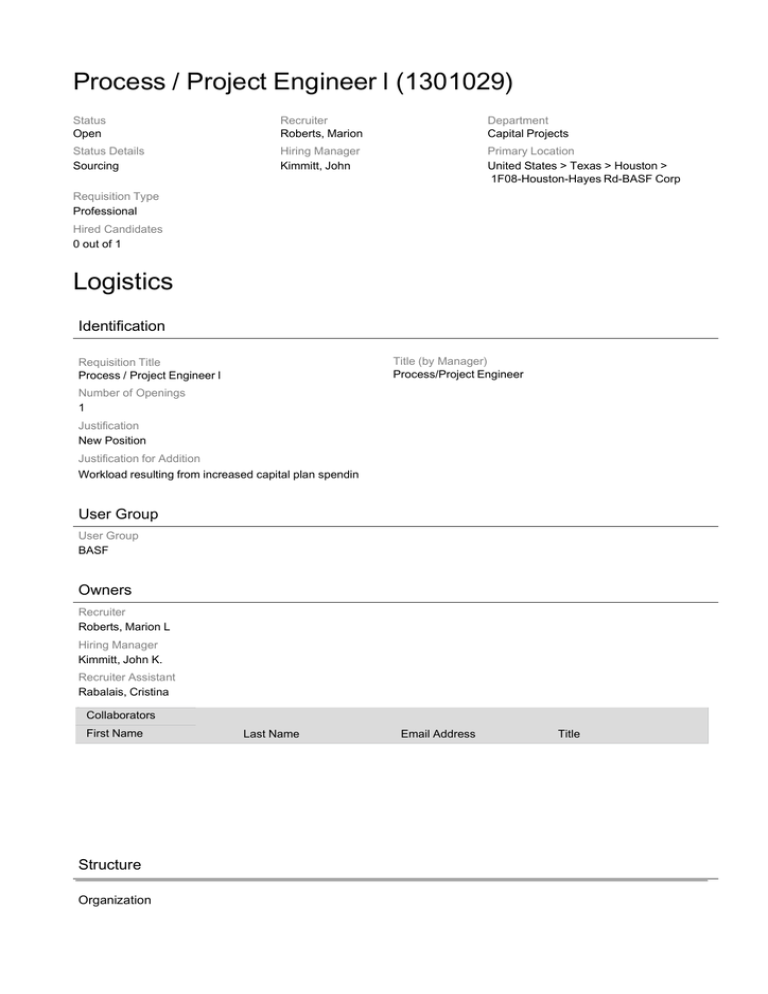 Process / Project Engineer l (1301029)
Status
Open
Recruiter
Roberts, Marion
Department
Capital Projects
Status Details
Sourcing
Hiring Manager
Kimmitt, John
Primary Location
United States > Texas > Houston >
1F08-Houston-Hayes Rd-BASF Corp
Requisition Type
Professional
Hired Candidates
0 out of 1
Logistics
Identification
Title (by Manager)
Process/Project Engineer
Requisition Title
Process / Project Engineer l
Number of Openings
1
Justification
New Position
Justification for Addition
Workload resulting from increased capital plan spendin
User Group
User Group
BASF
Owners
Recruiter
Roberts, Marion L
Hiring Manager
Kimmitt, John K.
Recruiter Assistant
Rabalais, Cristina
Collaborators
First Name
Structure
Organization
Last Name
Email Address
Title
Division
(NC)-Marketing & Business Development - NA
Business Unit
NCE-Engineering
Primary Location
Country
United States
State/Province
Texas
City
Houston
Personnel Area 1F08-Houston-Hayes Rd-BASF Corp
Job Field
Job Function
ENGI - Engineering & Technical Service
Department
60000139 - Capital Projects
Profile
Job Type
Standard
Schedule
Full-time
Education Level
Bachelor's Degree
Shift
Day Job
Travel
Yes, 25 % of the Time
Company Vehicle
No
Relocation Eligible
Yes
Abstract
BASF, The Chemical Company Fields
Hiring Manager Title
Design Engineering Manager
Human Resources / Staffing
Karen Batte
Cost Center
US640011 - US640011 CORPORATE ENGINEERING
SERVICES
BASF Global Competencies – all candidates will be
assessed against the following eight competencies. A
detailed interview guide to assist in interviewing against
these competencies can be found HERE
• Drive Innovation • Collaborate for Achievement • Embrace
Diversity • Communicate Effectively • Strive for Sustainable
Solutions • Develop Self and Others • Act with
Entrepreneurial Drive • Demonstrate Customer Focus
Administration
Candidate Selection Workflow
Candidate Selection Workflow
BASF CSW
Extend more offers than positions available
Yes
Dept. Administrator/Move Coordinator (Email Address)
Regulations
EEO Job Category
Professionals
EEO Job Group
203 - Technical
EEO Establishment
Not Specified
Budget
Budget
Currency - Budget Section
US Dollar (USD)
Bonuses
Currency - Bonus Section
US Dollar (USD)
Employee Referral Bonus Activated
Yes: 2020
Compensation
Additional Information
BASF, The Chemical Company Fields
Grade (For Non-Exempt and Contact Supervisors only)
N/A
Is this job part of a job family with multiple levels?
Yes
Underutilized Female
Yes
Does this position have Direct Reports?
No
Incentive Plan
PIC - Performance Incentive Comp
Salary & Target Bonus (Published to Agencies) and
additional comments
$72K to $77K and 10% Bonus opportunity , DOE.
Strata Grade (For EXEMPT positions only)
FLSA
Exempt
Underutilized Minority
Yes
Developmental Position (NOH/T Guidelines)
No
Incentive %
10
BASF Option Program (BOP)
No
Description (External)
Description - External
For the development of basic and detailed design of new plants as well as additions or modifications to existing facilities:
A) Provide Process Engineering support, including the following resposibilities:
- Developing process simulations, material and energy balance analysis.
- Preparing PFD's (Process Flow Diagrams), P&ID's (Piping & Instrumentation Diagrams) and process specifications
for equipment and instruments. Identifying process steps, associated equipment, instrumentation and safety valve
requirements.
- Preparing documentation for and participating in Project Safety Reviews.
- Preparing data for and participating in Project Technical reviews.
- Participating in HAZOP studies.
- Reviewing work performed by outside contractor process engineers.
- Participating in plant start-up and troubleshooting.
- Performing process optimization studies.
- Identifying and recommending process improvements, and providing process troubleshooting and optimization related to
improving efficiency, capability, and safety. Interface with operations to provide technical support and recommendations
on methods and improvements to eliminate problems.
- Mentor and coach younger engineers, including participants in the Professional Development Program.
B) Provide Project Engineering support, including the following resposibilities:- Perform studies and analysis
- Participate in Value Improving Practices,and other project related tasks
- Interface with the design disciplines and engineering contractors to facilitate the completion of engineering tasks
- Resolve action items associated with conceptual planning, detailed engineering, and construction- Evaluate alternatives developed during conceptual planning
- Perform bid analysis for complex service contracts
Qualifications - External
Required:
- BS in Chemical Engineering
- At least 2 years relevant industry experience.
- Basic understanding of process equipment design including pumps, heat exchangers, vessels, etc.
- Must be able to apply process tools to design piping systems, calculate pressure relief valve sizes, complete material
and energy balances, and perform process optimization studies.
- Basic familiarity with engineering, purchasing, accounting and construction practices.
- Strong communications and computer skills.
- Self starter with high level of results orientation.
Desired:
- Good working knowledge of CAPE applications ( ASPEN, HTFS, Sinet, PSV-Calc, Pipeflow, etc. ) a definite plus.
- MS ChE desired
BASF recognizes Institutions of Higher Education that are accredited by the Council for Higher Education Accreditation or
equivalent.
This position requires all candidates to either currently possess or obtain and maintain a TWIC (Transportation Worker
Identification Credential) Card from the U.S. Department of Homeland Security.