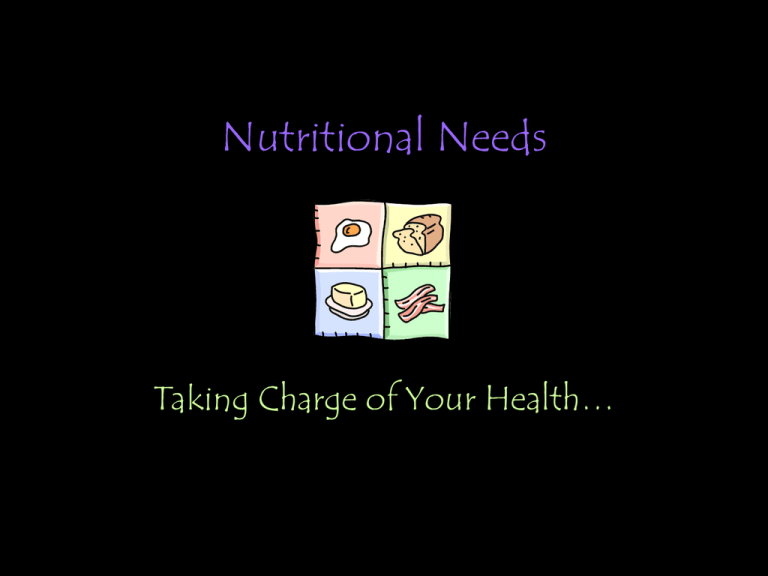 Nutritional Needs
Taking Charge of Your Health…
Learning Targets
• I can identify the 6 nutrient groups.
• I can explain the functions of the nutrient
groups in relation to my health.
Nutrition Definitions
• Nutrient
– A chemical substance in food that helps
maintain the body. (6 Groups)
• Deficiency
– Failure to meet your needs.
Carbohydrates
• Chief source of energy!!
• Helps body digest fats.
• Types…
– Simple Carbohydrates
– Complex Carbohydrates
• Sources
– Sugar, Fiber, Starch (Breads, Cereals)
Fats
• Types (based on amount of hydrogen)
– Saturated (Bad Fats)
– Unsaturated (Good Fats)
• Carries fat-soluble vitamins.
• Insulates the body
• Sources
– Butter, egg yolks, bacon, etc.
Fat in the Body
• Cholesterol
–
–
–
–
–
Connected to Fat nutrient.
Found in every cell.
Part of skin tissue.
Aids in transportation of fatty acids.
Needed to protect hormones.
– Your body makes all that you need…you do not
need to ingest cholesterol as part of a healthy diet!
Proteins
• Builds and repairs tissues.
• Made up of Amino Acids
– 20 total Amino Acids
– 9 are "Essential Amino Acids"
• Extreme Deficiency – Kwashiorkor
– Symptoms: Stunted growth, bulging abdomen
(Can lead to death).
• NOT COMMON IN MOST INDUSTRIALIZED
NATIONS!
Protein Cont.
• Types
– Complete Protein (Has all 9 Essential)
• Sources: Meat, poultry, fish, eggs
– Incomplete Protein (Missing 1 or more)
• Sources: Grains, peanuts, legumes
Vitamins
• Fat-Soluble – Dissolves in Fat
– Builds up in body.
– Can reach dangerous levels. (NOT COMMON)
– Vitamins A, D, E, K
• Water-Soluble – Dissolves in Water
– Body does not store.
– Need daily intake.
– Vitamin C and B-Complex Vitamins
Minerals
• Makes up 4% of body weight.
• Becomes part of the bones, tissues, and body fluids.
• Types
– Macrominerals
• Calcium, Sodium, Chlorine, Magnesium
– Microminerals (Trace Elements)
• Iron, Iodine, Zinc
Water
•
•
•
•
Aids in proper digestion.
Helps cell growth and maintenance.
Lubricates joints and body cells.
Helps regulate body temperature.