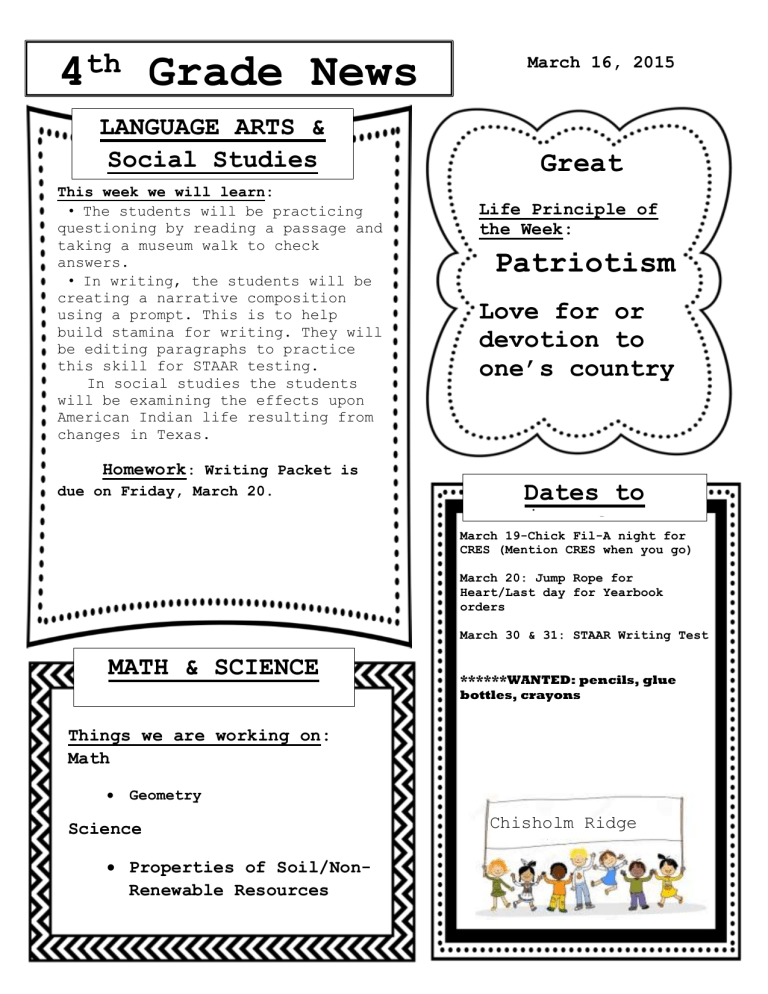 4th Grade News
LANGUAGE ARTS &
Social Studies
This week we will learn:
• The students will be practicing
questioning by reading a passage and
taking a museum walk to check
answers.
• In writing, the students will be
creating a narrative composition
using a prompt. This is to help
build stamina for writing. They will
be editing paragraphs to practice
this skill for STAAR testing.
In social studies the students
will be examining the effects upon
American Indian life resulting from
changes in Texas.
March 16, 2015
Great
Expectations
Life
Principle of
the Week:
Patriotism
Love for or
devotion to
one's country
Homework: Writing Packet is
due on Friday, March 20.
Dates
to
.
Remember
19-Chick Fil-A night
March
for
CRES (Mention CRES when you go)
March 20: Jump Rope for
Heart/Last day for Yearbook
orders
March 30 & 31: STAAR Writing Test
MATH & SCIENCE
******WANTED: pencils, glue
bottles, crayons
Things we are working on:
Math

Geometry
Science
 Properties of Soil/NonRenewable Resources
Chisholm Ridge
Rocks!