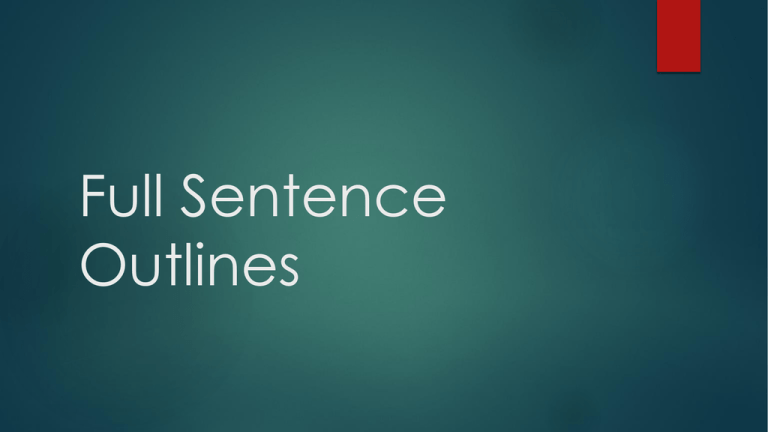 Full Sentence
Outlines
Outline – Not Paragraphs
Preview and Review

First, I'll talk about…

Then, I'll explain…

Finally, I'll summarize…

First, I'll talk about…

Then, John will explain…

Finally, we'll summarize…
Defining Vocabulary
Plagiarism - (n) an act or instance of using or closely imitating
the language and thoughts of another author without authorization
DON'T just copy the definition.
 Use your own words. EXPLAIN it to the audience.
 Use an example.


A.
In the outline, write the complete sentence you will say.
The first word is plagiarism.
1.
Plagiarism is a noun.
2.
It means when you copy another author's words or thoughts.
3.
For example, sometimes when students write research papers, they
accidentially plagiarize articles they read.
USE YOUR OWN WORDS!

Do not take sentences or phrases from the TED Talk speakers. That is
plagiarism.

They are the experts…not you

Use phrases like these…

The speaker said/explained/described…

One example that the speaker gave was … . S/He meant that…
*You can use their names.
PowerPoints

Only a couple slides.

Each slide should have fewer than 5 words.

Don't read from the slides.