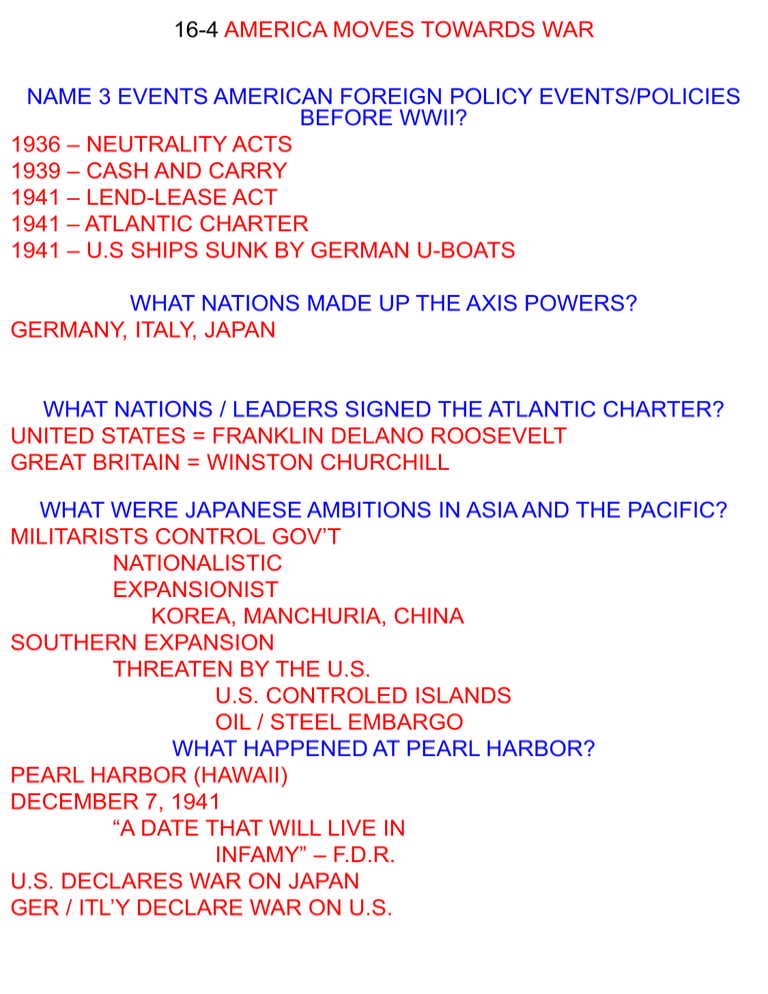 16-4 AMERICA MOVES TOWARDS WAR
NAME 3 EVENTS AMERICAN FOREIGN POLICY EVENTS/POLICIES
BEFORE WWII?
1936 – NEUTRALITY ACTS
1939 – CASH AND CARRY
1941 – LEND-LEASE ACT
1941 – ATLANTIC CHARTER
1941 – U.S SHIPS SUNK BY GERMAN U-BOATS
WHAT NATIONS MADE UP THE AXIS POWERS?
GERMANY, ITALY, JAPAN
WHAT NATIONS / LEADERS SIGNED THE ATLANTIC CHARTER?
UNITED STATES = FRANKLIN DELANO ROOSEVELT
GREAT BRITAIN = WINSTON CHURCHILL
WHAT WERE JAPANESE AMBITIONS IN ASIA AND THE PACIFIC?
MILITARISTS CONTROL GOV'T
NATIONALISTIC
EXPANSIONIST
KOREA, MANCHURIA, CHINA
SOUTHERN EXPANSION
THREATEN BY THE U.S.
U.S. CONTROLED ISLANDS
OIL / STEEL EMBARGO
WHAT HAPPENED AT PEARL HARBOR?
PEARL HARBOR (HAWAII)
DECEMBER 7, 1941
"A DATE THAT WILL LIVE IN
INFAMY" – F.D.R.
U.S. DECLARES WAR ON JAPAN
GER / ITL'Y DECLARE WAR ON U.S.