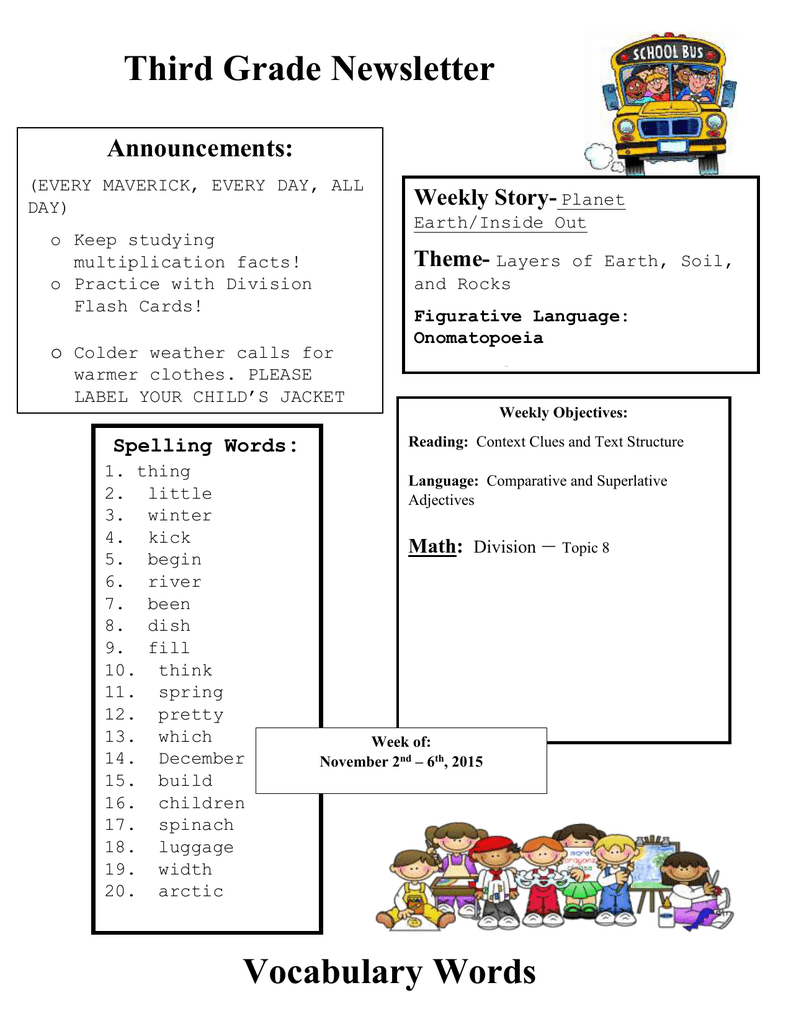 Third Grade Newsletter
Announcements:
(EVERY MAVERICK, EVERY DAY, ALL
DAY)
o Keep studying
multiplication facts!
o Practice with Division
Flash Cards!
*November 10- Reading Fair Due
1. thing
2. little
3. winter
4. kick
5. begin
6. river
7. been
8. dish
9. fill
10. think
11. spring
12. pretty
13. which
14. December
15. build
16. children
17. spinach
18. luggage
19. width
20. arctic
of Earth, Soil,
and Rocks
warmer clothes. PLEASE
LABEL YOUR CHILD'S JACKET
Words:
Earth/Inside Out
Theme- Layers
o Colder weather calls for
Spelling
(OPTIONAL!)
Weekly Story- Planet
Figurative Language:
Onomatopoeia
Phrase of the Week -"The
volcano went BOOM!"
Weekly Objectives:
Reading: Context Clues and Text Structure
Language: Comparative and Superlative
Adjectives
Math: Division
Week of:
November 2nd – 6th, 2015
Vocabulary Words
– Topic 8
1. inner core: hot ball of solid iron and nickel at the center of Earth
2. outer core: the layer of Earth that is made up of hot liquid iron and nickel
3. mantle: the layer of Earth that is mostly solid but also has some partially melted rock that moves
slowly
4. crust: the outer layer of Earth that is made up of rock and soil
5. tsunamis: a giant, fast moving ocean wave produced by an earthquake
6. fossils: a trace or remains of dead plants and animals that are found in the earth or in rock
7. geologist: someone who studies the Earth
Tests:
o Tuesday – Division Quiz
o Thursday- Spelling &
Language Quiz (Adjectives)
o Friday- Vocabulary & Reading
Comprehension
Other Reminders: If
you want to
set a conference time- please email
me at [email protected]
The available slots are on
Wednesdays and Thursdays (10 to 15
minutes) beginning at 2:30 ending at
3:15.
Thank you for all that you do!