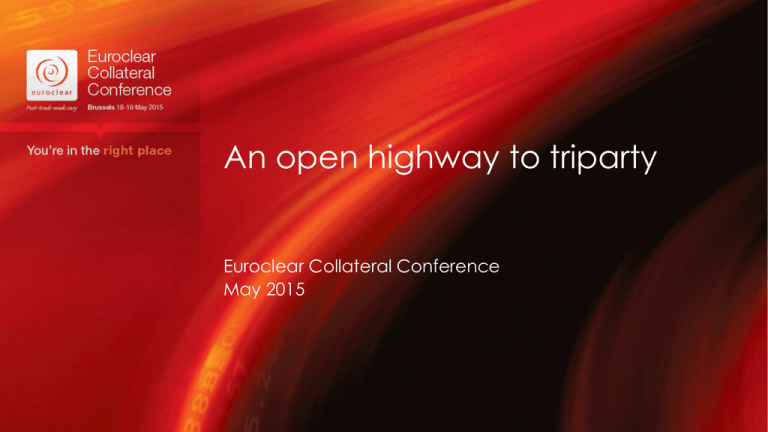 An open highway to triparty
Euroclear Collateral Conference
May 2015
Risk management of treasury investments
Credit
Liquidity
Three key principles
•
Yield
Capital preservation
►
•
•
Avoid direct banking exposure
Maximisation of liquidity options
… at a reasonable yield
Reverse repo is your investment option
2
A market driven by new regulations
Basel III (LCR & NSFR),
Dodd-Frank / EMIR,
UCITS / Shadow Banking,
CSDR
Increasing demand
for high quality collateral
and term lending
'Repo and securities lending are set to play an absolutely central
role in the post-reform landscape'*
Andrew Hauser,
Head of Sterling Markets Division, Bank of England, and
Chair of the Securities Lending and Repo Committee
* Extract from a speech at JP Morgan's Collateral Management and Securities Financing Forum
27th of March 2014, London
3
The fast road to repo
External use
Cash
€ 200m
Collateral provider
Cash provider
Securities
Euroclear
During the lifecycle of a repo
• Transfer of eligible securities against cash in a secured way
• Valuation of securities on daily basis to make sure always equal to 200m cash
• Margin calls and releases according to valuation
4
Smoothing the bumps in the road
Market and operational risk
Counterparty
risk
Legal
risks
• Thorough selection of counterparties
• Collateralising exposures
• Market standard legal agreements
(e.g. GMRA or GMSLA)
Triparty collateral management services
Market risk on
collateral
• Clear definition of eligible collateral
• Diversification through concentration limits
• Over-collateralisation through margins
Operational
risks
• Settlement risk
• Collateral monitoring
• Corporate events processing
Triparty collateral management
A neutral collateral agent
Exposure
Collateral profile
Collateral Giver
Collateral
Collateral Taker
Matching
Selection
Settlement
Valuation
Custody
Reporting
6
Smoothing the bumps in the road
Market and liquidity risks
Collateral Taker can:
Eligibility Set
•Eligible security
 Exclude certain risks
 Limit certain risks/
diversify across types
 Over-collateralise
•Concentration
limits
• Margin
percentage
Equities
• Quotation age
• Indices
• Sector
• Capitalisation
• Traded volume
Fixed income
• Time to maturity
• Instrument type
• Rating
• Issuer type
• Country
• Quotation age
7
Triparty collateral management
One platform, multiple products
Cash
Collateral
Repo
CCP GC products
Seller
OTC Derivatives
CCP margining
Purchaser
Collateral
Collateral taker
Collateral giver
Loan(1)
Collateral
Securities lending
Borrower
Central Bank
credit operations
Collateral
Borrower
(1) Optional
Lender
Central Bank
Questions
• What do you look for in a triparty partner?
• How can we support you when maximising your
triparty relationships in order to meet your
collateral needs?