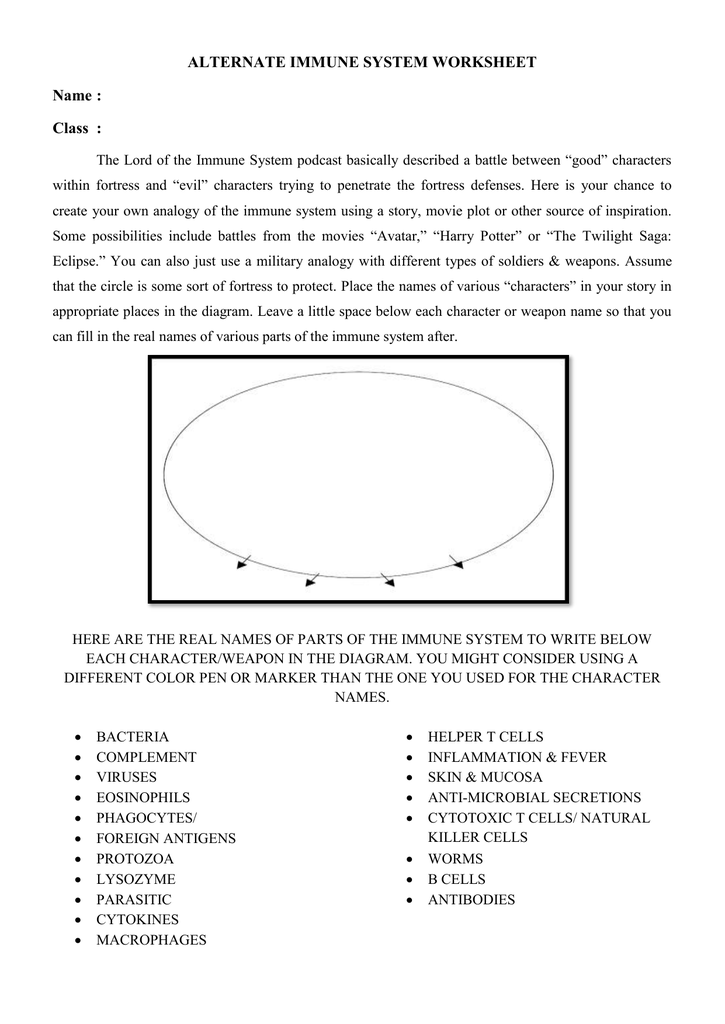 ALTERNATE IMMUNE SYSTEM WORKSHEET
Name :
Class :
The Lord of the Immune System podcast basically described a battle between "good" characters
within fortress and "evil" characters trying to penetrate the fortress defenses. Here is your chance to
create your own analogy of the immune system using a story, movie plot or other source of inspiration.
Some possibilities include battles from the movies "Avatar," "Harry Potter" or "The Twilight Saga:
Eclipse." You can also just use a military analogy with different types of soldiers & weapons. Assume
that the circle is some sort of fortress to protect. Place the names of various "characters" in your story in
appropriate places in the diagram. Leave a little space below each character or weapon name so that you
can fill in the real names of various parts of the immune system after.
HERE ARE THE REAL NAMES OF PARTS OF THE IMMUNE SYSTEM TO WRITE BELOW
EACH CHARACTER/WEAPON IN THE DIAGRAM. YOU MIGHT CONSIDER USING A
DIFFERENT COLOR PEN OR MARKER THAN THE ONE YOU USED FOR THE CHARACTER
NAMES.











BACTERIA
COMPLEMENT
VIRUSES
EOSINOPHILS
PHAGOCYTES/
FOREIGN ANTIGENS
PROTOZOA
LYSOZYME
PARASITIC
CYTOKINES
MACROPHAGES








HELPER T CELLS
INFLAMMATION & FEVER
SKIN & MUCOSA
ANTI-MICROBIAL SECRETIONS
CYTOTOXIC T CELLS/ NATURAL
KILLER CELLS
WORMS
B CELLS
ANTIBODIES
THEN BRIEFLY DESCRIBE THE ROLE OF EACH COMPONENT OF THE IMMUNE SYSTEM
IN DEFENSE AGAINST PATHOGENS IN THE MARGINS OF THE PAGE.
REVIEW QUESTIONS
1. WHAT ARE THE 5 TYPES OF ANTIBODIES MADE BY THE IMMUNE SYSTEM?
2. WHAT IS THE GENERAL NAME FOR THE "BEACONS/SIGNALS" THAT OUR IMMUNE
SYSTEM SENDS OUT?
3. HERE ARE FOUR DIFFERENT DISEASES. WHICH OF THE FOUR TYPES OF "BAD GUYS"
CAUSE THESE DISEASES IN HUMANS? GIVE THE REAL NAME OF THESE BAD GUYS.
A) AIDS B) MALARIA C) STREP THROAT D) PINWORM
4. WHICH "CHARACTERS" ARE INVOLVED IN THE HUMORAL IMMUNE RESPONSE? GIVEc
THEIR REAL NAME AND INDICATE WHAT DO THEY DO.
5. WHICH "CHARACTERS" ARE INVOLVED IN THE CELL-MEDIATED IMMUNE
RESPONSE? GIVE THEIR REAL NAME AND INDICATE WHAT DO THEY DO.
6. HOW WOULD YOU FIT VACCINATION OR ANTIBIOTIC DRUG THERAPY INTO THIS
ANALOGY?
7. WHAT IS THE DIFFERENCE BETWEEN INNATE AND ACQUIRED IMMUNITY?
CHALLENGE ACTIVITY
CREATE YOUR OWN PODCAST BASED ON THE ANALOGY YOU USED FOR THIS
WORKSHEET!