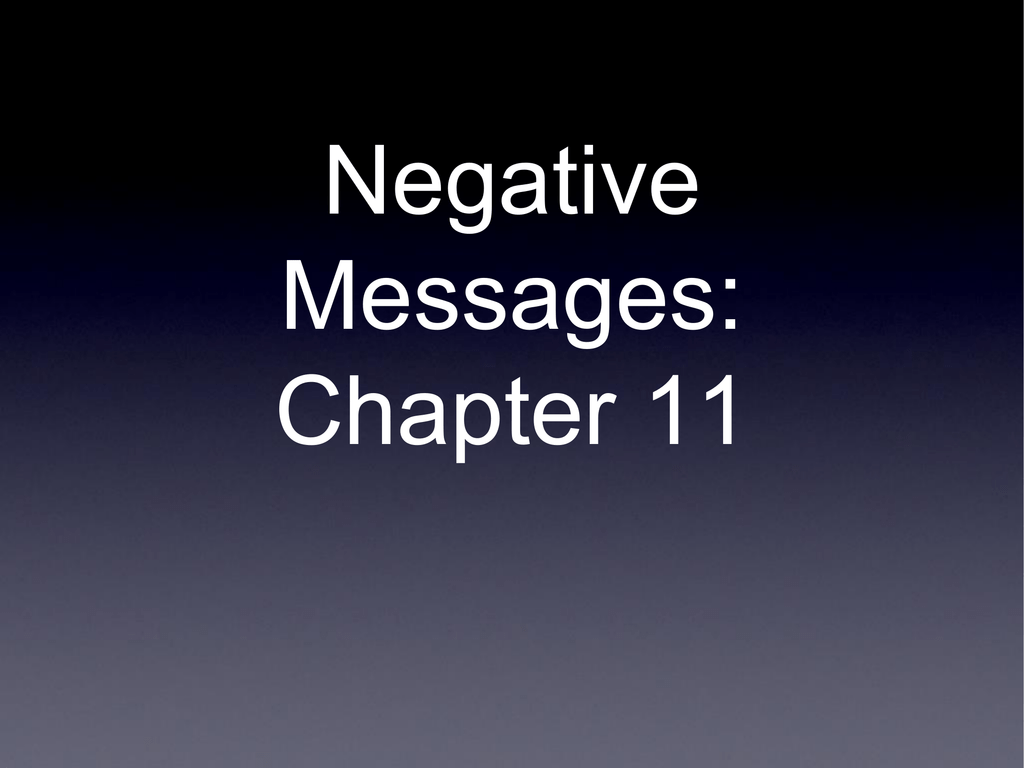 Negative
Messages:
Chapter 11
What is a negative
message?
• In the business world, delivery and calculation errors,
product malfunctions, or refusal of routine requests and
job applications are inevitable.
•
Negative messages. In Wikipedia. Retrieved from
http://en.wikipedia.org/wiki/Negative_Messages
Key points
1. 2 Goals
2. 3x3 writing process
3. Reasoning
4. Strategy
5. Sandwich effect
Key points
6. 4 receivers
7. Legal problems
8. Communication patterns
9. Apologies
10. Honesty
Strategies
 To downgrade and/or avoid disappointment:
✓provide the cause and explanation of the
rejection
✓reveal the news sensitively
✓demonstrate that the matter was treated
seriously
✓push them to believe the decision was fair
Strategies
 Primary goals:
✓Make the reader understand the bad news
✓Have the reader accept the bad news
✓Maintain a positive image of yourself and the
organization
Strategies
 Secondary goals:
✓Reduce bad feelings
✓Convey fairness
✓Avoid future correspondence
✓Avoid creating legal liability or responsibility for
yourself or the organization
Indirect pattern
•
When explanations are given first the impact of the bad
news is softened.
Direct pattern
•
It may be more effective when:
✓The receiver overlooks bad
news
✓Organization policy requires
directness
✓The receiver prefers directness
✓Firmness is necessary
✓Bad news is not damaging.
oo
3x3 writing process
1. Analysis, anticipation and adaptation (pre-writing)
2. Research, organization and composition (writing)
3. Revision, proofreading and evaluation (revising)
Avoiding legal
problems
1.Abusive language (profanity)
2.Careless language (statements shouldn't be misinterpreted
or damaging)
3.The Good-Guy syndrome (Avoid statements that make you
feel good but may be inaccurate)
Delivering bad news
sensitively
•
Buffer the message by converting the negative object
into:
✓An appreciation or a compliment
✓An agreement or an understanding
✓Facts
✓Apology
Delivering bad news
sensitively
 Start by presenting the causes.
✓Explain clearly
✓Show that someone else will benefit from the
decision
✓Explain company policy
✓Use optimistic and positive words
✓Treat the matter with seriousness and respect
Presenting the bad
news
 Disappointment can't be prevented whereas shock
reduction is possible
✓position the bad news strategically
✓use of a passive voice
✓focus on the positive
✓implying the refusal
✓suggest an alternative
Conclusion
 Finish with a pleasant conclusion
✓Forward look (anticipate future
relations)
✓Alternative
✓Good wishes
✓Freebies (send gifts etc)
✓Sales promotion
Link to our website
• http://negativemessages.wordpress.com
/
References
1. GUFFEY, M.E. (2010) Business
Communication: Process and Product
(3rd Ed). Toronto, Ontario
2. Images:
i)
What is a negative message?:
http://www.ereleases.com/prfuel/wpcontent/uploads/2010/05/bad-news.jpg
ii) Key Points: http://www.lestraceursdetout.com/wpcontent/uploads/2011/07/Services-business.jpg
iii) Strategies: http://img.ehowcdn.co.uk/article-pagemain/ehow/images/a07/qm/dq/write-bad-news-letter-clients800x800.jpg and http://smallbiztrends.com/wpcontent/uploads/2011/01/iStock_000004996421XSmall.jpg
References
iv. Indirect pattern:
http://usafamilymedicine.files.wordpress.com/2008/08/att21.jpg?
w=450&h=338
v. Direct pattern:
http://hrpeople.monster.com/nfs/hrpeople/attachment_images/00
00/0013/badnews_crop380w.jpg?1212551967
vi. 3x3 writing process:
http://hrpeople.monster.com/nfs/hrpeople/attachment_images/00
00/0013/badnews_crop380w.jpg?1212551967
vii. Conclusion: http://img.ehowcdn.com/article-pagemain/ehow/images/a02/61/n4/deliver-bad-news-businesssetting-800x800.jpg
viii. Link to our website:
http://www.visualcomgroup.com/fingerpoint.jpg
Zenome
• Zenome.com > Business + Work >
Business Communication: Process and
Products > 11
• Descritption: the zenome subcategory
will help you gather the most relevant
information on "How to deliver Negative
Messages".