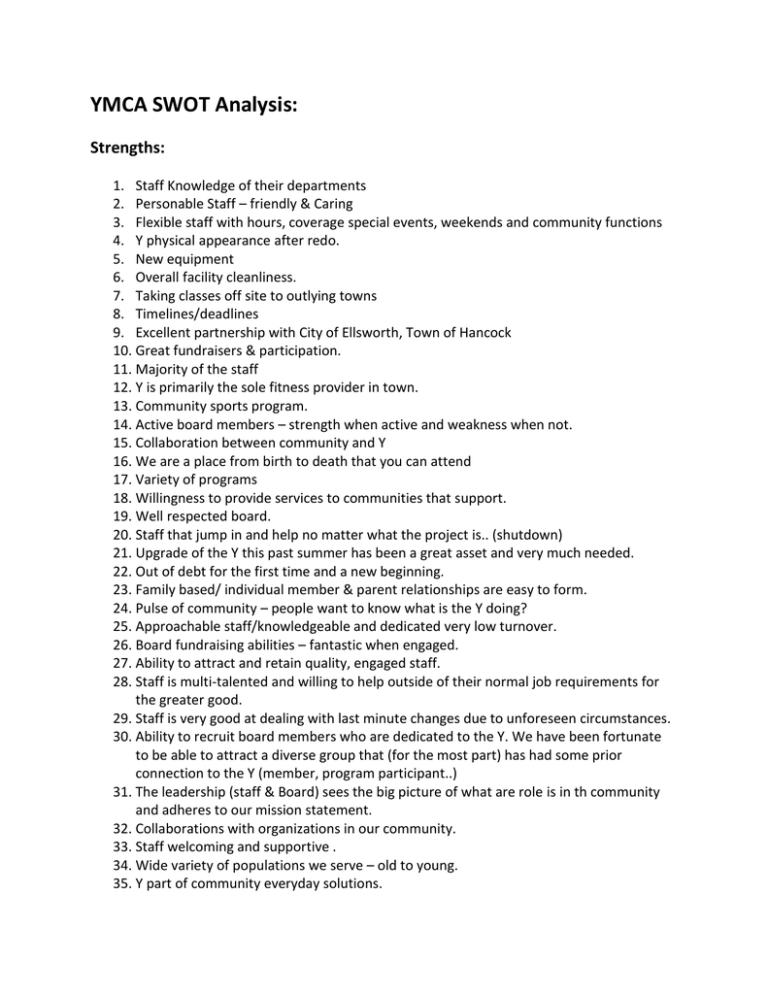 YMCA SWOT Analysis:
Strengths:
1. Staff Knowledge of their departments
2. Personable Staff – friendly & Caring
3. Flexible staff with hours, coverage special events, weekends and community functions
4. Y physical appearance after redo.
5. New equipment
6. Overall facility cleanliness.
7. Taking classes off site to outlying towns
8. Timelines/deadlines
9. Excellent partnership with City of Ellsworth, Town of Hancock
10. Great fundraisers & participation.
11. Majority of the staff
12. Y is primarily the sole fitness provider in town.
13. Community sports program.
14. Active board members – strength when active and weakness when not.
15. Collaboration between community and Y
16. We are a place from birth to death that you can attend
17. Variety of programs
18. Willingness to provide services to communities that support.
19. Well respected board.
20. Staff that jump in and help no matter what the project is.. (shutdown)
21. Upgrade of the Y this past summer has been a great asset and very much needed.
22. Out of debt for the first time and a new beginning.
23. Family based/ individual member & parent relationships are easy to form.
24. Pulse of community – people want to know what is the Y doing?
25. Approachable staff/knowledgeable and dedicated very low turnover.
26. Board fundraising abilities – fantastic when engaged.
27. Ability to attract and retain quality, engaged staff.
28. Staff is multi-talented and willing to help outside of their normal job requirements for
the greater good.
29. Staff is very good at dealing with last minute changes due to unforeseen circumstances.
30. Ability to recruit board members who are dedicated to the Y. We have been fortunate
to be able to attract a diverse group that (for the most part) has had some prior
connection to the Y (member, program participant..)
31. The leadership (staff & Board) sees the big picture of what are role is in th community
and adheres to our mission statement.
32. Collaborations with organizations in our community.
33. Staff welcoming and supportive .
34. Wide variety of populations we serve – old to young.
35. Y part of community everyday solutions.
36. Board tendency to micro-manage
37. Collaboration between board and staff.
38. Engagement of young people on the board and in staff roles such as skate park.
39. Staff willing to help out, get hands dirty ie: camp
40. Staff meeting keep staff in loop and has opportunity to contribute.
41. Public opinion of the Y seems to be very good.
42. Positive media coverage of y – always in paper.
43. The improved website
44. Collaborations with groups such as hospital and schools.
45. Focus on safety
46. Y more than a pool and gym.
47. Volunteer involvement in swim team and sports.
48. Comprehensive health and fitness programs.
49. Investment into state of art equipment.
50. Facilities in pretty good shape.
Weakness or as one staff says (opportunities for change)
1. More volunteers such as camp.
2. Comprehensive training program for all staff at all levels.
3. Use of vulnerable places such as knowlton school playground.
4. Better promo of camp.
5. Lack of involvement in outlying communities.
6. Board tendencies to micro-manage.
7. Lack of penetration into Washington county and Bucksport.
8. More year round use of camp.
9. Marketing of camp to outside organizations.
10. Long term planning as it relates to program development and special events.
11. Senior staff development and training opportunities (Child Care Excluded). We do a
great job of developing lower level staff and giving them training opportunities. Many of
our senior staff started as part time.
12. Human Resources. With the amount of staff and volunteers that we have, it would be
great to have someone dedicated to staff development, training new staff to the Y way,
and general support.
13. Grant writing.
14. So many great stories need to be told and a mechanism to tell them.
15. Development program.
16. Loss of excitement/commitment to annual. Need to re-establish especially as capital
completes.
17. Not horn blowers
18. "Leg work" marketing – getting marketing materials to local businesses and agencies.
19. Communication- lack of communication the bigger we get the worst we are at it.
20. Lack of a comprehensive stewardship program.
21. More use of the internet and website – I know we are starting the process
22. Keep our message and great programs in the public eye.
23. Hold all staff to the same standards.
24. Improve member follow up.
25. Improve the service area during busy times.
26. Help with worthy outside projects (example loaves and fishes once a month or once
every other month).
27. Improved board education of Y services, finances and overall movement.
28. Now that the buildings are in two locations each place losses touch with the other and
what is going on at each place.. I believe it hurts us.
29. Communication ( with each other & front desk and part time/weekend staff)
30. To busy sometimes to give people the time and attention needed.
31. Staff workload and underused.
32. Need a male trainer
33. Adult running camp
34. Space ( for new equipment)
35. Offer a free playgroup again.
36. Timelines and deadlines
37. Some decisions too last minute.