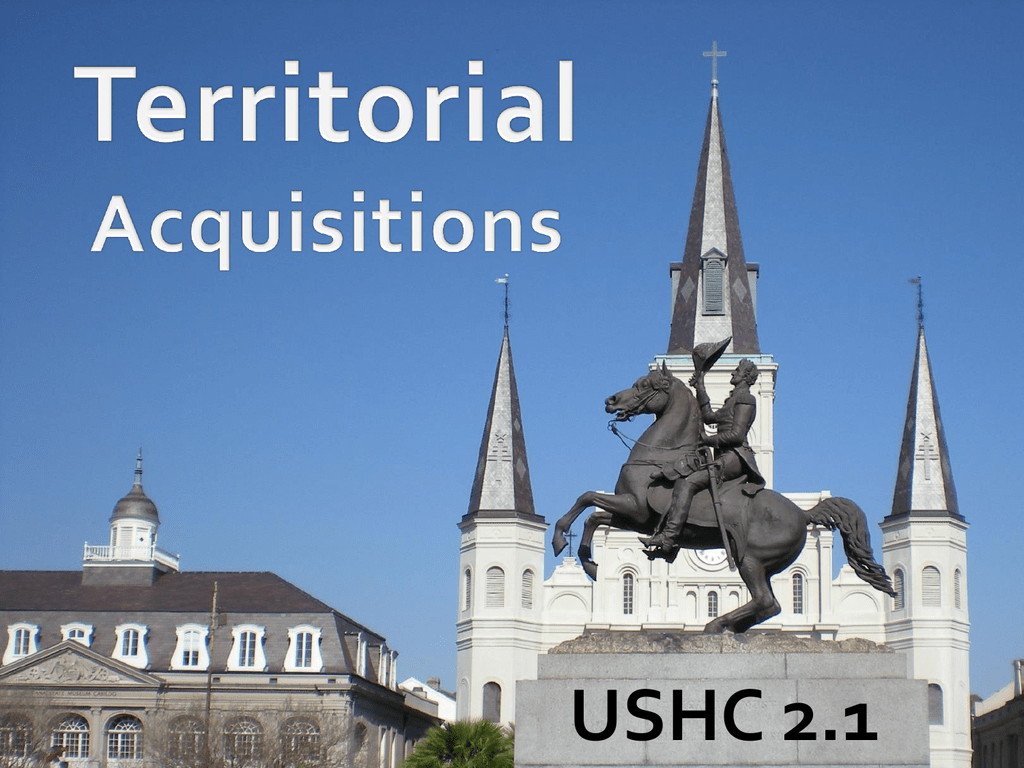 USHC 2.1
Westward Expansion
STRICT
NORTHWEST
PASSAGE?
New Orleans
Westward Expansion
STRICT
Does the Constitution permit the Federal government the
purchase land?
Treaty?
TRADE
OBJECTIVES:
Economic Coercion
Avoid War
(Get Britain to stop impressing
American sailors without going to
war)
RESULT: FAILURE
NEW
ENGLAND
HENRY CLAY (KY)
JOHN C. CALHOUN (SC)
PROVOCATIONS
1. Impressment of Sailors
2. Cutting off Trade
3. Arming Native Americans
on the western frontier
JAMES MADISON
FOURTH PRESIDENT OF THE U.S.
CONSEQUENCES
GEN. ANDREW JACKSON
1. Surge of national pride
AMERICA!
(nationalism)
2. Andrew Jackson:
National Hero
Although the Battle of New Orleans took place after the Treaty of Ghent was
signed, the Battle of New Orleans was important because the decisive victory
gave Americans a sense of national pride.
The Champion of the Common [White] Man
Introduced the Spoils System
Oregon
Treaty
(1846)
Mexican
Cession
(1848)
Gadsden
Purchase
(1853)
Louisiana
Purchase
(1803)
Texas
Annexation
(1845)
USHC 2.2
Explain how the Monroe
Doctrine and the concept
of
Manifest
Destiny
affected the United States'
relationships with foreign
powers, including the role
of the United States in the
Texan Revolution and the
Mexican War.
The Monroe
Doctrine
Revolutions
in Latin America
Europe
wants colonies back
The Monroe Doctrine
"The American
continents… are
henceforth not to be
considered as
subjects for future
colonization by any
European powers. . ."
EUROPE: NO NEW COLONIES
You don't have
an army.
LIMITED IMPACT
The Legacy:
US intervention
in Latin America
John Gast, American Progress, 1872
Manifest
Destiny
man⋅i⋅fest (adj)
evident; obvious; apparent; plain
des⋅ti⋅ny (n)
predetermined, usually inevitable or
irresistible, course of events.
WESTWARD EXPANSION:
A God-given Right
John Gast, American Progress, 1872
Texas War for Independence
1835-1836
The Alamo (1836)
San Jacinto (1836)
Outnumbered Texans
defeated
Prisoners executed
DECISIVE Texas Victory
"Remember the Alamo!"
The "Lone Star" Republic
Annexation of Texas
1837 – Texas petitions the
U.S. for annexation
United States: NO!
TWO REASONS:
Border
Dispute
The Balance
of Power
Meanwhile…
John Gast, American Progress, 1872
1844 Presidential Election
Main Issue:
Westward
Expansion
James K.
Polk
Henry Clay
Whig
Democrat
PRO-EXPANSION
ANTI-EXPANSION
Political Cartoon
POLK WINS
Manifest Destiny
John Gast, American Progress, 1872
Oregon Treaty
54°40' (or fight)
49° (Britain Calls Bluff)
Map by Kmusser
1846
U.S. compromises
with Britain on
Oregon border
Oregon
Almost There...
Treaty
Louisiana
Purchase
Texas
Annexation
The Mexican
War
WAR!!!
Occupation of Mexico City
BIG WIN
Painting by Carl Nebel
Mexican Cession
1848
Treaty of
Guadalupe
Hidalgo
ANTEBELLUM
AMERICA
Sectionalism and Reform
ANTEBELLUM
"Before the [Civil] War"
1820 - 1860
Missouri Compromise
Civil War
SECTIONALISM
NORTH
SOUTH
WEST
Economy
Industry
Agriculture
Developing
Agricultural
Political
Leaders
Daniel
Webster
John C.
Calhoun
Henry
Clay
Political
Issues
Slavery (Anti)
Tariff (Pro)
Slavery (Pro)
Tariff (Anti)
Economic
Development
ANTEBELLUM REFORM
Movement Key Figures
Second Great
Awakening
______________
William Lloyd
Information
Religious Revival
Baptists / Methodists
Abolitionism
Garrison
Anti-Slavery
Temperance
______________
Anti-Alcohol
Women's
Rights
Elizabeth Cady
Stanton
Women should vote
ABOLITIONISM
William Lloyd Garrison
– American Anti-Slavery Society
–The Liberator (1831-1865)
– Boston, MA, Newspaper
NOTE:
Abolition was a radical movement –
especially in its early years.
REFORM
MOVEMENTS
Strongest
HERE
Weakest
HERE
1. Protective tariffs
2. Funding for transportation
3. Immigrants to supply
labor force
The harder the
North pushed…
1. Slaves to supply labor force
2. Protective tariffs- helped the North
at the Souths expense
3. The North benefited more from
Transportation improvements
The harder the
South pushed back.