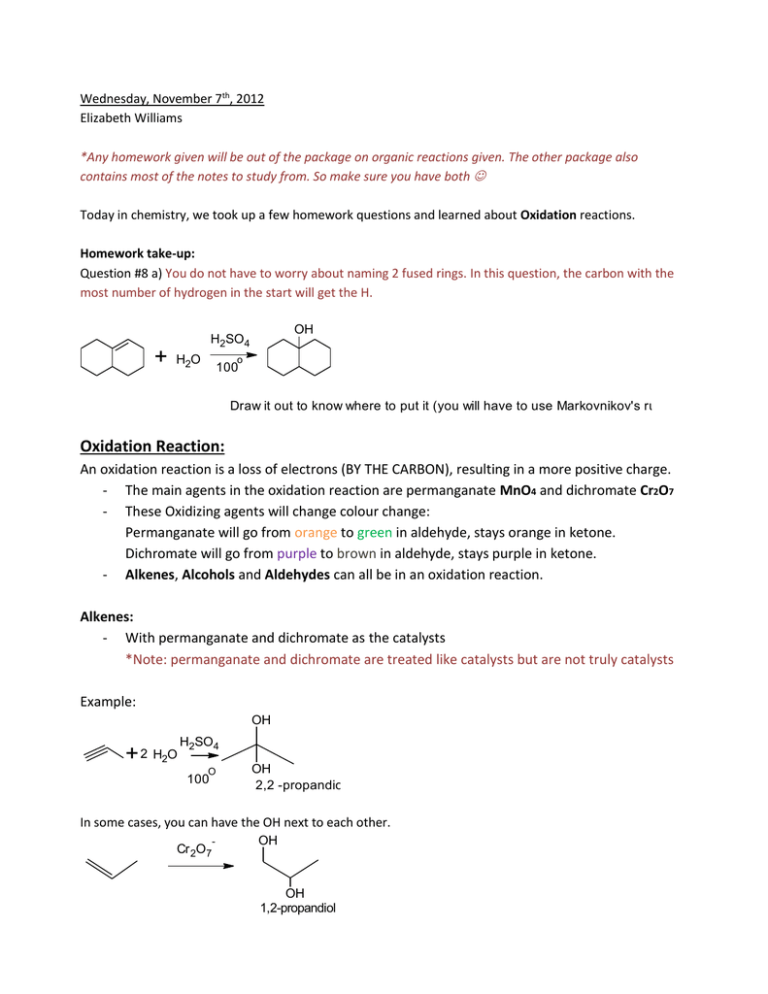 Wednesday, November 7th, 2012
Elizabeth Williams
*Any homework given will be out of the package on organic reactions given. The other package also
contains most of the notes to study from. So make sure you have both 
Today in chemistry, we took up a few homework questions and learned about Oxidation reactions.
Homework take-up:
Question #8 a) You do not have to worry about naming 2 fused rings. In this question, the carbon with the
most number of hydrogen in the start will get the H.
+
OH
H2SO4
H2O
o
100
Draw it out to know where to put it (you will have to use Markovnikov's rule)
Oxidation Reaction:
An oxidation reaction is a loss of electrons (BY THE CARBON), resulting in a more positive charge.
- The main agents in the oxidation reaction are permanganate MnO4 and dichromate Cr2O7
- These Oxidizing agents will change colour change:
Permanganate will go from orange to green in aldehyde, stays orange in ketone.
Dichromate will go from purple to brown in aldehyde, stays purple in ketone.
- Alkenes, Alcohols and Aldehydes can all be in an oxidation reaction.
Alkenes:
- With permanganate and dichromate as the catalysts
*Note: permanganate and dichromate are treated like catalysts but are not truly catalysts
Example:
OH
+ 2 H2O
H2SO4
O
100
OH
2,2 -propandiol
In some cases, you can have the OH next to each other.
Cr 2O7
-
OH
OH
1,2-propandiol
If they say: prove it is an oxidation
-
Write oxidation states for individual carbons, but only the ones in the reaction. We
learned how to do this last unit. (must balance out to zero)
Compare the C1 in the reactants with the C1 in the products
Compare the C2 in the reactants with the C2 in the products.
Cr 2O7
OH
-
-2
-1
-1
0
OH
1,2-propandiol
Alcohols: (removing hydrogen from O and C)
(There are 3 types of alcohols)
1. Primary
MnO 4
-
O
O
OH
1-butanol
OH
butanal
butenoic acid
The # of hydrogen on the carbon with the alcohol (OH) is the # of oxidations. In this case there are 2.
2. Secondary
OH
MnO 4
2-butenol
-
O
butenone (does not need a number)
3. Tertiary
OH
NO REACTION
there are no hydrogen on the carbon containing the alcohol.
So there wil be no reaction and no colour change.
t-butyl alcohol (common name)
Aldehydes:
- Produce carboxylic acid (example in primary alcohol example)
There are different qualitative tests to distinguish between an aldehyde and a ketone. Using the oxidizing
agents and observing the colour of the reactants is one way. There is also Fehlings solution and Tollens
solution.
Fehlings Solution: a copper (II) solution is used. The colour change is observed (blue – orangebrown)
Tollens Solution: silver ions in ammonia are used. Colour change is observed (clear –blacksilver)
Resources:
Here are some cool videos if you wanted to see the Fehlings solution and the Tollens Reagent:
http://www.youtube.com/watch?v=mUiZHI6C-UM
-
Homework:
Do the last page of the booklet. You should be able to do all of them except for the condensation
and hydrolysis ones
Study for the quiz next Thursday. The Organic test is going to be on November 21st.