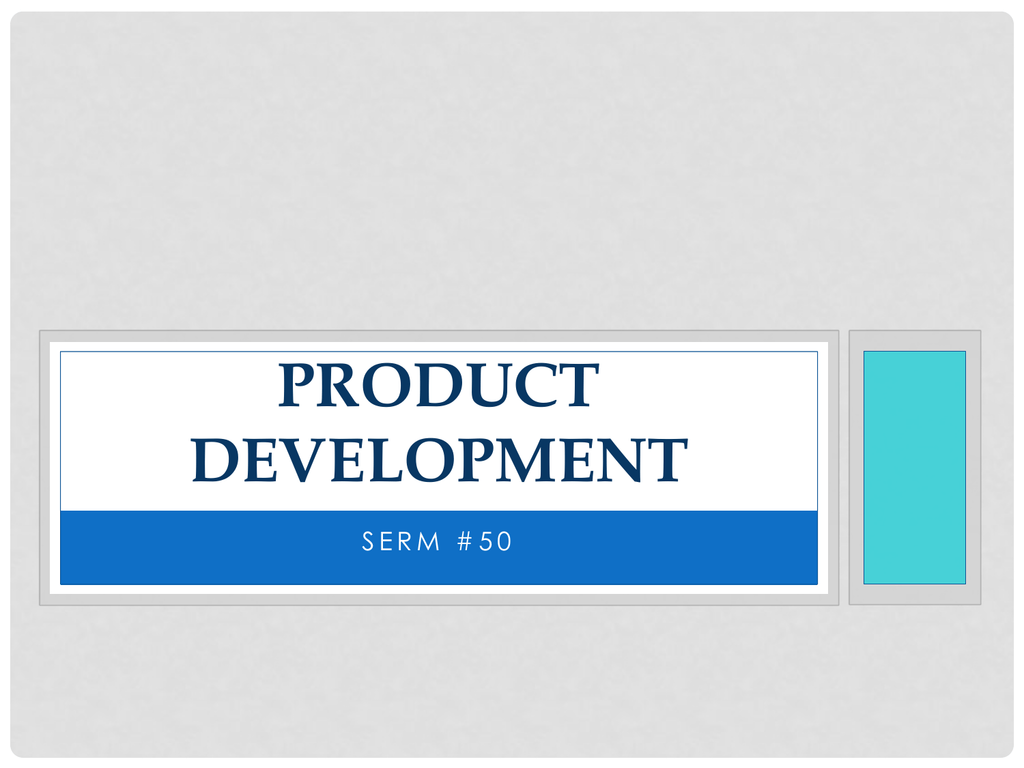 PRODUCT
DEVELOPMENT
SERM #50
PRODUCTS
Tangible
 Good
Baseball
Intangible
 Service
Watching a professional baseball game
Consumer good
 Purchased and used by consumer for personal use
Business good
 Purchased by organization for their use
PRODUCT LINE & ITEM
• Product line
• All Nike shoes
• Product item
• Specific model
• Size of a product
CORE V. ANCILLARY
• Core Product:
• Main product
• i.e. Sports event, Movie, Stage Show, Book
• Ancillary Product:
• A product related to or created from the core product
• i.e. Movie-based Roller Coaster, Movie on DVD
PRIMARY FUNCTIONS OF MARKETING
• Sports Products
• Entertainment Products
SPORTS PRODUCTS
• the goods and services designed to provide
benefits to a sports spectator, participant or sponsor
THE SPORTS PRODUCT
• Licensed
merchandise
• Participation
• Promotional items
• Sports facilities
• Entertainment
• Marketing
research
• Equipment and
apparel
• Management
services
THE SPORTS PRODUCT
ENTERTAINMENT PRODUCT
• The entertainment industry's top revenue producing
products and services
THE ENTERTAINMENT PRODUCT
• Film & Cinema
• Video Games
• Television
• Theme Parks
• Music & Concerts
• Publications
• Radio
• Newspapers
• Books
• Magazines
PRODUCT DEVELOPMENT
• Step 1: SWOT Analysis
• Strength, Weaknesses, Opportunities, Threats
• Helps develop a product to match company objectives
• Step 2: Idea Generation
• Generating new product ideas
• Consumers, employees, research and development submit ideas
• Study the competition
• i.e. Nike studies New Balance youth baseball cleats and creates their
own Nike version of the cleat
• Step 3: Screening and Evaluation
• Product idea is evaluated:
• Is the necessary technology is available?
• Does it meet the objectives of the company?
• Focus Group – group of 6-10 consumers who discuss the product
PRODUCT DEVELOPMENT
• Step 4: Business Analysis
• Financial aspects are reviewed
• What is needed to take this product to the market?
• What legal factors need to be analyzed?
• Copyright, patented products
• Step 5: Development
• Prototype – first model of product
• Test product capabilities to determine production cost
• Technical problems, quality, and safety addressed
PRODUCT DEVELOPMENT
• Step 6: Test Marketing
• Product tested in marketplace
• Offer product for sale in small geographic area
• Test all aspects of Marketing Mix
• Product, Place, Price, Promotion
• Not all products go through this step because of cost
• Step 7: Commercialization
• Commercialization – process that involves producing and
marketing a new product
• Offered for sale in marketplace to final consumer
• Full-scale production launches
• Product Life Cycle begins
CONCLUSION
• Tangible vs. Intangible
• Product line vs. Product item
• Core Product vs. Ancillary Product
• 7 steps of Product Development:
•
•
•
•
•
•
•
SWOT Analysis
Idea Generation
Screening & Evaluation
Business Analysis
Development
Test Marketing
Commercialization
VIDEO EXAMPLE
• http://blog.ted.com/2013/11/21/a-littlebit-rock-nroll-reggie-watts-rocks-the-newly-launched-synthkitand-electronic-music-goes-mini-modular/
• http://www.ted.com/talks/ayah_bdeir_building_blo
cks_that_blink_beep_and_teach#t-305134
CLASS ACTIVITY
• With a partner, design a new product for
a SER industry:
• Take the product through EACH stage of product
development.
• 7 steps of Product Development:
•
•
•
•
•
•
•
SWOT Analysis
Idea Generation
Screening & Evaluation
Business Analysis
Development
Test Marketing
Commercialization
• Explain why the company would want to introduce
your new product.
• Be specific in your explanation.
• You must include a prototype of your product.